Donald Trump Wins New Hampshire: Watch His Victory Speech And Learn What's Next For His Campaign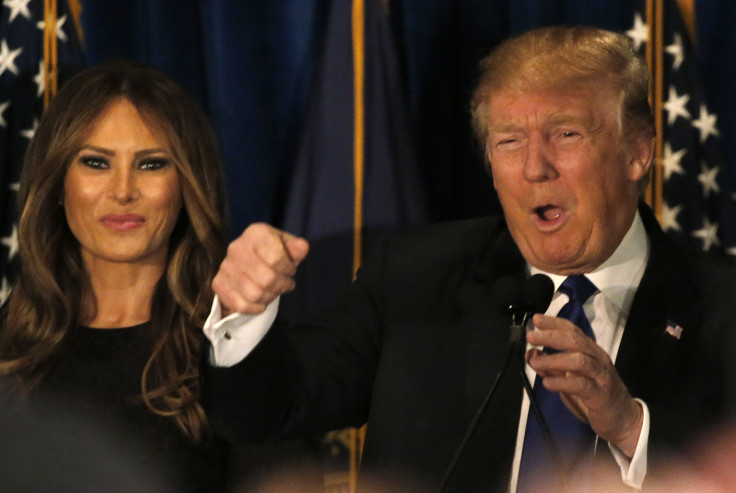 The headlines Tuesday afternoon were mostly in his favor. "Donald Trump Will Probably Win New Hampshire," wrote FiveThirtyEight. "New Hampshire to Test Love for Trump," said U.S. News and World Report. "Why the Granite State Likes the Vulgar Dealmaker," reported Slate.
The voters must have been reading. The Associated Press and MSNBC called the New Hampshire primary for Trump right after the polls closed at 8 p.m. EST. Tuesday signaled Trump's triumphant return to the No. 1 spot after falling to second last week in Iowa behind Texas Sen. Ted Cruz. With 55 percent of voting locations reporting results, Trump had 33.8 percent of the vote.
"We are going to start winning again, and we're going to win so much, you are going to be so happy," Trump said Tuesday. "We are going to make America so great again. Maybe greater than ever before."
Watch his victory speech below:
Once the results were out, Trump congratulated his peers and thanked his supporters. His speech was peppered with applause and the occasional "U-S-A" chant, and he spent most of his 20 minutes on stage running through his platform. Trump mentioned repealing the Affordable Care Act, taking better care of American veterans, reducing the unemployment rate and making better trade deals with China. He vowed to "knock the hell out of ISIS" and protect the "sacred" Second Amendment.
He also brought up one of his most-talked-about proposals: building a wall along the Mexico border. Trump said it would curb New Hampshire's heroin problem by restricting the flow of drugs into the country. "We're going to end it at the southern border," he said, drawing a line in the air with his finger. He added: "We're going to have strong, incredible borders, and people are ... going to come into our country legally."
The Donald's win in the Granite State could be just the beginning of a run of good news for his campaign. Although there are five months to the Republican National Convention, voters' increasing frustration with career politicians doesn't seem to be waning. Trump certainly faces challenges — among them, the narrowing candidate field and his lack of ground game — but judging by his unprecedented campaign so far, there's no reason to think he can't overcome them and ultimately win the nomination, if not a seat in the Oval Office.
Even former House Speaker Newt Gingrich, who ran for the GOP nomination in 2012, tweeted about Trump's success Tuesday. Gingrich said the candidate's New Hampshire win was genuine and Republican leaders "must come to grips with his reality as a popular force of real change."
Trump's past 24 hours in New Hampshire have, in a way, been in line with his whole presidential bid. He called rival Cruz, who nabbed 27.6 percent of the vote in Iowa to Trump's 24.3 percent, a "p---y" at a Monday night rally. He promised to visit supporters who crashed their cars voting for him after a blizzard made the roads slick. He tweeted about his proposed wall along the border with Mexico.
That's how Trump works: He's outspoken, outlandish and sometimes outrageous. And it works.
Before the election cycle started in earnest, Trump wasn't much of a consideration for the GOP. Party leaders had pinned their hopes long ago on candidates like former Florida Gov. Jeb Bush and Florida Sen. Marco Rubio. Maybe Mitt Romney would even run again. Any of them were moderate enough to swing undecided voters and ultimately undo President Barack Obama's two terms in the White House.
Then Trump, who'd been toying with the idea of running for commander-in-chief since the 1980s, launched his campaign. He did so with a metaphorical bang, riding in on an escalator in his own Trump Tower in New York, calling Mexican immigrants "drug dealers and rapists" and urging his followers to "make America great again." Trump wasn't a typical politician, and he made sure voters knew that.
His rise to the top began almost instantly. After his campaign announcement, he picked off opponents in the polls one by one — first surpassing Dr. Ben Carson, then Rubio, then Bush. He's been the leading GOP candidate since July, despite making controversial comments about everything from Fox News host Megyn Kelly to Muslim immigrants. The statements might have sunk another man's campaign. Not Trump's.
"He speaks from the heart; I think he speaks from the hip. You can tell he's not scripted and that's kind of why I like him. I may not agree with everything he says, but he's not being prompted by a teleprompter," New Hampshire resident Jeff Bird told U.S. News and World Report. "He's clearly drawing support because of his honesty — not because of his stances, but because of his honesty."
As of Tuesday night, national poll data put him 17 percentage points ahead of Cruz, his closest competitor. Then he won New Hampshire.
Live New Hampshire Results Map
Candidate photos courtesy of Getty. Photos by Alex Wong, Andrew Burton, Darren McCollester, Ethan Miller, Frederic Brown, Justin Sullivan, Mandel Ngan/AFP, Saul Loeb, Scott Olson and Win McNamee. A "County Margin of Victory" refers to the percentage points between the first place and second place winners in that county.
The Christian Science Monitor expressed doubt that his victory in the first-in-the-nation primary meant much for his campaign going forward. "There are warning signs in New Hampshire and other early voting states that indicate the Trump phenomenon may have peaked and he's vulnerable to a rival or rivals who can consolidate anti-Trump sentiment," it wrote.
The theory is that if Trump only pulled about 30 percent of the vote in New Hampshire, as predicted, he might not have enough support later on when the field is smaller. A columnist for the Boston Herald echoed this idea, noting that the billionaire might not play as well in primary elections in the Southern states. Bush and Rubio have history in Florida, and Arkansas voters were leaning toward Cruz in a recent poll. FiveThirtyEight wrote that Trump seemed "vulnerable in the region."
Trump has also been criticized for not having much ground game, or events and volunteers that physically encourage residents to vote one way or another. Instead, NPR noted, "he is relying most on his own popularity — he's called himself 'the product' — and his commanding lead in the polls."
In terms of promotion, Trump has spent about $1 million on TV commercials in South Carolina ahead of the Feb. 20 primary there. Although he's said he plans to buy $2 million in ads every week, the sum pales in comparison to those of his rivals. The Bush super PAC has spent $10.3 million on ads in the state, and Cruz has paid for $5.7 million, according to NBC News.
All this in mind, Trump still had a major lead in South Carolina, where he was polling 16 percentage points above Cruz. And if the country has learned anything from Trump's run so far, it's to expect the unexpected. As the candidate continues to remind voters, he's got big money and loyal fans — and they could carry him to the White House.
"All this doesn't mean Trump is doomed," the Monitor wrote. "We've learned our lesson about predicting his inevitable Icarus-like fall."
© Copyright IBTimes 2023. All rights reserved.