Donald Trump's Fellow Military Academy Alums Remember School A Little Differently Than The Presidential Candidate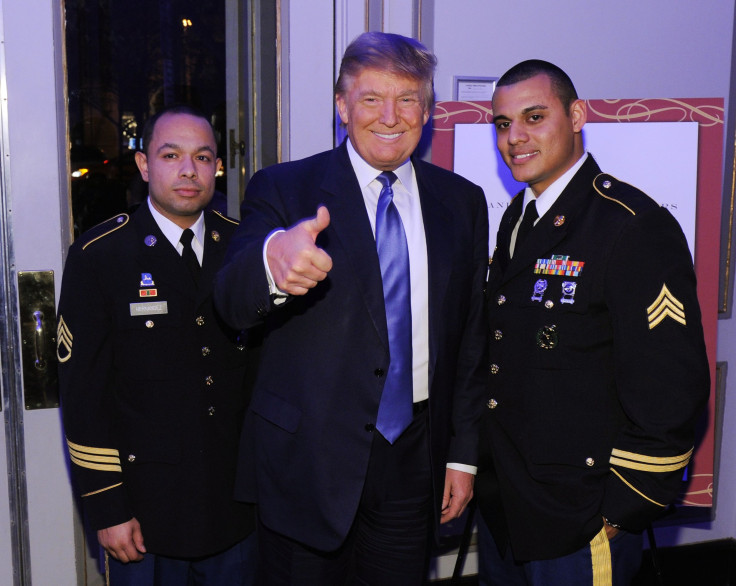 Military boarding schools have had a reputation among wealthy U.S. families since their inception as the ultimate castigation for misbehaved sons, with the belief that enrollment would force them to relinquish their unruly ways for impeccably shined shoes and beds made with crisp hospital corners.
There never seemed to be much debate as to whether the emphasis lied in the phrase in "military" or "school" -- that is until this week when presidential candidate Donald Trump made headlines for remarks that his military academy education involved more rigorous military training than actual service does. Apparently uttered without irony, the comments reminded fellow New York Military Academy alumni more of a one-liner from a freshman forced to run laps at dawn after missing curfew.
"My classmates and most people that I know find it to be funny because there is no comparison to the real military," said Augusto Esclusa, a member of the class of '85.
Veterans previously have questioned Trump's respect for the military this campaign season. His incendiary comments about Arizona Sen. John McCain drew fire from veterans when he said the decorated Vietnam verteran was not a hero because "he was captured." McCain spent more than five years as prisoner of war, while the real estate mogul deferred the Vietnam draft four times to avoid enlisting.
Trump has never served in the military, but he reminisces about his time at the New York Military Academy fondly. "One of the great choices I ever made in terms of success is the choice of going to N.Y.M.A.," he told CNN.
Like most preparatory schools, New York Military Academy was tucked away in one of the more placid corners of the Northeast - a riverside town named Cornwall-on-Hudson in upstate New York. The school counts other well-off and famous alumni such as composer Stephen Sondheim, bandleader Les Brown and mobster John Gotti Jr., among numerous other leaders in business, military and the art world.
Former students remembered the school as breeding students to be competitive in academics, sports and with other accolades. Students were waken up with pots and pans before sunrise to complete military training exercises that served to build more mental discipline than combat readiness. Tasks included push-ups, sit-ups and laps, but not infantry training.
"Some kids went there because academically it was a very strong school, but the other side of it was other kids who went there just because of disciplinary reasons," said alum Spencer Tunick, who also graduated in 1985.
Trump's own account of his time at the school speaks to the latter. "I wasn't the most well-behaved person in the world and my parents had no idea what to do with me, and they heard about this school that was a tough place," Trump told CNN in a 2005 interview.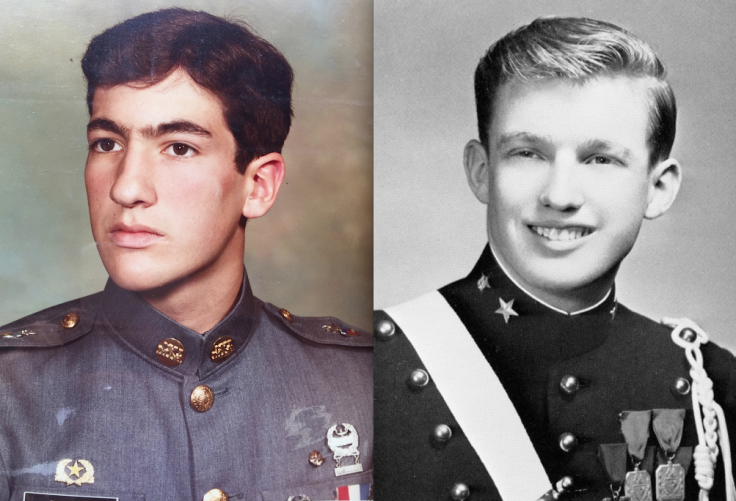 While it had its share of wealthy kids, Tunick rejects the notion that N.Y.M.A. was a "cushy private school." He said there were a considerable number of students on scholarships provided by the school's endowment. Tunick, now a New York-based artist, was on a music scholarship and interested in the athletic opportunities. Unlike Trump, he recalls the school's curriculum only loosely mirroring military conditioning.
"It was a lot of strenuous marching and I had marksmanship medal on my uniform, but that was it," Tunick said.
The closest he remembers coming to a life-and-death physical challenge was one "survival trip."
"They give you a match and string and send you into the forest for a night, but it's upstate New York so it's not that difficult," he said.
Esclusa, now 47 years old and a marketing executive, traveled from Venezuela in seventh grade to attend the school and learn English.
"I did not enjoy it when I was there. but once I graduated and my life progressed, I realized it was good for me," he said. "It was a great experience."
Esculsa said the school fostered a competitive environment with rewards for cleanest shoes and best-looking uniform. He remembers the son of one well-known horse race track owner would force the younger cadets to compete in a boxing ring that he had set up in the bathroom for older students to bet money.
While Trump graduated nearly two decades before him, Esculsa said that rumors still swirled around the school about the Class of 1964 graduate.
"We used to hear that it was very obvious that he was wealthy while he was there," Esculsa said. "He was a little pampered. They didn't make his life too difficult, but I wasn't there at that time to know if that were true."
Trump, who was known as D.T., was a talented, competitive athlete on the varsity football, soccer and baseball teams. He won trophies in intramural softball, basketball, softball, bowling and freshman football, according to a 1990 USA Today profile of the real estate mogul.
Jeff Walker, who was once a senior vice president of the Trump Organization, told USA Today that his manner on the field has carried over to his real estate pursuits.
''Nothing's changed,'' said Walker, who graduated one year ahead of Trump. ''It's in his genes.''
It's been more than 50 years since Trump graduated from New York Military Academy -- a time when the school saw its peak. These days, the 126-year-old school's tuition reaches upwards of $31,500 a year, but the academy has weathered financial issues as of late, following a trend seen with military schools across the country.
For three days, the academy closed in March after filing for bankruptcy protection with $10 million in debt. Superintendent Maj. Gen. William Beard told students the closing was a necessary response to the "the extraordinary circumstances caused by the recent bankruptcy filing and the freezing of N.Y.M.A. accounts and assets by the U.S. bankruptcy court."
Classes resumed and the academy was able to finish out the school year, but it is still in murky waters as the bankruptcy reorganization threatens to delay the start of the new year. Another prep school, Global Preparatory Academies, purchased N.Y.M.A., but had not paid the down-payment, reported the Times-Herald Record. The school plans to hold a public auction Sept. 30 if the sale falls through.
New York Military Academy is only one of about 25 military schools remaining from the 400 that once existed, according to a New York Times profile of the school five years ago.
The enrollment has dramatically dwindled since the 1960s when 525 students were enrolled. Even though the school has the capacity to board 404 students, fewer than 100 were enrolled last year, according to the Times-Herald Record.
While the school struggles to stay afloat, alumni have not come to the rescue in recent years, according to the New York Times. The alumni network has a net worth of $2.5 billion, but their contributions accounted for only 5 percent of the school's annual funds in 2010. "The most galling and perhaps damning thing for N.Y.M.A. is that its own alumni have never been loyal financial supporters," wrote the New York Times.
Perhaps there is an alum worth $2.9 billion they can call.
CORRECTION Sept. 13 11:20 a.m. EDT: An earlier version of this article reported that Tunick claimed the academy did not shoot rifles. Tunick, who was mistakenly identified as Ternick, had stated that NYMA shot rifles as part of its curriculum.
© Copyright IBTimes 2023. All rights reserved.