Dow, DuPont Approve $130B All-Stock Merger; Will Eventually Split Combined Company Into 3 Entities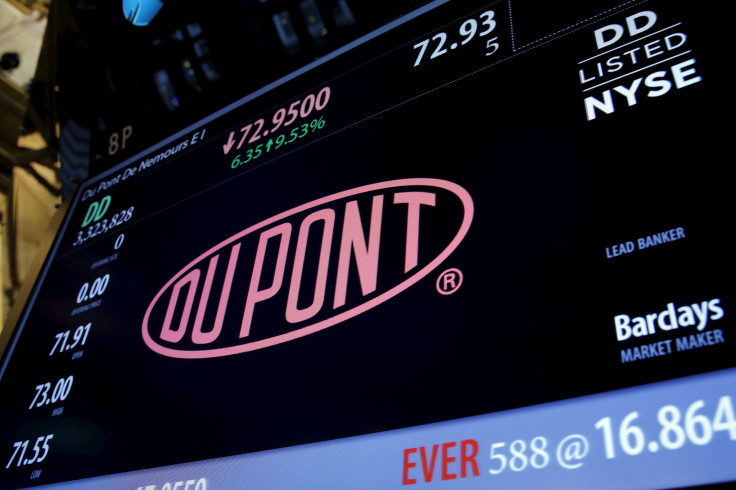 Dow Chemical Co. and DuPont Co. will merge in a $130 billion all-stock deal that would combine products of the two companies to create new businesses, the two companies said Friday.
Investors in DuPont will get 1.282 shares of the combined company for each of their share while Dow investors will get one share of the new company, the two U.S.-based agricultural chemical giants said, in a joint statement Friday. Dow CEO Andrew Liveris, 61, will become executive chairman. DuPont CEO Ed Breen, 59, will be chief executive of the new company.
Despite the size and complexity of the deal, analysts are hopeful that the merger would survive antitrust concerns with modest divestments, Bloomberg reported, citing analysts who track the companies. "The product overlap isn't extensive and the focus will probably be on seeds and crop chemicals," said Jason Miner, an analyst at Bloomberg Intelligence.
According to the statement, the combined company, to be named DowDuPont will eventually be split into three independent, publicly traded companies through tax-free spin-offs in 18 to 24 months. The split will produce an independent agriculture division, a material sciences division and a specialty products division.
The transaction is expected to save about $3 billion in costs, the statement added. Activist investors had argued for two years that shareholders of both companies would generate greater value if they were broken up, Bloomberg reported.
As lower commodity prices curb farmer spending, there has been widespread speculation this year about potential consolidation in the agriculture industry, according to Bloomberg.
In a separate statement Friday, DuPont announced a global restructuring exercise, which will reduce the company's global workforce by 10 percent and save about $700 million in costs.
Dow Chemicals, in a separate announcement Friday, said it would buy the remaining stake in its joint-venture with Gorilla Glass maker Corning Inc. The transaction, expected to close in the first half of 2016, will help Dow save $400 million from the restructured ownership.
© Copyright IBTimes 2023. All rights reserved.