Dow Jones Industrial Average In Free Fall After Brexit Vote Rocks Global Financial Markets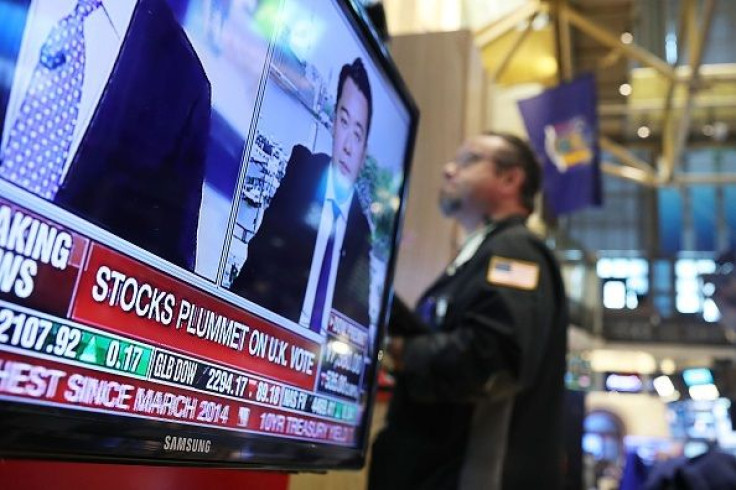 This story was updated at 4:55 p.m. EDT.
U.S. stocks closed Friday with huge losses in the wake of Britain's vote to quit the European Union, the biggest shock to the global financial system since the 2008 financial crisis. The Dow Jones Industrial Average finished the day with a loss of 610 points, or 3 percent, having fallen as much as 655 points in the last hour of trading.
Other major stock indexes also plunged, including the broader Standard & Poor's 500 index, which slumped 76 points, or 4 percent, clocking up its biggest one-day percentage drop since September. The Nasdaq composite, which includes many tech names, tumbled a hefty 202 points, or 4 percent, seeing one of its biggest one-day point drops since September 2008, at the start of the financial crisis. All three indexes were headed for their second weekly decline in a row.
"A lot of investors and market participants were not anticipating this outcome," said David Lefkowitz, senior equity strategist at U.S. Bank Wealth Management Americas in New York, refering to the U.K.'s shock referendum result.
Investors worried about the outlook for the world economy sought refuge in the dollar and other safe-harbor assets such as gold and U.S. Treasury bonds while dumping riskier shares. The yield on the U.S. 10-year bond hit its lowest since 2012.
Britain's FTSE 100 stock index was down 3 percent. Asian stocks also tumbled.
Amid the turmoil, sterling hit a 31-year low in its biggest intraday percentage fall on record, and Prime Minister David Cameron said he would step down by October.
The market was already expected to be volatile as traders adjusted portfolios to account for an annual reconstitution of the widely followed Russell stock indexes.
"We're getting close to the end of the month so people are looking to rebalance their accounts anyway," said Brad McMillan, chief investment officer at Commonwealth Financial in Waltham, Massachusetts.
Dow Jones Industrial Average (DJI) Value Over Time - Trailing Year | FindTheCompany
Banks were among the biggest losers. Citigroup was down 9 percent and Morgan Stanley, 10 percent, while Bank of America, JPMorgan and Goldman Sachs slumped by 5 to 6 percent. U.S. banks have big London operations.
Trading in S&P 500 and Nasdaq futures was halted briefly overnight after they fell more than 5 percent, triggering limit thresholds.
U.S. short-term interest rate futures rose amid speculation the Federal Reserve could cut interest rates to help shield the economy from any global fallout.
In a statement Friday, the Fed sought to calm global financial markets by saying it was ready to provide dollar liquidity following Britain's vote to exit the European Union.
Investors have been waiting for the Fed to raise borrowing costs as the economy improves.
Fed Chair Janet Yellen said earlier in the week an exit of Britain from the EU would have "significant repercussions" on the U.S. economic outlook.
The CBOE VIX volatility index — known as Wall Street's fear gauge — was up 35.3 percent at 23.34 in afternoon trading. The index had earlier surged as much as 52.11 percent to 26.24, its highest since February.
Oil prices, which are sensitive to changes in the economic outlook, dropped more than 4 percent, the biggest fall since early February. Exxon and Chevron were down about 2.5 percent.
Shares of gold miners surged Friday. Barrick was up 6 percent, and Newmont Mining was up just more than 5 percent.
Apple, which got more than a fifth of its revenue from Europe last quarter, was down 3 percent, while Facebook was also down 3 percent.
U.S. stocks had risen in recent sessions as investors bet Britain would remain part of the EU.
As of Thursday's close, the S&P 500 index had risen 3 percent since the start of the year.
Reuters contributed to this report.
© Copyright IBTimes 2023. All rights reserved.