Drones In America: First Passenger Drones Set To Hit The Skies Above Nevada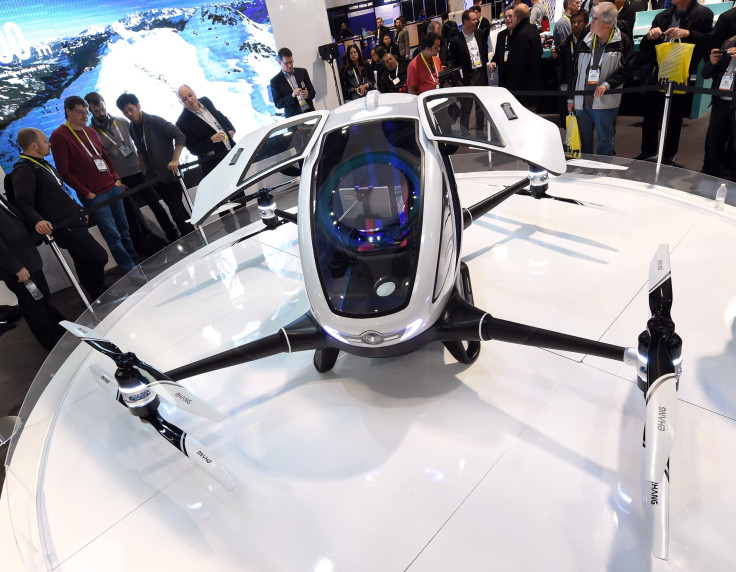 Look! Up in the sky! Is it a bird or is it a plane? If you're in Nevada, it could be the world's first passenger drone.
The electric Ehang 184 passenger drone has been given clearance for testing in the airspace above the Silver State, the Guardian reported Wednesday. The drone can carry a person inflight for 23 minutes.
Chinese passenger drone company Ehang has partnered with the Governor's Office of Economic Development (Goed) and the Nevada Institute for Autonomous Systems (NIAS) for the testing process.
"The State of Nevada, through NIAS, will help guide Ehang through the Federal Aviation Authority (FAA) regulatory process with the ultimate goal of achieving safe flight," said Tom Wilczek, Goed's aerospace and defense specialist.
Ehang, headquarted in Guangzhou, showcased the 184 model passenger drone at the Consumer Electronics Show in Las Vegas in January. A small team from the company's Chinese base will move to Nevada, but it's unclear if Ehang will eventually set up shop in the state.
The company's founder, Huazhi Hu, said he hoped the partnerships would help jumpstart a commercial era for drone transportation. Ehang was founded in 2014 and has received upwards of $50 million in venture capital funding.
So how exactly would the James Bond-esque passenger drone work? Passengers will be able to select the destination they want via a smartphone app, the Las Vegas Review Journal reported. The 18-foot long, 440-pound drone would take off vertically, meaning there's no need for a runway, and could go as high as 11,500 feet at up to 63 miles per hour. The drone has eight propellers and four arms.
An exact testing timeline and locations have not yet been finalized, the Review Journal reported. Nevada has positioned itself as a state that welcomes the testing of technology, becoming one of the first in the U.S. to allow autonomous vehicle testing.
"I personally look forward to the day when drone taxis are part of Nevada's transportation system," Wilczek said.
© Copyright IBTimes 2023. All rights reserved.
FOLLOW MORE IBT NEWS ON THE BELOW CHANNELS