Is Dua Lipa Performing At Qatar World Cup? Singer Denies Rumors
Dua Lipa has confirmed she will not attend the FIFA World Cup next week, ending rumors she will perform at the opening ceremony of the highly-anticipated event.
"There is a lot of speculation that I will be performing at the opening ceremony of the World Cup in Qatar. I will not be performing and nor have I ever been involved in any negotiation to perform," Lipa explained in her Instagram Story feed Sunday.
The 27-year-old "Kiss and Make Up" singer also revealed the reason why she would not opt to perform in Qatar at the moment.
"I look forward to visiting Qatar when it has fulfilled all the human rights pledges it made when it won the right to host the World Cup," she added.
Homosexuality is illegal in Qatar and those engaged in same-sex relationships may face the death penalty. Dua is an avid supporter of the LGBT community.
Qatar said all fans will be welcomed to the World Cup "without discrimination" but a London-based gay rights campaigner warned members of the LGBT community against going to Qatar.
"Obviously, when you go to a country, you respect their traditions. But the mere fact that being gay, or lesbian, or trans is illegal in Qatar and will open you up for prosecution means it is not a safe place for LGBT+ people to travel to and the government advice should clearly say that," Andrew Boff, deputy chair of the London Assembly, told BBC.
The event, which will begin on Nov. 21, has previously welcomed musical superstars like Black Eyed Peas, Pitbull, J.Lo and others. Shakira delivered an energetic belly dance performance of her "Hips Don't Lie" track at the 2006 World Cup with Wyclef Jean. She returned to the event in 2010 and performed "Waka Waka" in Johannesburg with the South African group Freshly Ground. Shakira also performed at the 2014 World Cup closing ceremony as she sang "La La La."
Speculations about Lipa's appearance at this year's World Cup began when a Twitter page, named World Music Awards (WMA), released a list of artists it claimed would perform for the event. Apart from Lipa, World Music Awards said Shakira, BTS, BlackEyedPeas, JBalvin and Bollywood star Nora Fatehi would perform at the event.
Fatehi and BTS' Jungkook have confirmed they will be part of this year's World Cup opening ceremony, TMZ said. No other artist has confirmed their participation at the event.
WMA has since deleted its tweet.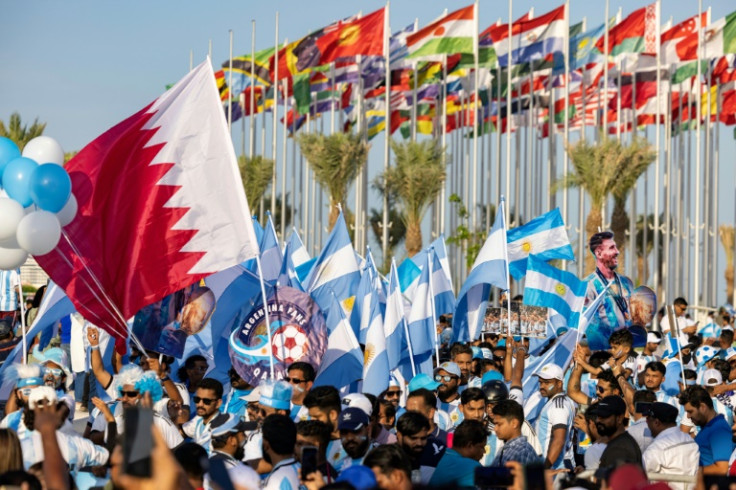 © Copyright IBTimes 2023. All rights reserved.
FOLLOW MORE IBT NEWS ON THE BELOW CHANNELS