Dunkin' Restaurant Closings 2020: 450 Locations To Shutter Inside Speedway Gas Stations
Dunkin' is closing about 450 restaurants as it looks to pull out of Speedway gas station and convenience stores by the end of 2020.
The Massachusetts-based coffee and doughnut chain has about 13,100 restaurants in 41 countries worldwide. The Speedway locations that will be affected by the closures are reportedly located along the East Coast.
Michelle King, Dunkin' Brands spokeswoman, told USA Today, "Very few of the approximately 450 Speedway-owned and operated limited menu Dunkin' locations have closed to date, and we remain on track to exit Speedway by the end of 2020."
The move by Dunkin' is designed to better position itself in the market with its Next Generation restaurant design by offering a broader menu and more modern experience, King told the news outlet.
Despite pulling out of Speedway stores, King said the company does plan on increasing its "presence in gas and convenience locations, as well as other non-traditional locations." These locations could include airports, universities, and travel plazas, King said.
Dunkin' opened 211 new restaurants in 2019 and seven net locations in the U.S. in the first quarter of 2020. As many as 12 Speedway locations had closed by the first quarter of this year. The company has more than 9,600 locations in the U.S.
Dunkin' reported a comparable store sales decrease of 2% in the U.S. for the first quarter, which it attributed to a decline in traffic due to the impact of the coronavirus.
During the first 10 weeks of the quarter, which was before the height of the coronavirus, Dunkin' saw an increase in comparable-store sales of 3.5%, which was on pace to be the highest growth quarter for the company since the third quarter of 2013.
In the last three weeks of the first quarter, comparable-store sales decline 19.4% because of the coronavirus. Total revenue for the quarter was $151.8 million, up 1.4% from a year prior.
On March 17, Dunkin' closed all of its restaurant dining rooms because of the coronavirus, offering only drive-thru, carryout and delivery orders. The company has since reopened the majority of its locations, with a series of safety measures in place.
Shares of Dunkin' were trading at $65.26 as of 3:50 p.m. ET, down $2.36 or 3.48%.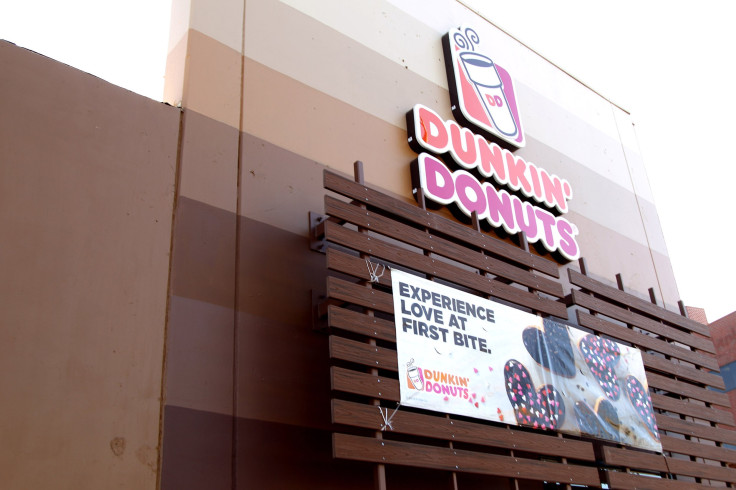 © Copyright IBTimes 2023. All rights reserved.