Earth Hour along Asia, Africa, Europe lifts the spirit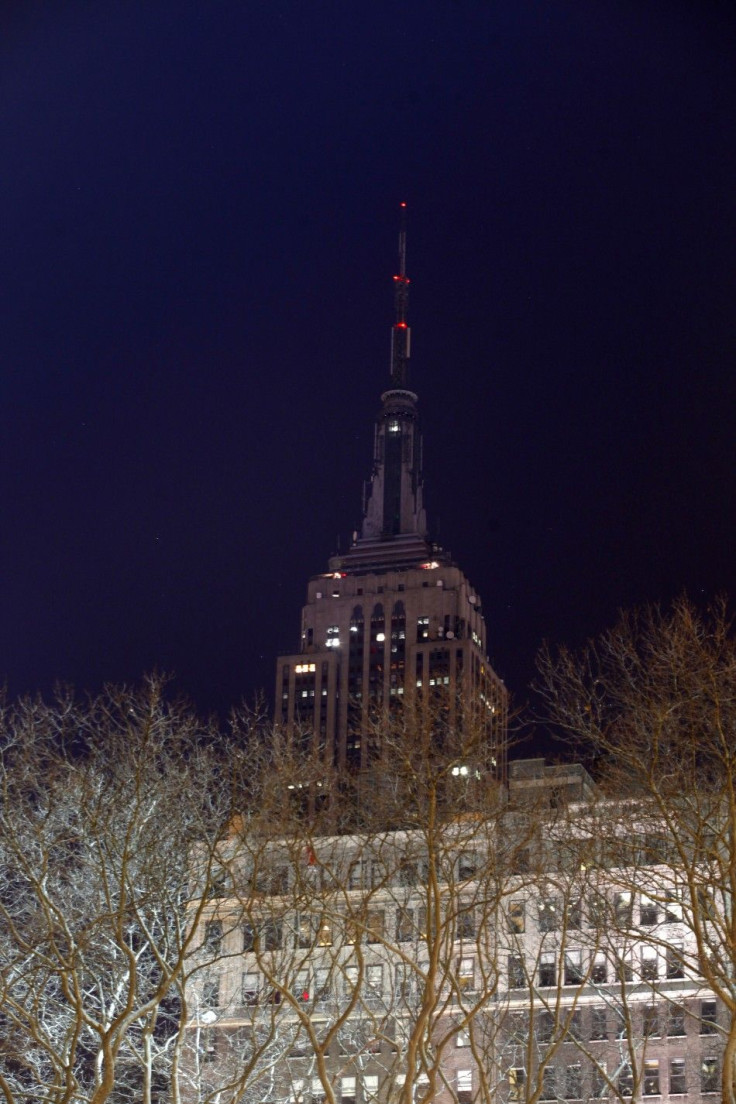 The symbolic action of turning lights out for an hour in an expression of concern for the environment is in the process of being officially observed in thousands of communities across 134 countries and territories on all continents.
Earth Hour has now swept into Europe, bringing with it a host of significant commitments of action on the environment from across Oceania and Asia.
The symbolic action of turning lights out for an hour in an expression of concern for the environment is in the process of being officially observed in thousands of communities across 134 countries and territories on all continents.
"We are seeing a boom in participation in many of the world's emerging economies this year, an encouraging sign as these countries begin to take an increasingly prominent place on the world stage," said WWF International Director General Jim Leape, present at India's official switch off event at India Gate in New Delhi.
"The incredible participation in Earth Hour this year, especially right here in New Delhi, is testimony to a great concern about the health of the living resources on which we all depend, and a recognition that each of us can play a part in building a sustainable future."

Korea's largest search engine supports Earth Hour
Korea's largest search engine - Naver - launched the day with a special logo (doodle) and featured the event on the five million user social network Me2day. Some 156 cities participated in the event, with the President's office being dimmed for the occasion.
Human rights lawyer, Wonsoon Park, a recipient of the Ramon Hagsaysay Award - Asia's closest equivalent of the Nobel Peace Prize - was the official Ambassador for Earth Hour and led 500 people gathered in front of Seoul Tower for a countdown ceremony and the observance of a minute of silence for the victims of the recent earthquake and tsunami in Japan.
Chengdu launches citywide bicycle plan, Shenyang opts for reforestation
In mainland China, 84 cities committed to go beyond the hour, with major urban centres from the southwest to northeast taking action for the planet.
In Chengdu, the symbolic lights-out event will be followed by an initiative that will see up to 60,000 low-cost rental bicycles made available for public use at over 1000 rental points city-wide. Meanwhile, on the other end of the country, Shenyang - a former industrial powerhouse - has pledged to reforest 96,000 acres this year to combat deforestation.
Beijing's most famous landmarks including the Olympic sites – Bird's Nest and Water Cube have turned out their lights off for an hour. This is in addition to the China World Trade Centre Tower 3, the tallest building in Beijing.
The Shanghai World Financial Centre (the tallest building in all of China); the Jin Mao Tower; the Oriental Pearl Tower and People's Square all switched off the lights in Shanghai. Furthermore, the city will create 1,000 hectares of new urban green space.
"WWF deeply appreciates the commitments cities are making across the country," said Jim Gradoville, CEO of WWF-China. "These cities are keeping track of an evolving Earth Hour global movement, and rising to meet the need for real action for the environment. We welcome more cities to do the same."
Chinese musical duo and Earth Hour China Ambassadors Yu Quan also released a Chinese-language theme song for Earth Hour 2011: "Turn off the Light".
Hai Quan, one-half of the musical duo Yu Quan, said of the track: "The song comes from the heart. Our lyrics mention polar bears, and your heart lighting up when you help the Earth because those are things we think about and have experienced. We care deeply about the environment, and as musicians, one of the best ways we can protect it is through our craft's ability to reach and touch people."
In Hong Kong, the Victoria Harbour waterfront was plunged into darkness as the world's largest permanent light and sound show was suspended for the evening. The Culture Centre at Tsim Sha Tsui hosted the official countdown ceremony which featured performances from Earth Hour Ambassadors Andox and Box. Government House switched off for Earth Hour for the first time this year, and National Geographic Asia suspended its normal programming for the hour.
5,000 Mongolians brave minus five degrees
Mongolia celebrated its second Earth Hour with over 5,000 people ignoring temperatures of minus five degrees Celsius around a vast candle-lit Earth Hour logo in the main square of capital, Ulaan Baatar. All buildings around Sukbaatar Square coordinated a switch-off for the crowd and 10 national television stations. The hour of darkness was marked by recording commitments to Beyond the Hour actions, musical performances, and a fire show.
Vietnam also turned out impressively for Earth Hour, with 37 provinces and cities officially participating - nearly double the number of 2010. Lights went out on the Huc Bridge, Thap Rua, Ngoc Son Temple, and The Hanoi Opera House.
An event held by WWF in association with The People's Committee of Hue City in Nghinh Luong Temple, saw the participation of leaders of Ministry of Industry and Trade, Ministry of Natural Resources and Environment, leader of Hue city, representatives of departments, businesses, organizations, volunteers, citizens and media agencies. All held a minute's silence to acknowledge the crisis in Japan and government representatives gave speeches.
Hue Television broadcast a concert directed by artist Huy Tuan that featured many talented, environmentally concerned singers including Mai Khoi, Le Cat Trong Ly, Ngoc Anh, Minh Chuyen, Manh Ninh, and Nguyen Duc Cuong and Earth Hour Vietnam ambassador Van Mai Huong, runner-up of Vietnam Idol 2010.
Glowing dancers light up darkened Malaysia
In Malaysia, WWF-Malaysia Executive Director/CEO Dato' Dr Dionysius Sharma joined celebrities, the media and members of the public in a day-long Earth Hour throw-down featuring an eco-bazaar and live performances at Sunway Pyramid, a larger-than-life recreational theme park and shopping centre near the capital, Kuala Lumpur.
The Petronas Towers stood in darkness as Sunway switched off at 8:30pm, and "Dance in the Dark" for Earth Hour 2011 got underway, led by dancers from WWF-Malaysia and supported by students from local colleges. Covered from head to toe in glow-in-the-dark paint, the troupe of 60 dancers entertained the crowd with a routine that had been posted on WWF-Malaysia's Facebook page the week before.
"From now until Earth Hour 2012, WWF-Malaysia is urging everyone across the nation to take Earth Hour beyond the hour by pledging online to 'Live Green: One switch at a time' towards more sustainable lifestyles," Dr Sharma said. "The more people who make this pledge, the more powerful our efforts to protect our living planet become."
Singapore keeps it cool with air conditioning pledge and "Walk in the Dark" event
This year in Singapore over 3,000 people including celebrity supporters Nadya Nutagalung, Utt, Felicia Chin, Tung Soo Hua, Pan ling ling and Huan Shinan took part in the first Earth Hour "Walk in the Dark", circling the city's historic Marina Bay. An Earth Hour event featured a live concert with popular duo Jack and Rai, Dawn Ho and Syltra Lee, and a carnival and outdoor movie screening. At the carnival, participants could exchange one litre of used cooking oil for a face towel, personalise kites with wishes for a healthy planet and patronise stalls selling eco-friendly products. The Guest of Honour was Dr Amy Khor, Minister of State for the Ministry of Environment and Water Resources.
The impressive list of national monuments and landmarks that supported Earth Hour in Singapore include the Lion City's national emblem, The Merlion, Marina Bay Sands, Orchard Road, Resorts World Sentosa, Changi Airport and the Singapore Flyer.
Even more impressive is the success of WWF-Singapore's "Beyond the Hour" campaign, which calls for businesses and individuals across the island to set their air conditioning at 24ºC or higher. Enterprises meeting the energy-saving challenge include Fullerton Heritage properties, the Marina Bay Sands Complex and Resorts World Sentosa.
Brunei staged a plastic bag free day and pledged to drop taxes on hybrid cars by five per cent and small engined cars (under 1.8 litres) by 15 per cent. Sultan Omar Ali Saifuddin Mosque, Yayasan Complex and the Kampong Ayer Cultural and Tourism Gallery extinguished their lights to mark Earth Hour. The Minister of Tourism for Borneo, Sheikh Jamaluddin Sheikh Mohamed lent his support to the event.
WWF-Indonesia commits to bringing renewable light to far off places
Indonesia's Presidential Palace may have extinguished its lights for Earth Hour but WWF-Indonesia has committed itself to lighting up some isolated areas with renewable power.
"With the support from OSO Group, we built a Micro Hydro Power Plant (PLTMH) in Harowu village, Central Kalimantan. The operation of the 15 KW plant is expected to generate power for 60 households in the village," said WWF-Indonesia CEO Dr. Pak Efransja.
Other landmarks to go dark in South East Asia's most populous city (population 18.7 million) included the Jakarta City Hall, the National Monument (Monas), the Hotel Indonesia Traffic Circle, the Arjuna Wiwaha Statue and Pemuda Statue. Other Indonesian cities also came on board this year, including Bandung, Semarang, Yogyakarta and Surabaya.
In Cambodia, a host of hotels, restaurants and attractions in the main tourist area along Sisowat Quay darkened for Earth Hour.
"As individuals, we can do our own little part to reduce the amount of CO2 released into the atmosphere and take action on climate change for 365 days," said Cambodian actor, Yuth Darachhany. Colleague Mr Tep Rindaro, a legendary figure who has been in the Cambodian film industry for 30 years, also lent his profile, encouraging Cambodians to take action for the planet.
In Bangkok, the Royal Palace led a list of landmarks observing Earth Hour, along with Arun Rachawararam Temple, one of the city's most recognisable landmarks, and the city hall which hosted an exhibition of beyond the hour activities by Thai companies. Lights were also extinguished along Patong Beach in Phuket, and the old gates and three kings monument in Changmai. Other provinces taking part included Khonkean, Nakorn Rachasrima and Prathumthanin.
"Each one of us has the power to make a difference": Indian actress Vidya Balan
Earth Hour in India has nearly doubled over last year's record effort, with 47 cities across 12 states confirmed to take part before the event, compared to the 27 cities participating in 2010.
"For Earth Hour 2011, I pledge to not just switch off but to go beyond the hour," said well-known Bollywood actor Vidya Balan. Each one of us has the power to make a difference. We just need to be conscious of it and make wise choices. When each of us takes simple steps, together these actions add up. I am supporting the fight against climate change by adopting some of these steps. It's time you do too.
Balan joined the Honorable Chief Minister of India, Smt Sheila Dikshit, along with Vidya Balan, Jim Leape, Director General of WWF-International and Ravi Singh, Secretary General and CEO of WWF-India in turning off the ceremonial switch at New Dehli's India Gate - although the monument continued to glow by candlelight even as its floodlights cooled. Palash Sen, the lead vocalist of the popular Indian band Euphoria was the star of a spectacular musical evening around the monument.
In Mumbai, popular landmarks such as Chatrapati Shivaji Terminus, Bandra Worli Sea Link, ITC Maratha, and Taj Lands End switched off lights. So too did headquarters of several public and private sector organisations like Air India, ICICI and HSBC, to name a few. The city of Bangalore too showcased its support towards Earth Hour, turning off lights in Brigade Road, ING Vysya, Infosys and at the Crowne Plaza Hotel.
"Looking at the huge impact of this extraordinary campaign, one can assess the power of individual action for a better tomorrow," said Ravi Singh, Secretary General and CEO, WWF-India.
In Colombo, Sri Lanka, 4,000 people have gathered outside the cricket grounds to observe Earth Hour while watching the world cup semi final - and rejoiced in a Sri Lanka triumph. Music moguls Bathiya and Santhus exhorted their fans.
"We call all our fans to add their voice to a global call for action against Climate Change and join us in going beyond the hour and changing our lifestyles to reduce the environmental footprint, which will help us lead the way to a greener tomorrow."
Plastics ban, energy efficient lights and tree-planting mark in Nepal
The Government of Nepal has made one of the largest 'beyond the hour' commitments for Earth Hour with an undertaking to put a complete stop to tree-felling in the 23,000 sq km Churiya Range. These striking hills are a key watershed for the rich Terai Arc landscape in southern Nepal - an area where WWF has long worked to improve the conditions of the people and the rich wildlife.
Earth Hour commemorations will also take place at the nearby birthplace of Lord Buddha in Lumbini, near the Indian border. Highlights of this event will include commitments to install compact fluorescent bulbs in all of the Lumbini Gardens monasteries and planting 108,000 trees in Lumbini Gardens this year (as an Earth Hour and Year of Forests pledge) with an ultimate target of one million trees within a span of ten years. The World Heritage site is also to be declared a plastic free zone.
At celebrations at Boudhanath Stupa in capital Kathmandu, an Earth Hour logo drawn with 1000 traditional butter fat candles lit the sky, while Salil Subedi and EarthBeat engaged the audience in a performance of didgeridoo and drums.
Mr. Anil Manandhar, Country Representative of WWF-Nepal said, "Earth Hour is not just about the 60 minutes of solidarity for the environment. This year, Earth Hour will go beyond the hour, marking a moment where every individual, government and business can make their commitment to environmentally sustainable actions for the forthcoming year."
Sustain life: Pakistan Prime Minister
In Pakistan, Sindh has been declared an Earth Hour Province, with the provincial assembly building going dark and Karachi leading the list of 15 cities taking part.
Pakistan's main Earth Hour celebration was held at the Tomb of Qiad-e-Azam, noted as the burial place of Muhammad al-Jinnah and others of Pakistan's founding figures. "Our world is a global village with finite resources which must be used in a manner that brings maximum good to maximum number of people," said Pakistan president Asif Ali Zardari, while Prime Minister, Syed Yusuf raza Gilani said the event is meant to show the world our respect to the Earth, which sustains life for human as well as other living beings."
Pakistan cricket legend Wasim Akram has made a personal commitment to stop using plastic bags, to recycle and reuse, and to use his high profile to promote and encourage the same behaviour throughout Pakistan and the rest of the world.
Going dark for the first time is Iran's tallest tower, the 435 metre Milad Tower in Tehran. Iran's first official participation in Earth Hour followed hard on the heels of celebrations marking the 40th anniversary of the signing in the country of the first global environment agreement - the Ramsar international convention for the protection of world wetlands crucial to migratory birds.
Rivalry was set aside in Kazakhstan, as capital city Astana and largest city Almaty led 86 cities and towns in 10 provinces taking part in Earth Hour in the Central Asian republic. President Nursultan Nazarbayez and Prime Minister Karim Massimov, along with the Ministries of Environment Protection, Energy and Mineral Resources, and Communication and Information joined in support for the global initiative.
World's tallest building going dark in Dubai
The newly completed Burj Kalifa tower in Dubai - at 828 metres the world's tallest building - led a list of many of the world's tallest buildings going dark for Earth Hour when it turned off about half a million lightbulbs. Six of the world's 10 tallest buildings had registered their participation before the event - Taipei 101 in Taiwan, at 508 metres the world's second tallest building, the Shanghai World Financial Centre (3rd at 492 metres), the Petronas Towers in Kuala Lumpar, Malaysia (5th and 6th at 492 metres) and the Chicago, US, Willis Tower (8th at 442 metres). Making an Empire Statement for the environment for the third time is the world's most famous tall building - holder of the title for 40 years (1931-1971), New York's 381 metre tall Empire State Building now still ranks 17th.
Burj Kalifa also leads an impressive roll call of buildings going dark in the United Arab Emirates, from the Sheik Zayed Grand Mosque, Emirates Palace and bridges and beaches of Abu Dhabi to many of the landmarks of Dubai including city symbol the Burj al Arab.
Earth Hour in the United Arab Emirates is also going well beyond the hour, in Dubai under the patronage of Crown Prince His Highness Sheikh Hamdan bin Mohammed bin Rashid al Maktoum. An unusual initiative is solar powered Earth Hour recycling bins on public streets.
The record number of United Arab Emirates participants in Earth Hour are also innovating beyond the hour, sharing pictures of themselves with their commitments for continuing environmental action.
Elsewhere in the Gulf, Kuwait celebrated its national day and Earth Hour by flicking the switch on the Twin Towers that are the country's most noted landmark. At the Jeddah Hilton, Saudi Arabia, the Gullf Environmental Forum (GEF) has partnered with Trees for the Future to plant 50 trees in Haiti for every speaker at its event. The two tallest buildings in Riyadh, the Kingdom Tower and the Al Faisaliyah Centre also turned off their lights.
Jordan's enthusiastic participation will be marked with the lights going out on the Jabal al-Qal'a, the citadel occupying a site in use since Neolithic times and in a host of the buildings and businesses it looks down on in capital city Amman. There will be darkness in the desert as well, when the floodlights illuminating Saladin's huge 12th century fortress at Aljoun are turned off.
Amman's Intercontinental Hotel will also be leading a global environmental software programme called Green Engage to guide reductions in wastage and energy use by comparing performance and highlighting best practice in similar hotels. Early trials have shown potential savings of up to 25 per cent and the system allows guests to input suggestions on greener technologies and practices.
Also taking part further north is the World Heritage listed Maiden Tower in Baku Old City on the Caspian Sea, the most noted symbol of Azerbaijan, a first time participant in Earth Hour.
Israel marked its fourth Earth Hour early on Thursday 24 March to avoid conflict with Shabbat, with hundred of Tel Aviv students familiarising themselves with nature in an urban environment, scouts commencing an environmental education program and promotions in community gardening fields. The main event was a green energy concert featuring leading Israeli bands operating off batteries powered by stationary bicycles and a bio-diesel fuel generator.
In Turkey, one of only a few countries to straddle two continents, the lights had earlier been switched off in capital Ankara's Opera House. WWF-Turkey enlisted 250 businesses and corporations and 2,000 online supporters to support its Earth Hour efforts.
The CEO of WWF-Turkey Tolga Ba?tak, made his Earth Hour press speech while the lights of the Bosphorus Bridge were going dark. "This year, the lights are going off for a different cause," Ba?tak said, "we put great pressure on the natural resources of our planet and our ecological footprint exceeds the biological capacity by 50 per cent.
"If we continue living and consuming as usual, we would need two planets by 2030 and 2.8 planets by 2050. It is getting harder and more difficult each day to survive in our 'global home'. We should try living in the resources that the planet supplies and respect the limits of one planet.
RUSSIA:
With Russia's main Earth Hour events in Moscow still eight hours away, WWF-Russia's Polar Bear Patrol were commemorating Earth Hour by setting out from their base in the small village of Lavrentiy to the even smaller Uelento, the nation's easternmost settlement on the Dezhnev Cape.
"We know Earth Hour very well," said a spokesperson for the patrol unit. "As we get to Uelen, we will tell the villagers about this action and I'm sure, they will support us. We are glad that the ones who keep peace between the bears and humans and protect the Arctic animals will be the first ones in Russia to celebrate this global event."
As the event traversed 11 timezones, riders in 20 cities saddled up on bicycles adorned with LED lamps - with the northernmost ride in Murmansk going ahead despite the forecasts of a strong snowstorm. The westernmost ride was staged in Archangelsk near the Finnish border. Over the border, the lights went out at the distinctive Helsinki cathedral, Finland and a special Tampere market place Energiatehdas (Energy factory) was set up with the energy being provided by dancers and stationary cyclists.
"These cyclists are heroes," said WWF's Russia office. "In Moscow it is minus eight degrees."
In Moscow, talk show host Nikolay Drozdov and popular actor Lubov Tolkalina arranged a dinner and auction for celebrities to commit to Beyond the Hour actions which included abandoning plastic bags and sharing cars. At the new Ecocentre was an environmental education event for children which attracted a range of city and government officials.
Social platforms spread the message in Egypt
Timezones here start dropping deep into Africa where Earth Hour participation boomed. In Egypt, the Earth Hour message was going out on the social media networks that recently played such a crucial role in the country's transition towards democracy, thanks in part to spirited sponsorship by Egypt's largest telco provider Mobinil. Using their extensive networks and calling on the support of Nile City management and the Egyptian Ministry of Environment, Mobinil engaged the participation of Egyptians, switching off the lights of their 5 office buildings across the country in recognition of their own commitments to go beyond the hour, including the establishment of one of Egypt's first LEED buildings.
In Kenya, lights went out at the Kenyatta International Convention Centre and United Nations Buildings across the East African nation as more than 10,000 gathered for a three hour concert in Nairobi with some of the country's leading musicians, including acclaimed afro-fusion artist Achien'g Abura, who implored her fans to make a commitment to go beyond the hour for Earth Hour 2011.
"If there is anything you take away from this year's Earth Hour it is that there is something you can do in the way you live your life that makes a difference. Your lamp may be pretty but it does not have to be on," she said.
Ugandan Earth Hour activists, officially participating in the event for the first time, have spread out into their communities with a range of beyond the hour activities. Enock Nimpamya committed to the training of 10 journalists in environmental reporting and to restore a hectare of degraded land in Kampala while Job Mutyaba will be assisting in the installation of efficient cook stoves in an Entebbe orphanage and its surrounding community. Around 20 individuals and organisations in Uganda have committed to planting 16,000 trees.
15-year-old inspires town in Swaziland
Nathi Mzileni, a 15-year-old boy from Swaziland, was inspired to take action in 2010 when he realised his town near Shewula Nature Reserve in the east of the country did not participate in Earth Hour. He started a group at his High School called Green Enviro to educate people about climate change, and this year single-handedly made Earth Hour a reality with major buildings in Simunye turning off including the Church of the Nazarene, the Simunye National Library, Simunye Country Club and major schools such as the Ngomane and Lusoti Primary Schools and Lusoti High.
Earlier this week, in Botswana, Former President Festus Mogae was among members of the public who came in large numbers to plant trees, in Gakuto, to demonstrate one of the ways Botswana can go beyond the hour of switching electricity off on March 26. Earth Hour was observed with a candle-lit ceremony in Gaborone. The lights also went off at the Victoria Falls in Zimbabwe.
Soweto again demonstrates power of grassroots action
Almost 35 years after making global headlines as the scene of one of history's greatest displays of grassroots action, Soweto, South Africa embraced the world's largest environmental action by turning off the lights at Orlando Stadium to the soaring strains of a spirited candlelit concert headlined by the Grammy award-winning Soweto Gospel Choir.
Other soccer stadiums turning off included Moses Mabhida (Durban), Nelson Mandela Bay (Port Elizabeth), and Soccer City (Johannesburg). International soccer regulator FIFA had earlier come out in support of Earth Hour.
Citizens of Durban which will in December host the next global climate change conference chose to follow a beach clean-up with a soccer in the dark event at popular tourist site, uShaka Marine World. Four well-known soccer teams battled it out in the dark of the Marine World.
Shutting off all lights in all municipal buildings were Durban and Bloemfontein, while Cape Town turned off its backdrop, the spectacular Table Mountain as well. Johannesburg flicked the switch on some of its best known landmarks including the Ponte Tower, the Hillbrow Tower, the SABC (national broadcaster) and the Sentech Tower (broadcast signal distribution centre) and hotels and businesses all over the city.
Moving on to Africa's northwestern-most nation, Morocco received the Earth Hour baton, the national capital, Rabat, switching off the lights of the Chellah ruins and ancient Medina walls surrounding the old city. The official ceremony in Rabat was attended by local government members, the President of local NGO Ribat Al fath, and hundreds of people who celebrated the event with Kanun and Gnawa music.
While in Casablanca an Earth Hour show accompanied by candles and acoustics was held at the 'Casa del Arte' (school of art) as diners at the iconic 'A ma Bretagne' restaurant celebrated a candlelit Earth Hour dinner by the famous Casablanca foreshore.

Ancient Acropolis switches off
Greece, which recently passed admirable biodiversity protection legislation despite economic adversity, turned off its best known landmark, the Acropolis, crowned by the Parthenon dominating the ancient city of Athens. On current information, this was the oldest buildings complex to observe Earth Hour.
Cyprus celebrated Earth Hour in the Presidential Palace with a message from the President and members of the Green Party.
Bulgaria celebrated Earth Hour for the third year, in part with free acoustic concerts staged simultaneously in top Sofia music clubs. Many of the musicians had previously recorded a video asking fans to turn off computers as well as lights. Lights went out at the National Theatre, the National Library and the Alexander Nevsky Cathedral in Sofia and on administrative buildings, historic monuments and public spaces in 46 towns and cities outside the capital. Patron for the event was EU Commissioner, Kristalina Georgieva, and top Bulgarian tennis players Wimbledon semi-finalist, Tsvetana Pironkova, and Junior Wimbledon and US Open winner, Grigor Dimitrov, were Earth Hour ambassadors.
"I believe that Earth Hour shouldn't be just turning off your lights for an hour once a year," Tsvetana Pironkova said. "We should all think how we can contribute to saving our planet every day. The Earth is not our home only, it will need to be the home of our children too. To begin with, I always unplug the charger once my mobile phone has charged. I try not to have the TV on if I am not watching it, to switch off the lights when I leave a room and to recycle as much as possible!"
"I try to choose the products I use depending on how they were made. When possible, I chose the most environmentally friendly products. I try to use recycled materials and use as little energy as possible in my daily life", Grigor Dimitrov said.
"Really, it's not difficult and I believe that everyone can work on their environmental footprint and be more responsible towards the environment".
Locals in Pristina, Kosovo marked their commitment to go beyond the hour at Mother Teresa Square where, from 3.00pm local time, organising partners "AKEA" and "Eko Viciana" provided boards for Kosovars to sign up in support of the Earth Hour movement.
Some 42 Serbian cities and municipalities led by Belgrade and Nis took part in Earth Hour, with Eco Musketeers again persuading Belgradians in Republic Square to register pledges and mark out the Earth Hour logo with candles.
A concert held in Mostar, Bosnia and Herzegovina was at full capacity with 300 people attending the event. Man of the year and renowned musician, Damir Imamovic, showed his support by performing at the event.
Croatia was also a third time participant, this time with the support of President Ivo Josipovic. Fifteen cities and towns signed up for the event and the lights went out for the first time on UNESCO heritage sites at old Dubrovnik and the sprawling palace of Roman Emperor Diocetian which dominates Split.
Actor and Earth Hour ambassador, Zrinka Cvitesic, hosted the drum concert and singing in Petar Preradovic Square in the capital Zagreb.
Romania again turned out the lights on its Parliament Palace, one of the world's largest buildings which consumes in one hour what a household consumes in a year. Other notable buildings to darken included the Romanian Athenaeum, the National Theatre in Bucharest, the Central Library, the National Opera and the National Art Museum.
Outside Bucharest, 51 other cities and towns commemorated Earth Hour including 9 out of the 10 largest cities. As buildings plunged into darkness, people could choose among 20 events - candle-lit shows, stargazing, unplugged concerts hosted by folk artists and children choirs. A Bucharest bike march across the city drew 500 while an unplugged concert hosted by popular musician and Earth Hour ambassador Zoli Toth`s band SISTEM and by Romanian choir SOUND, provided the music in front of the Romanian Athaeneum.
"Every day we consume a lot of energy that we don't actually need," said Toth. "If we are a bit more careful and care about future generations, we can decrease our carbon footprint significantly in the future. Everything depends on us."
The historic city of Brasov in the heart of the Carpathian mountains organized a special event, showing a silent movie, powered by the energy produced by several people biking.
The so-called Endless Column by famous Romanian sculptor Constantin Brâncu?i at Târgu Jiu in the heart of Romania, also went dark for Earth Hour. The monument was commissioned to honour the soldiers who defended Târgu Jiu during the First World War and saved from the destruction by the former Communist regime in the 1950s. An 18th, but incomplete rhomboidal module at the top is thought to be the element that expresses the concept of the infinite.
Ukrainian capital Kiev flicked off lights on busy Kreschatik Boulevard and the historic orthodox Christian Kievo-Pecherskaya monastery to lead 32 further cities in observing Earth Hour for the country's third time. Supporters enjoyed an hour of acoustic music with popular Ukrainian singer Dmitriy Shurov and music band "Bahroma" at the Contemporary Art Centre M17.
In Odessa, the historic centre of the city, including the Opera and seaside boulevard, were also shrouded in darkness. At 8:30pm people could join a street concert near the city hall, followed by fire shows and a flash mob with candles. At the end of the concert people could write their pledges to the planet on lanterns and let them fly into the night sky.
"If each one of us begins to monitor the quantity of gas, water and electricity used, the numbers for a huge country like Ukraine will be enormous. In reality it is so simple to change our behaviour", said Earth Hour veteran and popular clothes designer Lilia Poustovit, who has been an ambassador to the Ukrainian campaign since 2009.
In other Ukrainian cities people could visit street concerts and candlelit dinners at different restaurants, as well as join roller skaters in Energodar and attend an evening of street astronomy in Poltava.
Belarus turned out lights on its most prominent and perhaps most startling building - its national library, a glass 23-story rhombicuboctahedron (a solid with 8 triangles and 18 squares) while Lithuania turned off the lights on the castle most featured on its national currency, the 14th century Vilnius Gediminas Castle, backed up by the National Museum building. Polish celebrations in 30 cities and towns were led by TV presenter Kinga Rusin.
"I have supported the 'Earth Hour' for several years now, because it offers a practical opportunity for every resident of this planet to switch off the lights for one hour, thus taking part in the pursuit of a common goal in terms of promoting green thinking and the sustainability of our planet," said Latvian President Valdis Zatlers.
"By taking an active part in this, as opposed to standing around the sidelines, we confirm that we are concerned about the climate changes that are occurring in our environment."
Prime Minister Valdis Dombrovskis and the State Parliament Saeima also supported Earth Hour's fourth commemoration in Latvia.
Malmo wins Earth Hour greenest city award
Across the Baltic, 30 Swedish cities competed for the honour of being named 'Earth Hour Capital 2011' and it was Malmo that received the award from the King in the inaugural Earth Hour City Challenge for the most holistic, inspiring and credible plan for reaching zero carbon emissions.
But the city isn't about to rest on its laurels with Mayor Ilmar Reepalu telling the international panel of experts that "our work isn't finished, and our goal is for Malmö to be powered by 100 percent renewable energy by the year 2030."
Elsewhere, famous musician Anders Paulsson was leading the Royal Philharmonic Orchestra through its paces in the Stockholm Concert House in Sweden, while at the other end of the musical scale Love Generation, Vanessa Falk, J-Son and Vanessa Liftig were starring in a carbon-neutral pedal-powered Hip Hop concert in the dark at the Sockholm Cultural Centre
Folk music and pop concert fans weren't neglected either with a concert in Katarina Kyrka (one of the largest and most central churches in Stockholm) Stars included Me and My Army, Carl Norén, Little Majorette, Esbjörn Hazelius Kleerup and Stiko Per Larsson, with Stiko's next engagement being a post Earth Hour walk from Stockholm to Copenhagen.
Earth Hour actions in the Albanian capital Tirana took place across the city with the theme of turn off the lights - turn on solidarity with the planet. Locals gathered in front of prominent Tiranian landmark, The Faculty of History and Philology, where the lights were turned off as part of a ceremony followed by a candle party that lasted the full 60 minutes of Earth Hour. Those attending were kept entertained by an acoustic guitar concert without the use of electricity and the event was broadcast across Albania by local TV network, Planet TV.
In Norway, Earth Hour celebrations broke records for the third year in a row with 181 cities and communities participating (up from 162 in 2010). One of the highlights included a ski resort that celebrated the event with a torch slalom event where participants were invited to ski down the slopes with torches in hand. Norwegian Polar Explorer Borge Ousland communicated the urgency of action that goes beyond the hour, "during my expeditions to the Arctic, I have sailed right through the consequences of climate change: where there should have been ice, there is now open sea. The changes are dramatic and the job of cutting greenhouse gas emissions has never been more important than now.
The Norwegian national energy company, Statnett, reported a national drop in energy consumption during the hour that surpassed last year's saving. Figures showed that Norwegians who switched off their lights were able to save the equivalent of slightly over six million 40W light bulbs.
Candlelit demand for "Energiewende jetzt!"
A 3000 candle demand for Energiewende jetzt! (Switch to Green energy now!) was the main feature of the "Switch Off Event" at Brandenburg Gate in Berlin. Lanterns were used to spell out Klimaschutz jetzt (climate protection now).
Some 65 cities and towns in Germany participated in Earth Hour 2011.
There was a fourfold increase in Czech Republic cities and towns participating in Earth Hour, including four regional capitals. Among the 131 was Brno, the country's second biggest city, which invited citizens to "enjoy the darkness" with movies about darkness, lectures on climate and light pollution, concerts in the dark and a guided city walk to some of the "dark" corners of the city, stopping at art shops, cafés and restaurants operating only by candle light. The observatory in Valašské Mezi?í?í had an evening dedicated to climate and light pollution.
Runway switches off at Budapest Airport
More than 5000 people congregated in the darkened Castle precincts of Budapest, Hungary to hear celebrities talk about climate change, environment protection and why they support Earth Hour.
In what was initially slightly alarming news, Budapest Airport announced a commitment to turning off runway lights. The temporary black-out, carried out, the airport explained, under strict national and international control to ensure passenger and aviation safety celebrated a light system refit which has significantly reduced the amount of energy the airstrip uses to provide lighting that can be seen from a distance of 20 kilometres.
Lively university town Szeged in southern Hungary hosted an event featuring drummers and fire dancers. Mulled wine and refreshments were served and Earth Hour supporters received candles with the Earth Hour logo.
Austrian capital Vienna participated in Earth Hour for the first time, as President Heinz Fischer affirmed support with a statement saying that The Federal President of Austria welcomes all activities such as Earth Hour to make known the drastic impacts of climate change to all Austrians and people who live in Austria.
Lights go off on the famous Vienna City Hall building and the huge and historic Schönbrunn Palace on the outskirts of Vienna. Some 11 further cities supported the event. Among these were the historic towns of Innsbruck, Linz, Klagenfurt and Salzburg. In Salzburg, lights went out on 20 landmarks, among which Castle Hohensalzburg and the Statue of Mozart. In Switzerland, the International Olympic Committee based in Lausanne also offered its support.
Eternal city Rome Italy went temporarily dark around a main event in Piazza Navona which kicked off with animations and children leading up to the lights of the Fontana dei Quattro Fiumi being turned off by actor Christian de Sica and WWF Italy founder Fulco Pratesi. Down towards the forum, the Colosseum dimmed.
Swim champion Massimiliano Rosolino was the first of a procession of celebrities to light flying lanterns on the green carpet, while Pocoyo Mascotte was on board to animate the square along with a concert of street artists.
Milan's main event for Earth Hour was held in the gothic scenery of Piazza Duomo. From the afternoon animations, games and laboratories, including ecological house, solar energy and water clock demonstrations, were held for the kids. The city's famous cathedral played mute witness to one minute of silence for Japan.
Spain also saw a record turnout with 214 cities and towns, 172 schools and universities, 76 companies and 153 other organisations supporting the event. Some 15,026 individuals have signed online. In Portugal the lights were switched off by Internationally renowned Portuguese composer, António Vitorino d'Almeida.
City of light turns them off
A 25 by 25 metre Earth Hour logo of 1,600 LED lit Pandas was a new touch to Earth Hour celebrations in Paris, France, but the main spectacle remained an Eiffel Tower suddenly switching off. Pressing the red button to accomplish this is one of the most sought after jobs in the entire global progress of Earth Hour. Other switches are, however, required to turn off historic bridges over the Seine. Some 126 other French towns and cities also went dark.
Celebrations in The Netherlands were centred on Rembrandt Square in Amsterdam with a special set played by top ten Netherland Dj and Earth Hour ambassador, Ferry Corsten. In the country's second largest city Rotterdam, lights on the City Hall and Erasmus Bridge were extinguished for the hour.
60 static cyclists broadcast the Earth Hour news.
At the Royal Albert Hall, Kensington, a special event was created for Earth Hour: human energy will cast through the darkness to shine a message of hope onto the walls of the iconic Royal Albert Hall. For the duration of the hour, 60 static cyclists powered a projection of natural world animation and Earth Hour news.
Earth Hour is about millions of people all over the world coming together to switch off their lights, tackle climate change and protect our natural world," said UK Prime Minister David Cameron. " It is a huge symbol of global solidarity, an inspiring display of international commitment. I urge everyone to take part, and I really do believe this is another small step to the big prize we all want to see – our planet protected from Climate Change.
Landmarks that darkened for Earth Hour across the UK include the EDF Energy London Eye, Manchester United Old Trafford, Albert Hall, Buckingham Palace, and No 10 Downing Street. The Tower Bridge is among six bridges across the UK that switched off during Earth Hour.
Mayor of London Boris Johnson said, I am pleased to give my full backing to WWF's Earth Hour to highlight London's commitment to energy conservation. At City Hall we'll be turning off our lights to mark this global event, and ensuring that London's iconic Nelson's Column in Trafalgar Square will be in darkness.
Scotland's official countdown event for Earth Hour was held at Edinburgh Castle. Alex Salmond MSP, Scotland's First Minister, said, "The Scottish Government is delighted to back WWF's Earth Hour.
Our world-leading Climate Change Act with its target to cut emissions by 42 per cent by 2020 is challenging but achievable, and in doing so we will create a cleaner, greener Scotland with a thriving low-carbon economy. We are committed to leading by example and to encouraging others to do the same.
Every person in Scotland typically contributes twice the global average in terms of greenhouse gas emissions produced as a result of our everyday behaviour. Small changes in our daily lives will not only help reduce emissions but can also contribute towards a healthier lifestyle, improve our environment and offer real financial savings.
WWF's Earth Hour provides an opportunity to demonstrate Scotland's commitment to tackling climate change in a simple yet effective way."
Lord Mayor of Dublin, Ireland, Gerry Brown, celebrated his city's participation in the global initiative, highlighting its pioneering role in the European roll out of Earth Hour, "Dublin was the first city in Europe to support Earth Hour and I am proud to continue this tradition that shows the power of small nations, individuals and communities to come together and send a powerful message." Ireland switched off some of its best known landmarks such as the Rock of Cashel, Donegal Castle and Leinster House.
© Copyright IBTimes 2023. All rights reserved.
FOLLOW MORE IBT NEWS ON THE BELOW CHANNELS