ECB Tests Show Greek Banks Have Capital Shortfall Of $15.85 Billion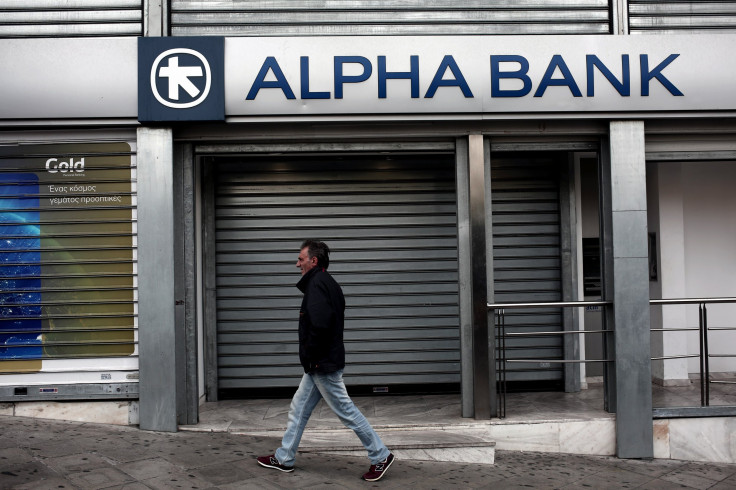 FRANKFURT, Germany (Reuters) -- Greece's banks need 14.4 billion euros ($15.85 billion) of fresh capital, the European Central Bank said Saturday after conducting health checks to begin the rehabilitation of the country's lenders. The announcement follows a series of stress tests on the banks to see how they are faring after a long-running dispute over reforms demanded of Greece for international support. The results of the tests, which found that loans at risk of nonpayment had increased by 7 billion euros, will trigger a push to attract investors to fill this hole.
Although the banks are currently being kept afloat by access to money through the eurozone monetary system, there is a rush to get recapitalization completed. If it is not done by the end of the year, new European Union rules mean large depositors such as companies may have to take a hit in their accounts.
The tests looked at how many loans would go unpaid if the country's economy performs as expected up until 2017 -- the so-called baseline. It also simulated a so-called stress scenario, where the economy dips further.
In checks on the financial strength of the country's four main banks -- National Bank of Greece, Piraeus, Alpha Bank and Eurobank -- the ECB determined that even should the economy perform as forecast, the banks would need almost 4.4 billion euros.
The bailout standoff between leftist Prime Minister Alexis Tsipras and his country's international backers -- the International Monetary Fund, European Union and ECB -- almost saw Greece fall out of the eurozone. It led to the freezing of central-bank funding for Greece's banks and forced controls on cash withdrawals. Although this stemmed a further hemorrhaging of savings, it squeezed the economy, making it harder for borrowers to repay loans.
In the current 86 billion-euro bailout of Greece, 25 billion euros is earmarked for banks. The fact that the capital hole is smaller than that figure may encourage investors such as hedge funds as well as limit the amount of cash that the state has to spend in a bailout that entangles itself further in the ownership of the four big banking groups.
(Reporting by John O'Donnell and Francesco Canepa; editing by Susan Thomas)
© Copyright Thomson Reuters 2023. All rights reserved.