Economists Nervous About When U.S. Federal Reserve Will Begin Raising Interest Rates Ahead Of Jackson Hole Symposium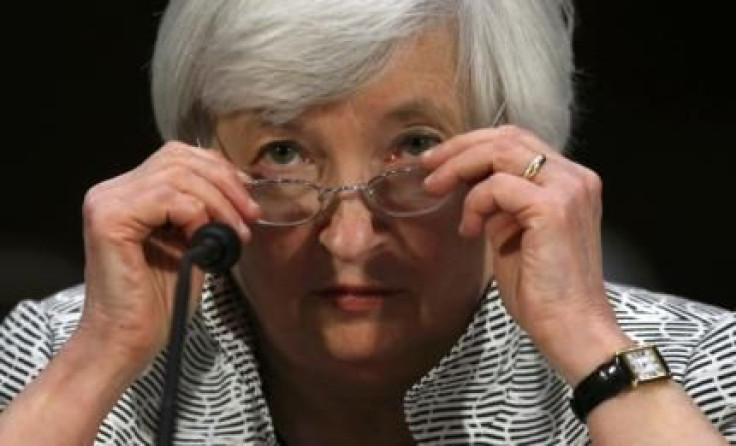 With the annual Jackson Hole, Wyoming, Economic Policy Symposium approaching this week, economists are expressing nervousness on whether the U.S. Federal Reserve will begin to raise interest rates before inflation sets in. With the U.S. unemployment rate at 6.2 percent in July -- more than a full point lower than July 2013 -- and private-sector earnings up 2 percent for hourly workers, a handful of Fed officials admit worry is justified, the Wall Street Journal reported Sunday.
"The idea that the Fed might get behind the curve is a powerful one, and that's certainly been the history of the institution. People are right to worry about that," St. Louis Fed President James Bullard told the Journal.
Arun Raha, chief global economist for Eaton Corp. (NYSE:ETN), the Cleveland industrial manufacturer, said he's "nervous. Given the strength of the job market, manufacturing and nonresidential construction, it's about time they got rid of their low-rates-for-an-extended-period viewpoint."
Fed forecasts show interest rates beginning to move up next year, probably toward the middle of the year. The world's other central banks are waiting for the Fed to make the first move, the Journal said.
Yields on 10-year U.S. Treasury notes fell Friday to 2.345 percent, a 14-month low and a 3 percent drop from the beginning of the year. Yields had been expected to go up with the end of the Fed's $85 billion-a-month bond-buying program.
Atlanta Fed President Dennis Lockhart said he thinks nothing should change until the economy is on a firm footing, but Allen Sinai, president of Decision Economics, said any move would be more effective if it were pro-active rather than reactive.
"We look for new clues on how the Fed plans to gain greater control of the Fed funds rate as it tightens policy, while the system is still swimming in reserves as a result of the three quantitative easing programs undertaken," said Victoria Clarke, economist at Investec (LON:INVP).
With U.S. inflation figures due out Monday, the results could impact discussions. "We expect inflation data to test monetary policymakers' resolve before the end of the year, but do not expect that challenge to begin with the July report," Brian Jones, economist at Societe Generale (EPA:GLE), told Reuters.
Another major issue is the rising tensions in Ukraine. "Even if the issues today are resolved and there isn't a shooting war, that ongoing tension between the Ukraine and Russia puts an underlying bid into the Treasury market," Lou Brien, market strategist at DRW Trading (NYSEARCA:DRW) in Chicago, told Reuters.
The three-day symposium begins Thursday and is expected to center on labor markets of major economies, Reuters reported. Janet Yellen is scheduled to deliver her first speech as Fed chairwoman. Also to speak are Bank of Japan Governor Haruhiko Kuroda, Central Bank of Brazil Governor Alexandre Antonio Tombini and Bank of England Deputy Governor Ben Broadbent.
© Copyright IBTimes 2023. All rights reserved.
FOLLOW MORE IBT NEWS ON THE BELOW CHANNELS