Economy Maybe Threatened By Trade Dispute With Allies: Trump Advisor Larry Kudlow
With President Donald Trump's decision to impose tariffs on steel and aluminum imports from the European Union, Canada and Mexico resulting in a trade dispute, White House Chief Economic Adviser Larry Kudlow on Sunday said it could have an impact on the nation's booming economy.
When asked whether the trade disputes with allies would badly affect the U.S. job sector, during an interview with Fox News' Chris Wallace on Sunday, Kudlow said, "Oh, it might. I don't deny that. You have to keep an eye on it. It's a very precious. It's possible, absolutely. I don't think it has right now."
He, however, stated that the country is right now "on the front end of what will turn out to be the best prosperity boom in several decades."
"The economy is clicking on all cylinders. Business investment is growing everywhere. Money is being repatriated. Trillions of dollars are coming back home to the USA," he said.
The Trump administration Thursday announced the U.S. would impose a 25 percent and 10 percent tariff on steel and aluminum respectively, imported from Canada, Mexico and the E.U. This has upset the U.S. allies and they announced plans to retaliate by imposing tariffs on products from the U.S. On Saturday, finance ministers from various countries expressed anger over the tariffs at the G7 ministerial summit held in Canada and urged Washington to reverse it.
Canadian Prime Minister Justin Trudeau dubbed the move "frankly insulting and unacceptable." He said the decision taken by the U.S. citing "national security concerns" is an insult on his nation's long-standing military alliance with Washington.
"Let me be clear: These tariffs are totally unacceptable. The idea that our soldiers who have fought and died together in the mountains of Afghanistan and stood shoulder to shoulder, somehow this is insulting to them," Trudeau said on Sunday. "The idea that we are somehow a national security threat to the United States is quite frankly insulting and unacceptable."
Commenting on this, Kudlow said, "Mr. Trudeau, I think he's overreacting. I don't want to get in the middle of that. As a fine friend and ally of the United States, nobody denies that. But the point is, we have to protect ourselves."
"I don't think our tariffs or anything to do with our friendship and our long-standing alliance with Canada. I don't think we're satisfied yet that they will protect or uphold all the shipments of steel coming into Canada from around the world. Could be China. Could be Brazil. Could be a lot of different places. The trans-shipping effort is something that has been troubling to us," he added.
Regarding the ongoing negotiations over the North American Free Trade Agreement (NAFTA), he said, "The NAFTA talks haven't broken down. We're still having those conversations and we are still having the steel talks with Canada… I don't think things are broken down."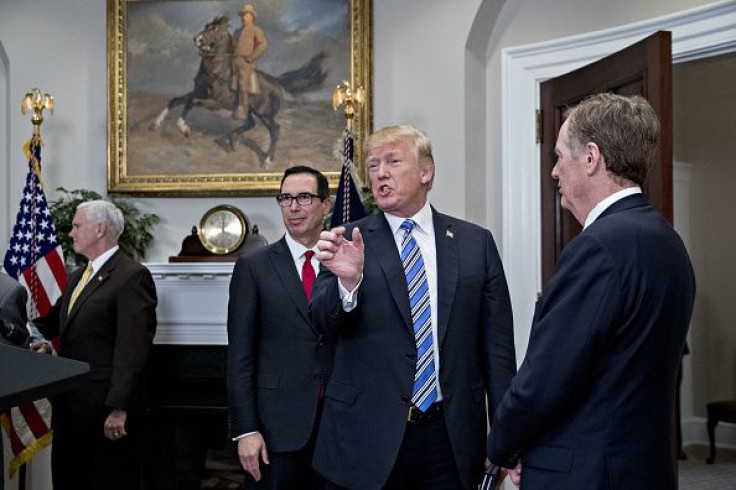 © Copyright IBTimes 2023. All rights reserved.