Eddie Vedder 2012 Tour: Pearl Jam Front Man Goes Solo in 13 Cities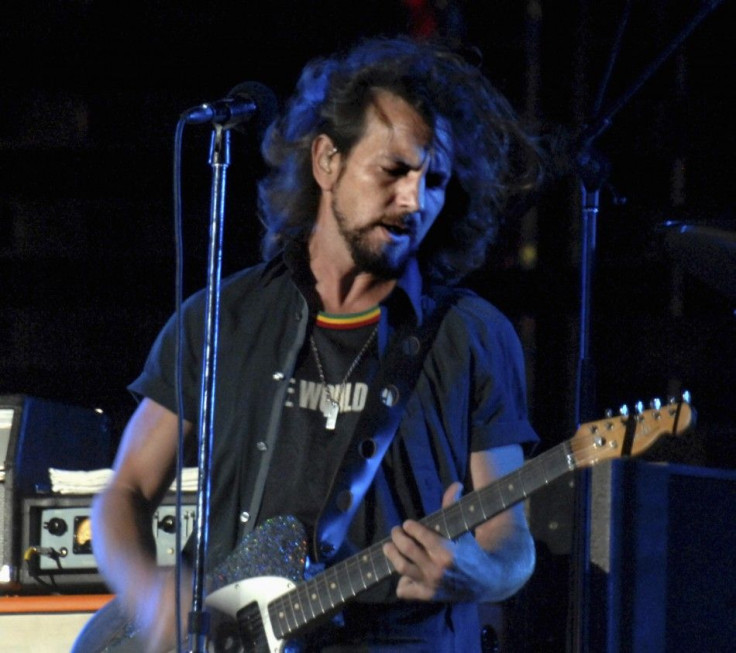 Get ready for Eddie Vedder and his ukulele.
Vedder has announced that he will venture out on a 13-city solo tour, Rolling Stone reports.
After taking a year to focus on his main band and their 20th Anniversary Bash, a documentary directed by Cameron Crowe, the Pearl Jam frontman will hit the road in support of his 2011 album, Ukulele Songs.
The album, which is up for a Grammy in February, features Vedder, 47, performing original songs and covers on his ukulele.
The month-long tour will take the singer-songwriter through theaters from Las Vegas on Apr. 11, to Orlando on May 16. The tour will also make a pit-stop in New Orleans, where Vedder is reportedly joining forces with other rock legends for the Jazz & Heritige Festival on May 3.
Joining him on tour once again will be Irish singer-songwriter Glen Hansard, of folk-rock duo the Swell Season, and rootsy rockers the Frames. Hansard, who is featured on the Ukelele Songs, made several guest appearences on Vedder's first solo tour that took place in June and July of 2011.
Tickets for the upcoming tour will go on sale Feb. 3, though eligible members of Pearl Jam's Ten Club could buy them through a pre-sale that started yesterday.
Check below to see if Eddie Vedder and his ukulele are coming to a city near you:
4/11 Las Vegas, NV - The Pearl 4/13 Phoenix, AZ - Comerica Theater 4/16 Albuquergue, NM - Kiva Auditorium 4/19 Tulsa, OK - Brady Theater 4/22 Houston, TX - Jones Hall For The Performing Arts 4/25 San Antonio, TX - Lila Cockrell Theatre 4/27 Austin, TX - Bass Concert Hall 4/30 Dallas, TX - Music Hall At Fair Park 5/3 New Orleans, LA - New Orleans Jazz Festival 5/8 Jacksonville, FL - Moran Theater 5/10 Clearwater, FL - Ruth Eckerd Hall 5/13 Ft. Lauderdale, FL - Broward Center For The Performing Arts 5/16 Orlando, FL - Bob Carr Performing Arts Center
© Copyright IBTimes 2023. All rights reserved.