'Edge of Tomorrow' Box Office Projections Hint That Tom Cruise's Leading Man Career Might Be Over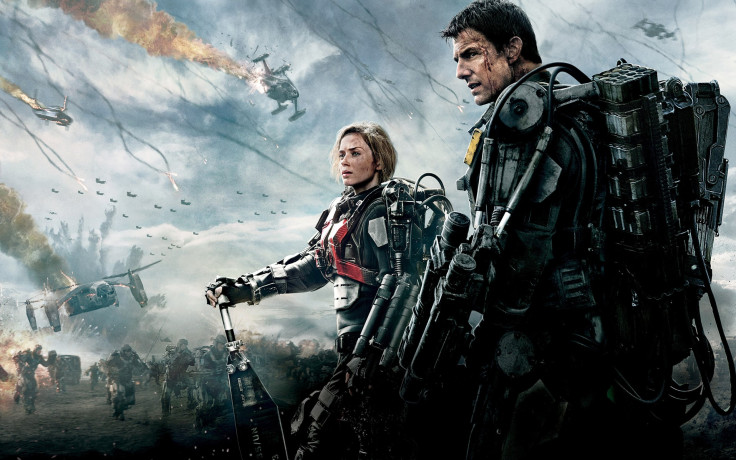 Take a look at the trailer for the upcoming sci-fi epic "Edge of Tomorrow." It has all the makings of a blockbuster: stunning visuals, an intriguing premise (futuristic soldier finds himself dying and reliving the same battle over and over), and Tom Cruise, a bankable leading man.
Or is he?
For all its selling points, "Edge of Tomorrow" is projected to gross a scant $25 million upon its June 6 release, Variety reports, a dismal number for a $150 million action epic. The low expectations can be explained in part by the marketing - or, rather, the lack of it. Distributor Warner Bros. has been focused on promoting "Godzilla" and hasn't yet unleashed a large push for "Edge of Tomorrow." But that can't be the whole story -- if "Edge of Tomorrow" starred Channing Tatum or Bradley Cooper, might there be more enthusiasm for the movie?
After more than 10 years of diminishing returns on his films, it might be time to face the fact that Tom Cruise is no longer a leading man.
In the past decade, only two of Cruise's films have grossed more than $150 million domestically: 2005's "War of the Worlds" with $234 million, and "Mission: Impossible – Ghost Protocol" which brought in $209 million. This might not matter if Cruise was downsizing his star power into smaller, lower-budget films, but he isn't. Cruise has starred in would-be blockbusters like "Valkyrie," "Knight and Day," and "Oblivion." Of those three, only "Valkyrie" managed to recoup its production budget at the U.S. box office.
"Knight and Day" and "Oblivion" made back their money in foreign markets, but that wasn't a fallback plan Cruise had to rely on before. After establishing himself as a marketable actor with "Top Gun," "The Color of Money" and "Rain Man" in the 1980s, Cruise became a box office giant in the '90s and into the early 2000s. His films routinely grossed more than $100 million, even unadjusted for inflation, allowing him to mix blockbusters like "Mission: Impossible" with less conventional films like "Eyes Wide Shut."
Then, about 10 years ago, something changed. It seems too easy to blame it all on Cruise's meltdown atop Oprah's couch, especially considering, as LA Weekly recounts, that moment was partly exaggerated through selective editing in YouTube videos that indicated Cruise was jumping up and down manically for longer than he actually did. Still, a palpable sea change followed: Interviews with Cruise became more eccentric, and he began publicly speaking about his Scientology-driven disdain for psychiatric drugs and therapy. In a lengthy, bizarre interview filmed for the 2004 International Association of Scientologists Gala that made the rounds on social media, Cruise made a number of bizarre, forceful claims about Scientology, stating, "We are the authorities on the mind. We are the authorities on improving conditions." That kind of language didn't fly with Americans, most of whom have never considered Scientology anything more than a Hollywood cult."
The actor once seen as a relatable, charming everyman suddenly seemed, in real life, to have become an alien.
Still, as much as his popularity has waned, it's obvious that Cruise can still act. But maybe his apparent insistence on taking leading roles is working against him.
Since 2000, Cruise has only been in four films that didn't give him top billing: "Lions for Lambs," "Rock of Ages," "Tropic Thunder" and "Austin Powers in Goldmember," in which he had a short cameo. And ignoring the spike that came from 2011's so-called comeback in "Mission: Impossible – Ghost Protocol," his earnings have been on a downward slope for years.
Cruise continues to try to jump-start new franchises like "Jack Reacher," missing the fact that Hollywood is increasingly moving toward ready-made, recognizable film series like the Marvel Cinematic Universe. Star power matters less than it has in years -- yet Cruise seems more interested in trying to carry blockbusters on his own than in developing his potential as a character actor in smaller films. After "Edge of Tomorrow," Cruise has only one more film project secured, yet another "Mission: Impossible" sequel.
Cruise isn't the only '90s megastar to fall off the map, but at the moment, he's the only one who seems to be ignoring the realities of his career. Take Harrison Ford, who, after his mega-success as Han Solo and Indiana Jones, had a string of hits in the 1990s with "The Fugitive," "Clear and Present Danger" and "Air Force One." When Ford's box office returns started to sag with bombs like "Hollywood Homicide" and "K-19: The Widowmaker," Ford began moving into supporting roles. Aside from a one-off return to the Indiana Jones franchise in 2008, Ford hasn't received top billing in years, and he seems content in crankier roles like his characters in "Ender's Game" and "42."
Perhaps the best role model for Cruise to emulate is Brad Pitt. While Pitt is able to carry successful blockbusters like "World War Z," he branches out into supporting and ensemble roles as well, and has earned praise for his performances in "Burn After Reading" and "Inglorious Basterds." Increasingly, Pitt has been focused on establishing himself as a successful producer, with producing credits on "12 Years a Slave," "Kick-Ass," "Killing Them Softly" and "The Assassination of Jesse James."
Cruise dipped his toe in the supporting actor role, but took it out almost immediately. His best-received role of the past decade was as the lovably skeezy producer Les Grossman in "Tropic Thunder," where he turned what could have been a one-note joke into a hilarious character performance. The brief role reminded viewers that Cruise was a charming and funny actor, but instead of capitalizing on that success, he went back to form with"Valkyrie" and "Knight and Day," and both underperformed critically and at the box office.
Perhaps if Cruise wants to get back on top, he needs to start from scratch. Or just reprise his role in "Magnolia."
FOR FREE to continue reading
✔️ Unlock the full content of International Business Times UK for free
offer available for a limited time only
✔️ Easily manage your Newsletters subscriptions and save your favourite articles
✔️ No payment method required
Already have an account? Log in
© Copyright IBTimes 2023. All rights reserved.