Election Polls 2016: Sanders, Not Clinton, Best Candidate To Beat Trump, Cruz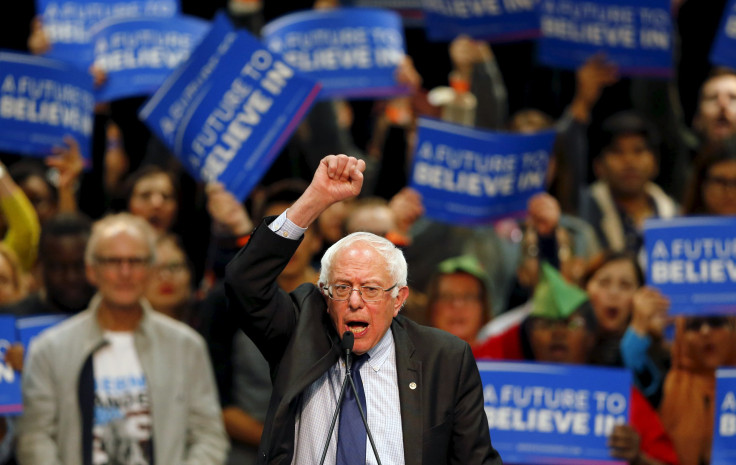 It's looking increasingly likely that Democratic presidential front-runner Hillary Clinton and her Republican counterpart, Donald Trump, will earn their parties' nominations. But a poll released Wednesday says the underdogs lagging behind them in the primary race would perform better in a general election.
The Quinnipiac University survey found that Trump and Clinton still led their respective parties. Clinton outpaced Vermont Sen. Bernie Sanders by a wide margin, 50 percent to 38 percent, while Trump garnered 43 percent to Texas Sen. Ted Cruz's 29 percent and Ohio Gov. John Kasich's 16 percent.
But in hypothetical general election matchups the tables turned. Sanders held double-digit leads in a matchup against Trump (52 to 38 percent) and Cruz (50 to 39 percent). Clinton beat Trump and Cruz as well, but by smaller margins. The former secretary of state bested Trump by 46 to 40 percent. She led against Cruz by 45 to 42 percent.
Meanwhile Kasich, who recently won his home state of Ohio but has lost every other GOP primary, would beat both Sanders and Clinton in a hypothetical general election, the Quinnipiac poll found. He beat Clinton by 47 to 39 percent and ever-so-slightly topped Sanders by 45 to 44.
"Donald Trump and Hillary Clinton may have the overall leads among primary voters, but there is not a lot of love in the room as a big percentage of Americans say of the front-runners they could take 'em or leave 'em," said Tim Malloy, assistant director of the Quinnipiac University Poll. "Though short on delegates and short on time, Sen. Bernie Sanders and Gov. John Kasich can hang their hats on the fact that if folks went to the polls today, they'd fare better than the other candidates."
Clinton, Trump and Cruz had negative net favorability ratings, while Kasich and Sanders received positive ones. Trump and Clinton also topped the "no way" list, Quinnipiac noted, with 54 percent of voters saying they "would definitely not" vote for Trump and 43 percent saying the same about Clinton.
The Quinnipiac survey was conducted from March 16 to March 21 through phone calls to 1,451 registered voters. The overall margin of error was 2.6 percentage points, 3.8 percentage points for GOP voters and 3.9 points on the Democratic side.
In primary votes Tuesday, Trump and Clinton both scored victories in Arizona. Sanders won in Idaho and Utah for the Democrats, while Cruz won in Utah for the Republicans. Both Trump and Clinton still boast commanding leads in the delegate counts. Clinton tops Sanders, 1,681 to 927, while Trump leads second-place Cruz, 739 to 465. Kasich has earned 143 delegates.
© Copyright IBTimes 2023. All rights reserved.
FOLLOW MORE IBT NEWS ON THE BELOW CHANNELS