Ellen Pao Drops Appeal Against Kleiner Perkins, Will Promote Tech Diversity Movement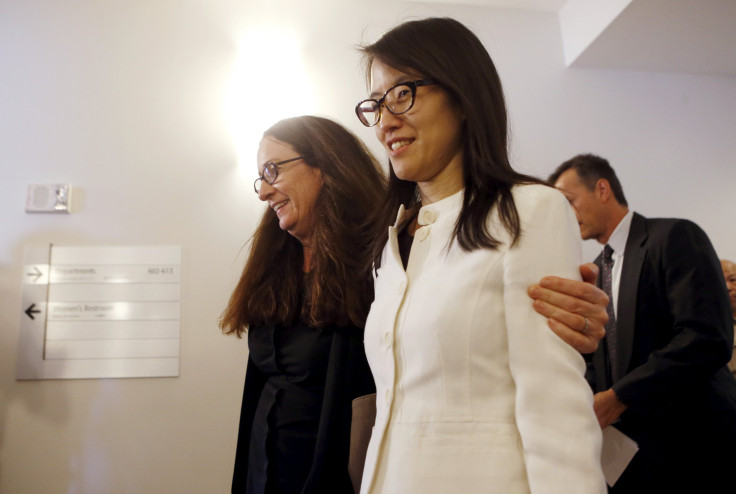 Ellen Pao is moving on from her gender discrimination lawsuit against one of the top venture capital firms in Silicon Valley after more than three-and-a-half years of legal proceedings. Pao says she wants to focus instead on helping bring more gender and ethnic diversity to the tech industry.
The former venture capitalist on Thursday announced she is dropping her appeal in the gender discrimination case against Kleiner, Perkins, Caufield and Byers, where she was a partner from 2005 to 2012. In the case, which she lost in March, Pao alleged she was passed over for a promotion due to different standards used to judge the men and the women at the firm. Pao also alleged that she was let go from the firm after she complained about its discriminatory practices.
"I am now moving on, paying Kleiner Perkins' legal costs and dropping my appeal," Pao wrote in a post published by Re/code. "My experience shows how difficult it is to address discrimination through the court system."
The high costs required to continue the case were a major impetus in her decision to drop the appeal, she wrote. Pao said she had to personally spend "significant amounts on expert fees, lawyer costs and Kleiner's costs." Kleiner Perkins' litigation costs alone came out to nearly $1 million.
"Ultimately, I cannot afford to continue this battle and risk having to pay additional costs if I lose on appeal," Pao wrote. "With my resources and fortitude, and the strength of my case, I still cannot afford to take further legal action."
Ellen Pao | FindTheCompany
Additionally, Pao, who previously sought a $2.7 million settlement from the firm, wrote that she turned down settlement offers so she could continue to tell her story. Pao also encouraged other women and minorities in the tech industry to stand up and share their stories so that the tech industry "can all learn and improve."
"Going forward, I am optimistic that our efforts will drive change to improve the work situation for women and minorities," Pao wrote. "Personally, I plan to continue moving these issues forward by writing, investing and working in the technology industry."
In her post, Pao detailed her struggle in the case against Kleiner Perkins, saying, "The court system today is not well-designed to address these issues" and adding, "we could not match Kleiner's deep pockets, and the imbalance of resources impacted the entire process in ways large and small." Kleiner Perkins could not be reached for comment.
For Pao, 2015 has been a rough year. Besides losing the case against her former employer, Pao in July resigned her post as Reddit CEO after receiving a barrage of criticism for firing a popular employee.
© Copyright IBTimes 2023. All rights reserved.