Emergency US Meeting After North Korea Missile Launch; Kim Jong-Un Regime Cites 'Nuclear War Threat' By US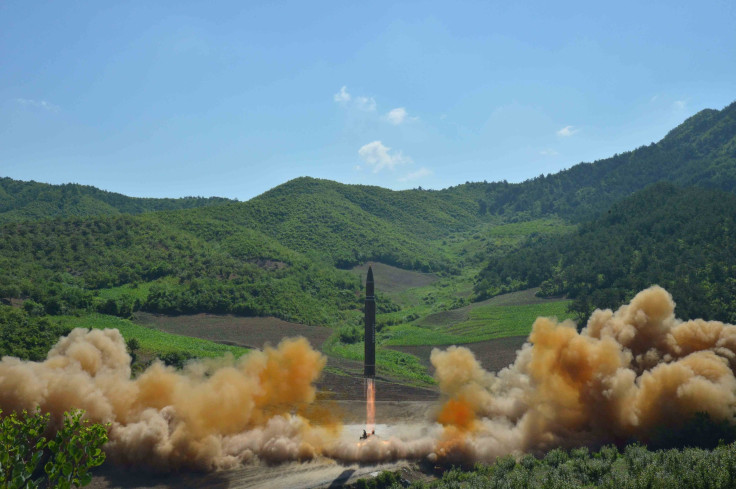 U.S. officials were in emergency meetings Tuesday after North Korea launched what is a "probable" intercontinental ballistic missile (ICBM) according to CNN.
"The success in the test-fire of intercontinental ballistic rocket Hwasong-14 is a manifestation of the invincible might of (North Korea) and tremendous capability of its self-reliant national defense industry that has been rapidly strengthened," said Ri Un Chon, a North Korean offical in a Korean Central News Agency (KCNA) statement. "It is also a great historical victory in putting an end to the persistent nuclear war threat posed by the U.S. against the DPRK [Democratic People's Republic of Korea]."
READ: What Is ICBM Capability, Range? North Korea Touts Successful Test
KCNA is the state media wing of North Korea.
The missile was in flight for 37 minutes and traveled 578 miles before crashing down west of Japan, according to the New York Times Tuesday. The missile reached a height of 1,700 miles before re-entering the atmosphere.
The missile launch comes just before the G20 summit and after President Donald Trump spoke to his Japanese, Chinese and South Korean counterparts about the growing threat of North Korea's missile and possible nuclear capabilities. The launch also happened on the eve of the Fourth of July, America's Independence Day.
David Wright, co-director of the Union of Concerned Scientists, wrote in a blog post that judging from reports, a missile similar to the one tested could not reach the continental United States but could possibly reach Alaska. The fear is that North Korea will eventually develop a miniaturized nuclear warhead that they could deliver to the U.S. with a long-range missile.
Read: Can North Korea Missile Hit Washington?
U.S. officials were weighing their options on how to handle the situation. Once a final and definitive determination is made that the missile was an ICBM, the goal for top defense officials would be to have a "measured response" approved by Trump, CNN reported.
The launch received widespread condemnation from around the world. Trump last month said he will abandon his predecessor's "strategic patience" strategy with North Korea, indicating that U.S. policy will become more aggressive with Pyongyang. Trump took to twitter for his reaction to the most recent missile launch.
"North Korea has just launched another missile. Does this guy have anything better to do with his life? Hard to believe that South Korea and Japan will put up with this much longer. Perhaps China will put a heavy move on North Korea and end this nonsense once and for all!" Trump wrote over two tweets referring to North Korea's leader Kim Jong Un.
Japanese Prime Minister Shinzo Abe also criticized the action.
READ: Can North Korea Missile Hit Washington? Pyongyang Touts Nuclear Capabilities On Anniversary Of Strategic Force
"The latest launch clearly showed that the threat is growing," said Abe in a statement.
Russian President Vladimir Putin and Chinese President Xi Jinping met Tuesday for planned talks and the two countries released joint a statement calling on North Korea, South Korea and the U.S. to enter into escalation talks.
© Copyright IBTimes 2023. All rights reserved.
FOLLOW MORE IBT NEWS ON THE BELOW CHANNELS