Eminem 'Kamikaze' Album: 'Good Guy' Teaser Released Amid Manchester Bombing Lyrics Controversy
Another song from Eminem's "Kamikaze" album seems to be receiving backlash.
A teaser for the song, "Good Guy," has been released online, with the music video starring Jessie Reyez and Marshall Mathers facing off in a tense sequence. The teaser video of the song posted on Twitter showed Reyez gasping for air as she crawls through the mud. The scene then cuts to her in the kitchen of a house, facing a hooded man. There is a tense moment between her and the hooded man, who is revealed to be Eminem.
The full video will be released today at 12 p.m. EST, Eminem announced in the same post.
Meanwhile, the fans have commented on the "Good Guy" video expressing their excitement. Some of the fans, however, are divided about Mathers choosing Reyez for this song. While some fans like Reyez and her voice, others are not so pleased.
Eminem is known for using controversial lyrics in his songs, which have gotten him into trouble in the past. The rapper got into trouble yet again recently for the words he used in an 11-minute freestyle rap song that he recorded at the St. Andrew's Shelter in Detroit. The 11-minute freestyle included remarks about Ariana Grande and Christina Aguilera.
Eminem's songs have touched upon some rather dark subjects in the past, but this recent performance raised some eyebrows. The most controversial segment of the song was his reference to the Manchester bombing.
Commenting on the controversy, some of the fans took issue with Eminem for his remarks about Aguilera and the terrorist attack, Global News reported. Fans defending the rapper pointed out that Mathers raised $2 million for the Manchester bombing victims.
Not everyone, however, is convinced that he should get off scot-free. Charlotte Hodgson, who lost her 15-year-old daughter Olivia Campbell-Hardy in the Manchester terror attack, said that Eminem's words are "disrespectful," Manchester Evening News reported.
"I didn't think anybody could do this and be so disrespectful to us all. It's vile and he is a vile human for doing it," Hodgson said.
She further questioned why someone would compare himself to a jihadist or a terrorist bomber.
In a post on Twitter, Eminem defended his style addressing dark subjects by saying that he views battle rap as "war," where the main objective is to "destroy" the opponent. In pursuing that goal, the rapper said, nothing is "off limits" when it comes to him trying to get a reacting from the audience.
It remains to be seen just how much Eminem can push the envelope with his extreme lyrics.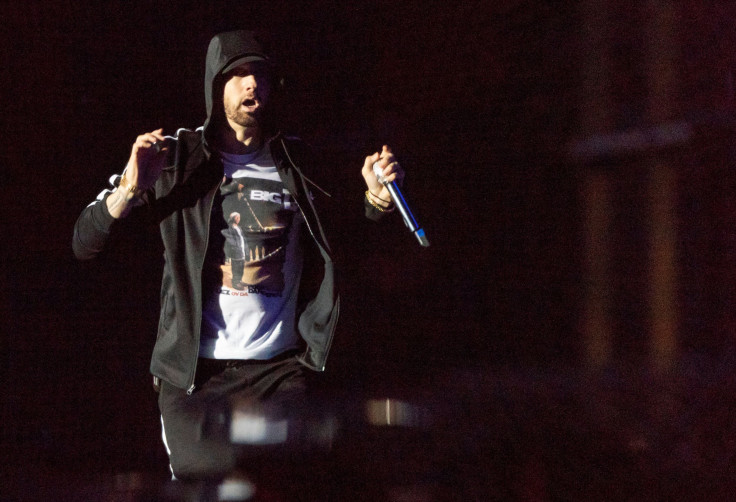 © Copyright IBTimes 2023. All rights reserved.