Europe-Africa Partnership To Study Global Warming From Space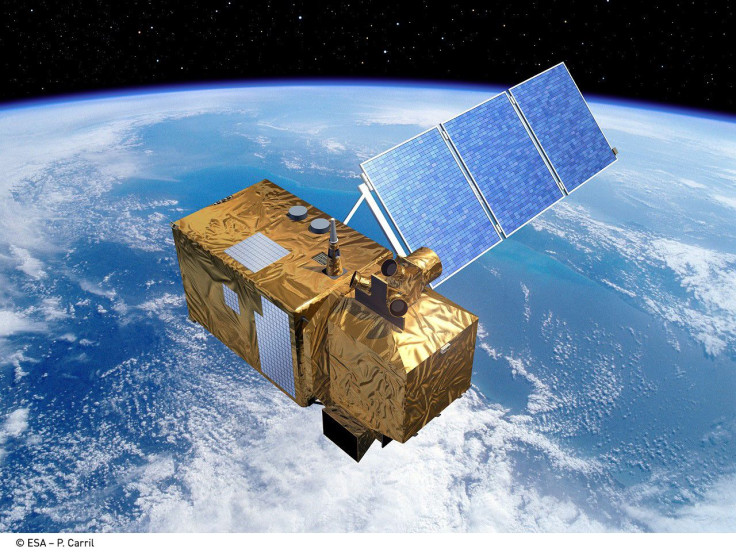 After years of planning and discussion, space-based projects between the European Union and African Union may soon be getting off the ground. Data from satellites and sensors in the Earth's oceans and atmosphere will help policymakers deal with everything from global warming to food security, and it should be good for business, too.
"Space technologies, infrastructure and services could play a positive role in the developing world to favor sustainable development and growth," reads a memo issued by the EU on Monday.
It cites the possibilities for policymakers in fields such as food security, health, education, disaster management and climate change adaptation.
The statement comes at the outset of the 5th EU-Africa Business Forum, going on in Brussels this week, where officials will discuss the costs, benefits and logistics of implementing a plan that has been in the works for almost a decade.
The Copernicus project is an ambitious initiative to create a network of space satellites and sensors in the atmosphere, oceans and on land, to obtain data. Their sensors monitor everything from carbon emissions and greenhouse gases to melting glaciers or natural disasters. Then this information can be sent to policy-makers who will, in theory, use it to make better decisions about everything from farming to disease outbreaks.
According to their website, it's "the European Union's response to the increasing demand for accurate, reliable environmental data."
Since it launched in 2005 under the title GMES (Global Monitoring for Environment and Security,) the project has been aimed at African development.
A 2005 EU report states that the project will not only comply with an international effort to further evaluate climate change but, it would also "contribute to the EU Strategy for Africa," via the development of an African observatory and an initiative meant to make use of environmental data for sustainable development.
Over the next five years, officials from both continents met regularly to discuss the regional economic implications and logistics such as infrastructure development, with a focus on the African continent.
"The use of space science for development in Africa presents considerable opportunities, and there is a need to establish institutional arrangements to enable Africa to tap their benefits," reads a 2007 report from the Africa-EU Partnership on Science, Information Society and Space.
"Space-based systems can play a key enabling role in the attainment of Africa's sustainable development objective and contribute to the monitoring of climate change," it reads.
A few years later, they wrote about a new focus on benefitting citizens of African countries.
"Earth observation data or data obtained by satellite systems are essential for Africa," reads a 2011 report, citing the positive impact it could have on transportation safety, cartography and the management of food and water resources.
In 2011, officials chose nine sectors to focus on. These include natural resources, marine and coastal areas, water resources management, climate change, natural disasters, food security and rural development, infrastructure, conflicts and political crises.
The next year, the program's name was changed to Copernicus. And in January 2012 environmental agencies from South Africa, Egypt, Tunisia, Nigeria and Kenya cooperated with five European partners for a $1.4 million plan to focus on the management of water and natural resources, such as fisheries, groundwater, water scarcity, biodiversity and land resources, among other areas, according to the program website.
As the logistics get worked out, there may be a great opportunity for the African private sector to have stakes in the project.
"The accelerating industrial development of Africa is a reality," said Antonia Tajani, European Commission Vice President and Commissioner for Development, ahead of the forum, where officials will discuss topics that range from youth involvement in African economies, the role of banking and sustainable energy.
"The European Union and Africa have genuine interest in increasing bilateral trade, investment and market integration in mutually beneficial relations to boost strong sustainable and inclusive growth and create jobs," he added.
It's already happening in other countries.
In 2012, a Scottish entrepreneur and astrophysicist used Copernicus data to create a system that helps urban planners reduce thermal waste. Through his company, called Astrosat, urban planners can use satellite information to see where heat is being lost from buildings and other structures, which they can then correct through retrofits and save money.
"We're paving the way – with paying customers – for the use of and enhancement of Copernicus data sets," said Steve Lee, the founder of Astrosat in a press release.
Another project uses the information to monitor a unique kind of Algae that is harmful to fish and can be deadly for humans.
Another project based in Europe uses data from the satellites and monitors on earth and in the water, to help forecast when the algae will bloom.
This has a major impact on areas that depend on fishing to support the local economy.
"The positive effect for consumers is that the project may help in stabilizing the price fluctuations of fish," said Julie Maguire, coordinator of the "Applied Simulationa and Integrated Modelling for the Understanding of Toxic and Harmful Algal Blooms" project.
The European Union and African Union partnership should help with the establishment of similar projects on the continent within a few years.
© Copyright IBTimes 2023. All rights reserved.