European Stocks Fall On Worrying China Data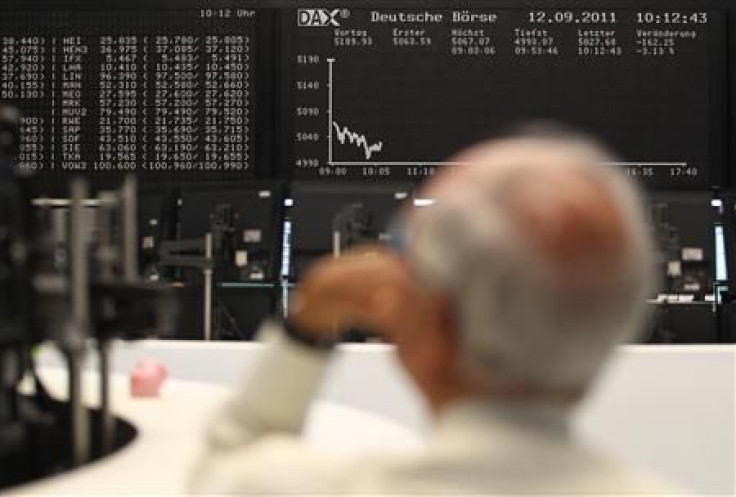 European markets fell Friday as investor confidence was weighed down following disappointing trade data from China giving further indication that the global economic condition is faltering.
The French CAC 40 index fell 0.43 percent or 14.97 points to 3441.74. Shares of AXA SA dropped 0.76 percent and shares of Renault SA declined 0.70 percent.
London's FTSE 100 index was down 0.21 percent or 12.56 points to 5838.95. Shares of Shire PLC fell 1.16 percent and those of IMI PLC were down 0.83 percent.
The German DAX 30 index dropped 0.50 percent or 34.99 points to 6930. Shares of Commerzbank AG fell 2.52 percent and shares of Bayer SE declined 1.16 percent.
Spain's IBEX 35 was down 0.92 percent or 65.40 points to 7044.80. Shares of Acciona SA dropped 1.49 percent and those of Telefonica SA fell 1.33 percent.
Market sentiment turned negative to note that China reported a trade surplus of $25.1 billion in July amid slower-than-expected growth in exports and imports, raising the concern that the world's second-largest economy isn't doing enough to stimulate economy and avert a slowdown.
Customs data released Friday showed that imports rose 4.7 percent in July compared to the same month last year, down from 6.3 percent in June. Meanwhile, exports advanced just 1 percent in July compared to the same month in the last year, down from 11.3 percent in June.
The continuing debt crisis in Europe and the tentative U.S. recovery too have hurt the demand for exports, a main driver of China's economic growth. Investors sense that a rebound in China's economic growth will be possible only if it is announcing bold monetary easing measures which will boost the country's financial condition.
Market players are disappointed that though China's central bank put out statements in the past week emphasizing the need to support economic growth so far, there have been no concrete stimulus measures taken in that direction.
© Copyright IBTimes 2023. All rights reserved.
FOLLOW MORE IBT NEWS ON THE BELOW CHANNELS