Evenflo Car Seat Recall 2014: Full List Of Child Seats Recalled For Faulty Buckles, How To Get A Replacement
On the heels of a record-breaking Graco child safety seat recall, Evenflo Company Inc. announced its decision to recall more than 1.3 million of their seats due to a similar harness/buckle defect. According to a recent press release from the Ohio-based company, several convertible car seats and harnessed booster seats models are being recalled in coordination with the U.S. National Highway Traffic Safety Administration.
"Evenflo designs, engineers and tests its products with safety as its number-one priority. It is with an abundance of caution, therefore, that Evenflo has decided to recall select 2011-2014 convertible car seats and harnessed booster seats," reads the company's statement.
According to the press release, 1,368,649 defective models, ranging in production dates from Aug. 22, 2011, to March 3, 2014, could have faulty buckles due to exposure to everyday contaminants like food and drink. When exposed to such contaminants the buckles reportedly become resistant to "unlatching," making it a potential issue to remove a child from an Evenflo seat in the case of an emergency.
Despite issuing the recall, Evenflo, which is owned by private equity firm Weston Presidio, insists that consumers may continue use of the recalled products if their buckles are functioning normally, stating that the seats meet the federal requirements for "crashworthiness."
No accidents or injuries have been reported from the product.
Consumers affected by the recall are advised not to return defective products. A free replacement buckle and installation instructions by can received by contacting Evenflo customer service online or by calling: 1-800-490-7591. Customers looking for buckle cleaning instructions can find directions here.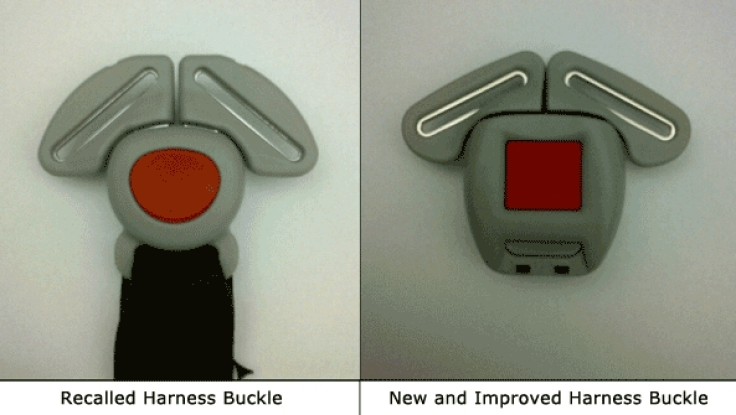 Evenflo's announcement comes less than two months after Graco recalled approximately 3.8 million of their child safety seats for a similar buckle defect. The recall, also in connection with the NHTSA, was expanded in March to include another 403,222 seats, making it the fourth-largest car seat recall in history.
Evenflo Car Seat Recall 2014:
Momentum 65, Momentum 65 LX, Momentum 65 DLX-- 3/4/2013 through 8/26/2013
Chase, Chase LX, Chase Select-- 6/12/2012 through 10/3/2013
Chase LX and Chase DLX-- 8/23/2011 through 3/3/2014
Maestro, Maestro Performance-- 8/22/2011 through 10/17/2013
Symphony 65, Symphony 65 E3, Symphony LX, Symphony DLX, Snugli All-in-One-- 10/2/2012 through 8/26/2013
Titan 65, SureRide DLX-- 6/20/2012 through 10/17/2013
Secure Kid LX, Secure Kid DLX, Secure Kid 100, Secure Kid 300, Secure Kid 400, Snugli Booster-- 12/13/2011 through 3/3/2014
© Copyright IBTimes 2023. All rights reserved.