Ex-CEO Ballmer Quits Microsoft Board To Focus On NBA's Clippers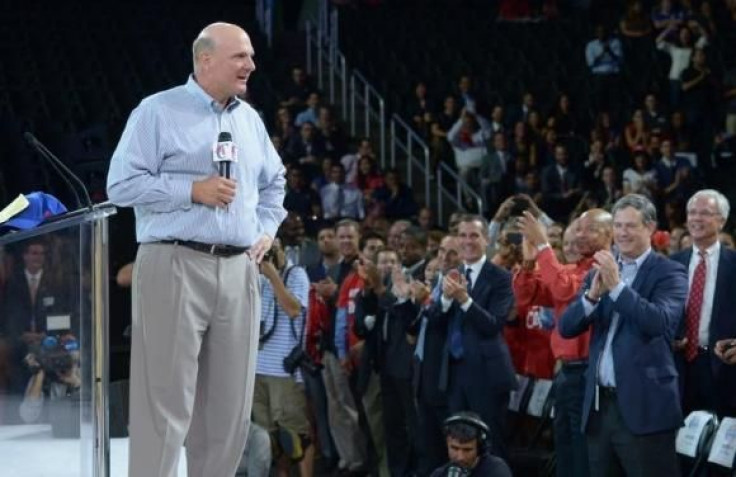 (Reuters) - Former Microsoft Corp Chief Executive Steve Ballmer has left the software company's board in order to spend more time on his newly acquired Los Angeles Clippers basketball team, but said he plans to hang on to his 4 percent stake in Microsoft.
"I see a combination of the Clippers, civic contribution, teaching and study taking a lot of time," Ballmer said in a letter to Microsoft CEO Satya Nadella made public by Microsoft on Tuesday.
"The fall will be hectic between teaching a new class and the start of the NBA season so my departure from the board is effective immediately," he wrote.
Ballmer, 58, paid an NBA-record $2 billion for the Clippers. On Monday he greeted several thousand fans gathered at the team's Staples Center home with the trademark screams that punctuated employee meetings at Microsoft.
His exit marks the end of a 34-year association with the company that led the personal computer revolution. Ballmer joined Bill Gates' firm in 1980 when it was just a small startup in the Seattle suburbs, and succeeded him as CEO from 2000 until this February.
His decision to step down from the board is not surprising after 12 months of change at the head of the 39-year old software giant. It avoids potential board tension between Microsoft's new leader and the old regime, as Nadella attempts to move the company away from its traditional PC-focused mindset toward mobile computing.
"It removes the final 'Ballmer overhang' at Microsoft," said FBR Capital Markets analyst Daniel Ives of Ballmer's exit. "His resignation from the board represents a positive, as it leaves the company with a clean sheet of paper."
A year ago this week Ballmer announced his plan to retire from Microsoft, amid discontent over his leadership fueled by activist shareholder ValueAct Capital.
That caused five months of uncertainty at the top of Microsoft until Feb. 4, when veteran insider Nadella was appointed CEO and co-founder Gates stepped down as chairman.
As Gates sells shares to fund his philanthropy, Ballmer has become the biggest individual shareholder in Microsoft, owning a 4 percent stake worth about $15 billion.
"I hold more Microsoft shares than anyone other than index funds and love the mix of profits, investments and dividends returned in our stock," Ballmer said in his letter to Nadella. "I expect to continue holding that position for the foreseeable future."
Microsoft shares closed up 50 cents at $45.33 on Nasdaq. They are up 40 percent since Ballmer said he planned to retire, and are trading at levels not seen since the tech stock boom of 2000.
© Copyright IBTimes 2023. All rights reserved.