Ex-NY Assembly Speaker Sheldon Silver Seeks To Quash Corruption Charges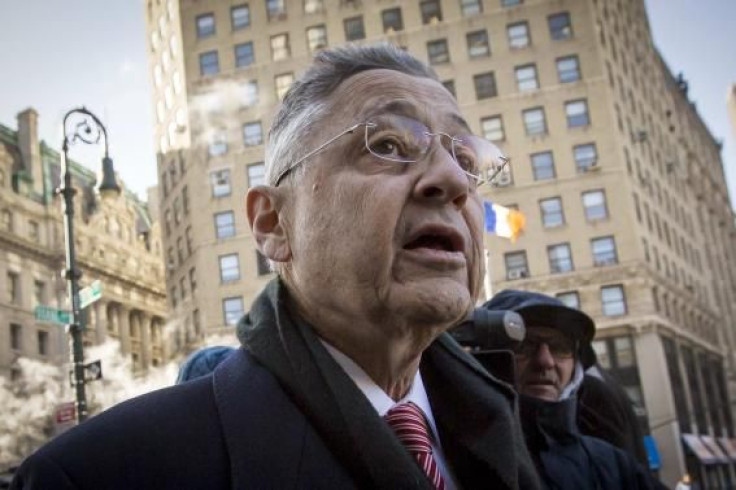 (Reuters) - Lawyers for once-powerful former New York State Assembly Speaker Sheldon Silver asked a judge on Tuesday to throw out federal corruption charges against him because a top prosecutor made "prejudicial" public statements about his guilt.
The motion to dismiss came as Silver, 71, pleaded not guilty in Manhattan federal court to fraud and extortion charges. Silver resigned as speaker after his arrest last month, but remains the assemblyman for Manhattan's Lower East Side.
One of his defense attorneys said Manhattan U.S. Attorney Preet Bharara had tainted the grand jury proceedings by commenting publicly on the case.
"These were statements where the U.S. Attorney excoriated the defendant, basically deprived him of the presumption of innocence and extolled his guilt," lawyer Steven Molo said in court before U.S. District Judge Valerie Caproni.
Assistant U.S. Attorney Carrie Cohen replied that Molo's allegations were "baseless."
In court papers filed immediately after the hearing, the defense cited a news conference held to announce Silver's arrest, a speech on public corruption Bharara delivered at New York Law School the following day, and an extensive interview he gave to the MSNBC cable network two weeks later.
"In an effort that could only serve to prejudice the jury pool, the U.S. Attorney has prosecuted this case full bore through the press," the lawyers wrote.
A spokesman for Bharara declined to comment.
Following his court appearance, Silver told reporters: "I'm confident I will be vindicated in the courtroom."
A lawyer, Silver became speaker in 1994, with considerable influence over New York state's budget and lawmaking processes.
Silver long listed the New York City law firm of Weitz & Luxenberg on financial disclosure forms as a source of income for representing its clients.
The grand jury indictment said he used that position to mask bribes and kickbacks, including more than $3 million earned for referring asbestos sufferers to the firm from a doctor whose medical research secretly received $500,000 in state funds at Silver's direction, as well as other benefits.
Silver never disclosed the state funding he organized for the doctor to Weitz & Luxenberg, according to the indictment handed down last week.
Prosecutors say Silver also received $700,000 in kickbacks by steering real estate developers with business before the state legislature to another law firm.
© Copyright IBTimes 2023. All rights reserved.