Exxon Mobil Corp. (XOM) Backing Fuel Cell Technology To Clean Up Carbon Emissions In Power Plants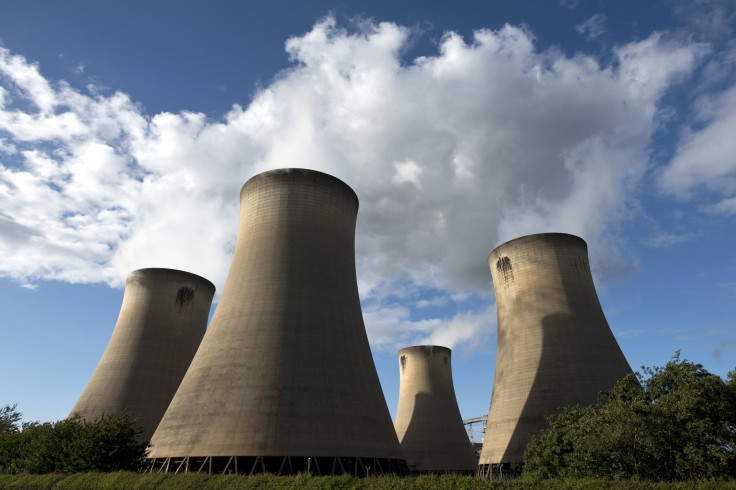 Exxon Mobil Corp. wants to make burning fossil fuels less damaging to the planet. The U.S. oil and gas giant said Thursday it is backing novel technology to reduce carbon dioxide emissions from natural gas and coal-fired power plants.
In the announcement, Exxon (NYSE:XOM) said it is tightening an existing relationship with FuelCell Energy (NASDAQ:FCEL), a Connecticut clean energy firm. The companies said their goal is to make the carbon-reducing technology an economically realistic option for the world's power plants and other major emitting facilities.
"Advancing economic and sustainable technologies to capture carbon dioxide … is an important part of Exxon Mobil's suite of research into lower-emissions solutions to mitigate the risk of climate change," Vijay Swarup, vice president for research and development at Exxon Mobil Research and Engineering, said in a statement.
The companies did not disclose the size of Exxon's investment in FuelCell. But Swarup said the Texas energy giant is "putting the necessary resources behind this to take the research to the next level," the New York Times reported. "We think it's got the possibility to be a game-changer."
CO2 Emissions | FindTheData
The technology — known as carbon capture and sequestration, or CCS — removes carbon dioxide from the power plant's exhaust steam. The emissions can then be pumped deep underground or used in industrial applications, such as making fertilizer, extracting hard-to-reach oil reserves, or producing new electricity.
As countries commit to fighting climate change, CCS systems will be necessary for fossil fuel-burning plants to exist in the future, energy experts say.
Last month, leaders from nearly 175 nations formally signed the Paris climate agreement, which seeks to limit the change in global average temperatures to "well below" 2 degrees Celsius above pre-industrial levels (a change of 3.6 degrees Fahrenheit). To achieve that target, countries will have to all but eliminate their emissions from burning oil, coal and natural gas and instead develop cleaner alternatives, such as solar and wind power and petroleum-free transportation.
Energy experts are divided over the role that CCS should play in meeting global climate targets. The Paris-based International Energy Agency calls deployment of CCS "essential," given that countries are expected to keep burning fossil fuels for decades. Other observers argue that governments and companies should instead invest their time and money into deploying zero-carbon energy sources such as renewables and battery storage.
CCS has so far failed to become the lifeline that fossil fuel companies hope it will be. Despite billions of dollars in research and decades of development, only one full-scale CCS power plant is up and running.
Canada's $1.4 billion Boundary Dam facility in Saskatchewan province was formally commissioned in the fall of 2014 — but it's captured far less carbon than initially expected and encountered numerous operational problems. A long-anticipated project by Southern Company Co. in Kemper County, Mississippi, was delayed again this spring. The large plant, whose costs have tripled to over $6.6 billion, might not come online until the third quarter of 2016.
Chip Bottone, president and chief executive officer of FuelCell Energy, said the company's unique technology could provide a way for CCS to work affordably and efficiently in hulking power plants.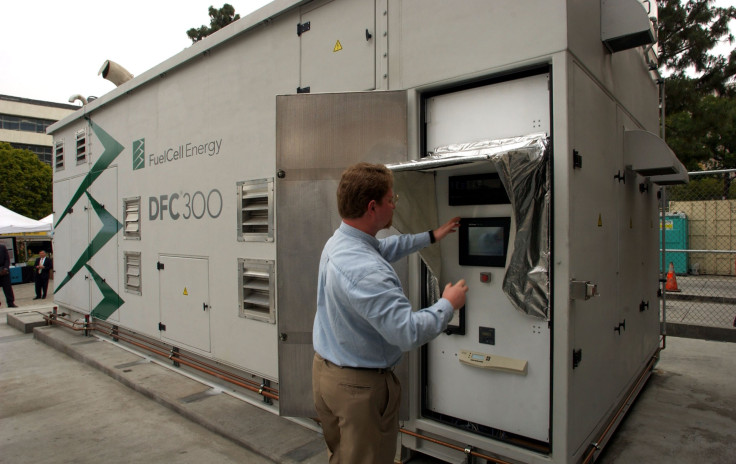 Its fuel cells use natural gas or renewable biogas, which react electrochemically with oxygen to produce electric currents without creating emissions. The fuel cells provide clean energy in about 50 locations globally, functioning as off-the-grid power supplies akin to batteries.
FuelCell and Exxon began working together four years ago to produce fuel cells that can use captured carbon dioxide to generate electricity. With the models, which use a high-temperature molten carbonate salt mixture, carbon from power plants flows into the cells, and then emerges in a concentrated form that can be stored. FuelCell said its technology can potentially "substantially reduce costs" compared to conventional carbon capture technology.
The scope of Thursday's new agreement will initially focus for one to two years on how to further boost efficiency in separating and concentrating carbon dioxide from the exhaust of gas-fueled power turbines. Assuming certain milestones are met, the second phase will more comprehensively test the technology for another one to two years in a small-scale pilot project, the companies said in the announcement.
"We are continually researching technologies that have an ability to reduce carbon dioxide emissions," Exxon's Swarup said in the statement. "Most solutions that can make an impact of the scale that is required are not found overnight. Our research with FuelCell Energy will be conducted methodically to ensure that all paths toward viability are explored."
Exxon's latest low-carbon investment arrives as the energy giant is facing growing scrutiny over its actions on climate change research
Recent investigations by the publications InsideClimate news and the Los Angeles Times revealed how Exxon conducted cutting-edge climate science throughout the 1980s, but failed to reveal much of what it learned. Instead, the company helped generate doubt among the public and policymakers as to whether human activities were causing global warming.
Atmospheric Carbon Dioxide Concentration | WeatherDB
In response to the reports, New York, California and Massachusetts have either begun investigations, or are considering investigating whether Exxon lied to investors and the public about climate change. Exxon has repeatedly denied reports that it suppressed information.
Another news site, Desmog Blog, published documents this week suggesting that Exxon knew carbon was harmful years earlier than previously reported. Corporate documents from the late 1970s stated "there is no doubt" that the increased use of fossil fuels and declines in forest covers "are aggravating the problem of increased CO2 in the atmosphere."
The Texas energy giant is separately facing pressure from shareholders to do more to report on the risks of climate change.
On Tuesday, Norway's $872 billion sovereign wealth fund said it would vote in favor of shareholder proposals at Exxon and Chevron Corp. that would require the companies to report more fully about the risks their businesses could face from tougher carbon policies and extreme climate impacts. Both companies' boards have opposed the measures. Royal Dutch Shell Plc and BP Plc adopted similar policies last year in response to shareholder pressure.
"We want them to be open about their climate strategy and their dialogue with regulators," Yngve Slyngstad, chief executive of Norway's fund, told reporters.
FOR FREE to continue reading
✔️ Unlock the full content of International Business Times UK for free
offer available for a limited time only
✔️ Easily manage your Newsletters subscriptions and save your favourite articles
✔️ No payment method required
Already have an account?
Log in
© Copyright IBTimes 2023. All rights reserved.