Facebook Inc. (FB) Q1 2016 Earnings: 1.65 Billion Monthly Active Users Ensures Social Network's Dominance In Tech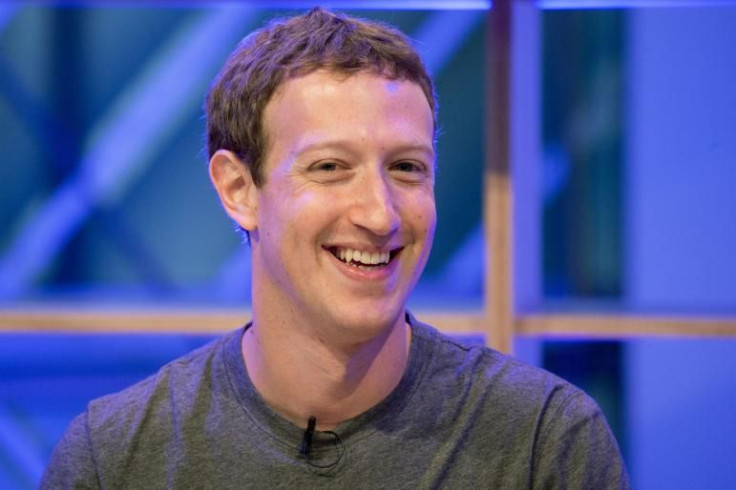 Facebook is building for decades out, so there's a need for patience, CEO Mark Zuckerberg told investors Wednesday. And yet, his company posted quarterly earnings that blew away analysts' expectations.
Facebook Inc. (NASDAQ: FB) broke through the tech malaise by turning in a dominant quarter, with user growth and profits that exceeded estimates, sending its stock up more than 8 percent after hours. With 1.65 billion monthly active users, Facebook has now captured nearly half of all internet users around the world and it continues to use that data to fuel its growing advertising business.
The social networking giant reported profit of $1.5 billion, up from $701 million a year ago, and with 77 cents earnings per share. That figure beat the $1.1 billion, with earnings per share at 62 cents, that analysts polled by Thomson Reuters predicted.
"We had a great start to the year," Zuckerberg said. "We're focused on our 10-year roadmap to give everyone in the world the power to share anything they want with anyone."
For now, Facebook can rely on its successful ad business. "While F8 [its developer conference] was all about the future, I noticed this [report] was about how are they delivering today," said Tom Edwards, chief digital officer of agency business for marketing company Epsilon. "I almost feel like they were trying to balance the future state with reaffirming investors that we are driving $5 billion from ad revenue."
Meanwhile, other tech stocks are not faring well in the market. Apple shares were down 6 percent at Wednesday's close after CEO Tim Cook reported the company's first revenue decline in 13 years a day earlier. Twitter fell by more than 16 percent to $14.86 after it also failed to meet analysts' expectations.
Facebook posted $5.38 billion in revenue, a 34 percent increase from $3.54 million for the same quarter last year. That amount is far under Apple's $50.56 billion in revenue, but while the phone manufacturer's growth is falling, Facebook's moves forward. Analysts had estimated $5.25 billion for Facebook's quarter.
Facebook continues to have mobile ads to thank for its skyrocketing profits. Mobile ad revenue represented 82 percent of all ad revenue for the first quarter, up from 73 percent in the first quarter of 2015.
The power of Facebook comes from its ability to connect those active users with its ad offerings. Facebook Audience Network, its business to sell ads across the internet like its competitor Google, is continuing to grow, noted Chief Operating Officer Sheryl Sandberg. "The global nature of our business is part of driving that," Sandberg said.
More businesses joining the network has also supported Facebook's growth. Sandberg touted its service as being the best for small businesses seeking a cheaper alternative to buying TV ads. More than 2 million small businesses have posted a video on Facebook.
Consumers are also contributing to Facebook's growing video network, with its live-streaming feature as well as its traditional uploader. Zuckerberg disputed reports that Facebook sharing is down, citing that the type of sharing has just changed on the network. Prior to the Facebook app, users were posting albums on their PCs while now they are uploading just a few photos to the mobile app. Users are creating three times as much video year over year, Sandberg noted.
Facebook's user base reached 1.65 billion monthly active users, up from 1.59 billion in the December quarter. That's a 15 percent increase from the same period last year.
That dominance in active users continues to delight investors. "It makes Facebook a bargain. If you think about it in those terms and you look at Facebook's valuation at $300 billion, it's not surprising at all that they're outpacing Microsoft," said Phil Davis, CEO of Philstockworld.com "Facebook is now bigger than Microsoft in total users. That's stunning. That's a global world-changing tech."
Indeed, Facebook is pursuing ventures that it believes will guarantee its continued success not only as an ad company, but as a technology provider. Facebook is looking at artificial intelligence, virtual and augmented reality and bringing more people online as big commitments that have a long way to come.
These pursuits may not pay off in the immediate future, but Zuckerberg assured that smart acquisitions is a key part of his repertoire. He called out Instagram as one example for a purchase that now contributes significantly to its users' attention and the company's revenue. Facebook does not break out Instagram's revenue. A Credit Suisse report estimated that it could reach $3.2 billion in 2016.
VR and augmented reality "are going to be important platforms over time," Zuckerberg said. "A lot of what we felt like we were buying there was a critical mass of the best people and the best technology." The company now touts 13,600 employees, up 35 percent year over year.
Zuckerberg is taking steps to maintain control of the company by creating a second class of non-voting stock. The move will allow Zuckerberg to follow through on his pledge to give away 99 percent of his Facebook shares, an announcement that accompanied the birth of his daughter last year, while maintaining control of the company.
Through the Chan-Zuckerberg Initiative, Zuckerberg and his wife Priscilla Chan are hoping to solve some of the world's most pressing problems, including access to healthcare and climate change. "No one's going to argue with the guy. It's altruistic," Davis said.
But, one investor on the call inquired what would happen if Zuckerberg were to leave the company, given the new stock plan. The "new multi-class share is dependent on Zuckerberg leading Facebook," said Dave Wehner, chief financial officer of Facebook.
© Copyright IBTimes 2023. All rights reserved.