Facebook Social VR Isn't Just A Meme As Oculus Research Head Shares Road Map
SAN FRANCISCO — The future isn't just full of chatbots for Facebook. The idea of connecting better with anyone at any time is seen in bots and even more so in the future of virtual reality.
But for the world's largest social network, virtual reality is not limited to strapping a screen on your head to watch a presidential debate, play ping-pong or access VR porn. The future of the technology could mean virtually traveling to see the birth of a new member of your family or collaborating on a project with someone overseas.
Virtual reality is the "ultimate social platform where physical differences disappear, really feeling like you're there," said Yaser Sheikh, head of Facebook's Oculus Research team, here at the company's annual developer conference F8.
It sounds like a moon shot, but for Facebook, it's an area of communication it wants to lead. And for now, investors don't seem too worried. In 2014, Facebook acquired Oculus for $2 billion, which is only 0.7 percent of its market capitalization, noted Phil Davis, CEO of Philstockworld.com.
"It breaks even if VR generates $100 million a year for them or a 2 percent bump in FB's annual income so it's not what I'd call a 'moon shot,' " Davis wrote in an email. "It can easily be argued that a social media company like Facebook can hardly afford to miss out on VR, if it does turn out to be a popular way for people to communicate down the road."
Facebook and other developers in the field are far off from making that authentic communication in virtual reality an actual reality, but they have made progress. Facebook CEO Mark Zuckerberg announced his commitment to social VR in February at Mobile World Congress and Wednesday at F8 the team showed off what they've accomplished so far.
Over the last two months, Facebook's Social VR team, led by Michael Booth, has built more experiences in the virtual world to make it more fun for participants. Facebook Chief Technology Officer Mike Schroepfer did a live demo on some products by virtually bringing Booth onstage through displaying a VR experience.
The two virtually traveled around London and took a virtual selfie with their virtual selfie stick wearing virtual ties in front of virtual Big Ben. "Hey it's one of those double decker buses. This is really amazing. This is awesome," Schroepfer said onstage. He later shouted "woohoo" and "selfie."
They shared that selfie on Facebook, showing that the future of selfies may be much more than just using an iPhone. Yet, the future of VR isn't just selfies.
For Sheikh, who was the last speaker of the keynote presentation, he said his work in VR was both personal and professional. He shared a picture of a newborn in his family, which is spread across the United States and overseas.
"I really wish other members of my family could have experienced a moment like this as well. Unfortunately there's no technology today that can help us make that emotional connection," Sheikh said.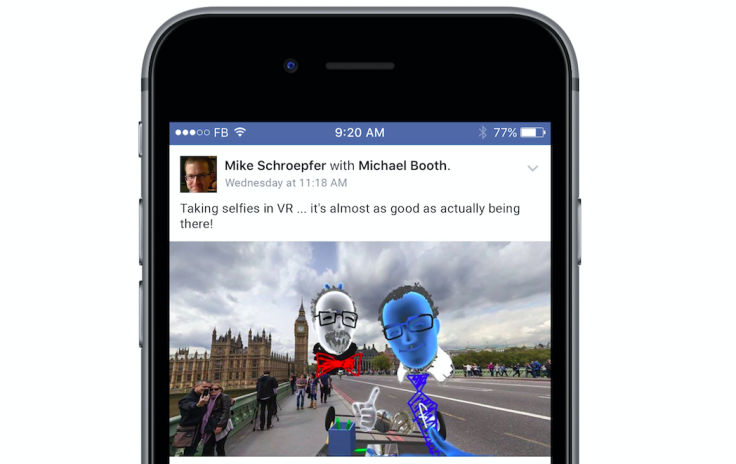 Facebook's vision of virtual reality means solving three problems: capture, display and prediction. All of those relate to understanding human emotions, which Facebook has been working to map, all while being nonintrusive and strategizing for a product that is inexpensive. "What makes this challenge confounding is we can't do this in a room of expensive devices," Sheikh said. "Even with expensive equipment, there's no algorithm that can capture all the subtleties."
The same concern in human expression applies to bots. With Facebook's release of Messenger Platform and the bot store, companies are working to ensure that their chatbots communicate as humanly as possible without making the whole experience unnecessary. The team at Poncho, a weather app, was one of Facebook's launch partners for the bot store.
"We don't need bots in their own sake," said Sam Mandel, CEO of Poncho. "Users are already in the conversational interfaces, using all the other apps. We need to follow the users and provide what makes sense to them."
The team at Poncho isn't building for VR just yet, but they are working to understand social and conversation behavior. It's a big business, says Mandel, and one that's been through many iterations. Indeed, Mandel previously worked at AOL from 1998 to 2001 before moving to Time Warner Inc.
At least some developers are one step closer to contributing to the future VR. At F8, more than 2,000 developers were offered their own VR headset, after Zuckerberg and Samsung gifted each attendee with free Gear VR headsets and a Samsung phone, preloaded with Facebook's apps.
© Copyright IBTimes 2023. All rights reserved.