Oculus VR Founder Defends Rift Price Tag, Speaks Kindly (Sort Of) About Sony PlayStation VR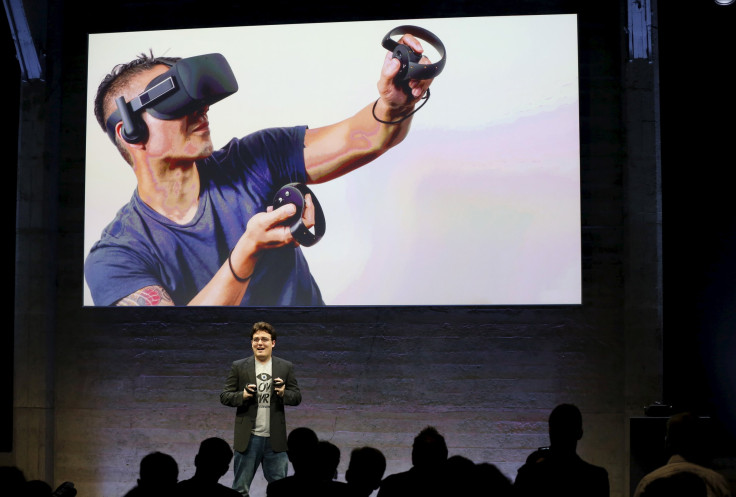 LAS VEGAS — It's been a big week for Oculus VR, Facebook's virtual reality wing, which this week finally revealed the $599 price tag of its first consumer headset and began taking preorders for the device. The excitement for the gizmo has crowds wrapped around the company's booth at the 2016 Consumer Electronics Show, eagerly waiting for a brief demo that will show them what virtual reality is all about.
This is the biggest moment thus far for Oculus founder Palmer Luckey and his young company, which in 2012 triggered the current virtual reality craze with one of the most successful Kickstarter campaigns of all time. Already, shipments of the Oculus Rift are delayed by months for anyone who wishes to place a new order. But despite his relaxed look — untucked shirt, jeans and sandals — Luckey is still feeling the pressure.
"We're taking preorders. That's the point where you really commit to a date that you're shipping, and you can't stumble from that point forward," Luckey said. "The weight isn't off yet. The weight will be off when we're actually sending this thing to people."
Luckey spoke with International Business Times Thursday, covering a range of topics from the price of the Rift, the content that's coming and the relationship with rival Sony.
Our chat came after a few demos of the upcoming Oculus Rift that included a trial run of "Bullet Train," a first-person shooter where users teleport around a train station in a firefight against a heavily armed, futuristic force of soldiers. Using the Oculus Touch motion controllers, I was able to pump and shoot my shotgun, toss hand grenades and even snatch bullets midshot and redirect them to the bad guys. It was a wild experience that left me feeling out of sorts afterward in the best way possible as I interviewed Luckey, as though I was still stuck in virtual reality and he was simply one of the elements in a video game.
International Business Times: What's the longest you've ever been plugged into the Rift continuously, and how did you feel afterward?
Palmer Luckey: There was one time where I want to say it was 16 hours, but it was a long time ago. Usually it's nowhere close to that. Different people have different tolerances for VR and some of the issues with it. I have an extremely high tolerance, so I felt fine. My tolerance for it might be one of the reasons why I was attracted to VR even when the technology was a lot worse.
IBT: But now the technology is almost ready for the Rift's March 28 release date, so what are you guys focused on?
Luckey: We're gonna make sure there's a lot of content for people to play using the Rift.
Right now, game developers are the ones with the technology and the tools and the talent to create real-time immersive 3-D worlds. They're the first people who are really able to jump into making content, and on top of that, the people who have the high-end PCs that are required to use the Rift are gamers, so it's a really natural fit there. For the foreseeable future, PC VR is going to be dominated by gaming.
IBT: You guys originally aimed for a $350 Rift price tag but settled much higher. Why?
Luckey: It really boils down to getting the quality we needed for our consumer VR product. We really think that the Rift we're shipping is basically the bare minimum that's required to make a device that delivers presence, that anyone can use comfortably. We wanted to make hardware that everybody could use. The Rift is really at the bare minimum of what that takes but also at the top end of what you can make with today's available technology.
We've said many times we're not making money off the Rift hardware. What you're getting for $599 is a lot more than what you're getting spending $599 on anything else, like a tablet or a television or a phone that costs a fraction of the Rift to manufacture.
There would've been no way to drop the cost without significantly reducing quality, and think about the mainstream: Most people don't own a PC that is powerful enough to run the Rift. A PC to run it is roughly a thousand dollars. Lowering the price of the rift by reducing the quality could've been done — $500 or $400 — but it would've reduced the all-in investment for the average person from $1,500 to $1,300 maybe. It's not a huge change, and that wouldn't have been enough to make the target market leap from enthusiast gamers to mainstream just yet.
IBT: What games can these early adopters and gamers expect?
Luckey: "Lucky's Tale" is being bundled with every Rift, and we're also bundling "Eve: Valkyrie" with every preorder. Those are just some of the games that we're delivering, we have over 20 Oculus Studios titles coming this year and a lot more third-party content too.
We've been working on that for years because we know that there needs to be content for people to play with. If the hardware doesn't have anything to play on it, then it's not really useful at all. We're doing that, and Sony is making a good job of that, investing to make sure there's content to play for their headset, because if you have a headset that doesn't have a lot of in-depth content to appeal to a wide range of people in different genres, you're going to have a hard time selling to any kind of significant audience.
IBT: Sony appears to be best poised to challenge the Rift with the PlayStation VR, which works with the PlayStation 4.
Luckey: That might be true. I think that there's not many people who already own a PS4 who don't own a gaming PC who are going to go out and make that roughly $1,500 all-in investment in the Rift. It really is a separate market. They're bringing virtual reality to a different group of people who I don't think were ever really a part of our market anyway.
It's also worth noting that their headset isn't quite as high-end as ours — it's still, I think, a good headset — and the PlayStation 4 is not nearly as powerful as our recommended spec for a PC.
IBT: What's the relationship between Oculus and Sony like?
Luckey: I knew some people at Sony working on VR before I even started my Kickstarter campaign, actually, and we brought them in early on to show them what we were working on, to talk about what the minimum standards were for a good VR experience. What does it take to make something that won't make people uncomfortable and won't turn people off of virtual reality?
That's really the most important thing, is to not poison this well for all of us in the future, and I think they understand that. They also understand the importance of content, and they've been doing a lot of work making sure there's a lot of VR games.
IBT: In many ways, it feels like the entire VR industry is aligned.
Luckey: Well the real battle here at this point isn't us against them. It's us versus the public and trying to convince them that VR is worth adopting. That it's worth wearing something on your head to use virtual reality. That's the real fight, and I think we're all fighting that together.
© Copyright IBTimes 2023. All rights reserved.
FOLLOW MORE IBT NEWS ON THE BELOW CHANNELS