'Fallout 4' Holiday Gift Guide For Wasteland Wanderers: Bobbleheads, Vault 111 Gear, Vinyl Figures, Art And More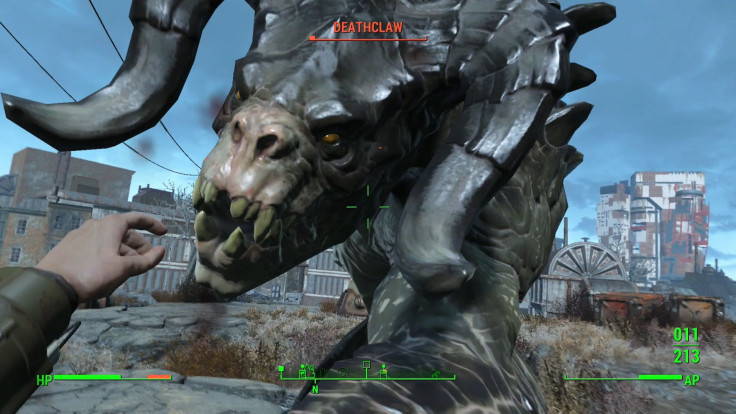 "Fallout 4" is a sensation, but what do you get the gamer who spends countless hours in the wasteland? You could try to get the ultra-rare Pip-Boy Edition of the game, but it's usually out of stock and means you'll have to figure out what to do with the extra copy of "Fallout 4." Luckily, Bethesda and everyone else really loves "Fallout" so there are plenty of great gifts for vault dwellers. From Vault-Tec gear to prints to bobbleheads, the hardest decision is narrowing down what to get. Here's our handy "Fallout" holiday gift guide.
Vinyl Figures And Collectibles
Funko Pop! collection has some great vinyl figures that make for a perfect stocking stuffer. You can choose a Lone Wanderer (male or female), Power Armor, Super Mutant, Dogmeat, John Hancock or a T-60 Power Armor. If you want something more on the action figure side, most of these vinyl figures can be found at GameStop or online retailers like Amazon. GameStop has a few exclusive items, such as the Glowing One Pop! vinyl figure and a Vault Boy vinyl figure.
Funko has "The Legacy Collection: 'Fallout - Power Armor" and "The Legacy Collection: 'Fallout' - Lone Wanderer" 6-inch figures. If you want to recreate the joy of searching through hundreds of crates and boxes, pick up the "Mystery Minis Blind Box: 'Fallout' Case." What you get is completely up to chance. You can also pick up random individual figures.
ThinkGeek has "Fallout 4" Vault Boy ornaments that would look perfect on trees for years to come. GameStop also has an exclusive Nuka Cola machine bottle opener. The Bethesda Store has plenty of 7" and 5" Vault Boy bobbleheads to choose from.
Monopoly: "Fallout" Collector's Edition
Get them to stop playing "Fallout 4" with this special edition of Monopoly. It's only available at GameStop, but features plenty of cool nods to the franchise. Players can choose to be a power armor helmet, vault boy, Vault 111, a mini nuke, Nuka-Cola bottle or a 10mm pistol. Boardwalk and Park Place are replaced by Vault 111 and Diamond City. Monopoly money is replace by bottle caps and players build shacks and vaults.
Vault-Tec Gear
If there's a piece of gear or accessory you could name, Vault-Tec has you covered from your feet to your ears. The Bethesda Store has a great range of Vault-Tec apparel, including a limited edition Vault Boy of the Month t-shirt. The Vault 111 sneakers look like classic New Balance or Saucony sneakers with a bright blue and yellow color scheme. Bethesda also has "Fallout" dresses and cardigans for female wanderers. For the audiophile, there the Vault 111 SteelSeries Siberia v3 headset with memory foam cushions.
"Fallout 3" Special Edition Vinyl Soundtrack
Chances are the gamer in your life was playing Bethesda games before "Fallout 4." The special edition vinyl soundtrack of "Fallout 3" features three LPs and one 7" on blue vinyl housed in a heavy board stock slipcover. The set includes a "You're SPECIAL" children's book and is a limited edition of 2,500.
A Mini Nuke (And Games)
A Fat Man and a mini nuke can turn the tide against the most dangerous of enemies out there in the wasteland. In real life, a mini nuke is a perfect decorative piece or case for every "Fallout" game released to date. The "Fallout Anthology" for PC features the first three "Fallout" games along with "Fallout New Vegas Ultimate Edition" and "Fallout Tactics." "Fallout 3" is the Game of the Year edition.
Wasteland Art
Bring a bit of "Fallout" to the real world with some great art and fan creations. Bethesda has an "Art of Fallout" book and a limited edition set that includes a special slipcase and a mini lithograph signed by Bethesda concept artist Ray Lederer. There's also the "Fallout 4" Ultimate Vault Dweller's Survival Guide bundle that includes the game guide, Nuka Cola collectibles, lithographs and an "Art of Fallout" 2015-2016 calendar. Around the web, there is just so much art to choose from (a few more examples). Society 6 also has plenty of "Skyrim" prints. Etsy is great place to look for some unique creations. 3DPrintmanUK's store includes mini nukes, "Fallout 4" deathclaws and "Fallout 3" and "Fallout New Vegas" inspired figures. You can also get a laser rifle and survival packs with Sugar Bombs.
© Copyright IBTimes 2023. All rights reserved.