Famine in Somalia: Will U.N. Aid be Enough?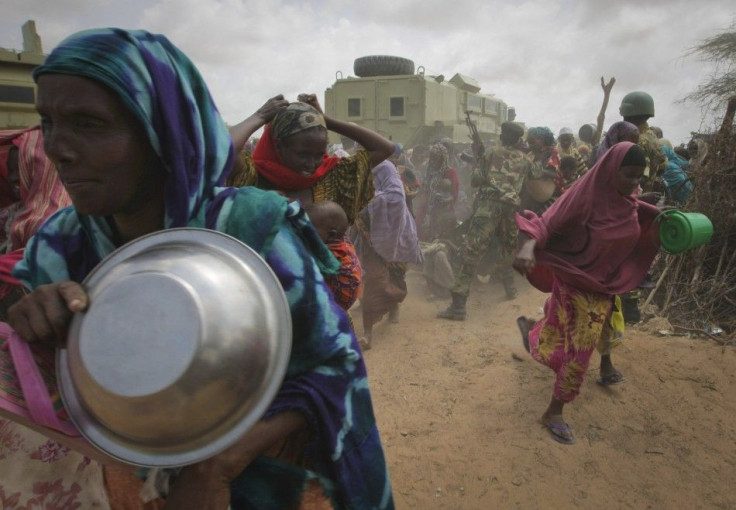 The United Nations officially declared that there is a famine in Somalia.
With tens of thousands of people dying from malnutrition in just a few months, U.N. Secretary General Ban Ki-moon said that $1.6 billion will be needed to help the embattled area, $300 million of which needs to come immediately.
The fact that a famine has been declared shows just how grave the situation has become, stated Andrew Mitchell, UK's International Development Secretary.
It is time for the world to help but sadly the response from many countries has been derisory and dangerously inadequate.
The term famine doesn't simply mean starving. About 3.7 million people in the Horn of Africa suffer from starvation, while about 6 million more suffer from hunger.
The turmoil in Somalia stems from a combination of drastic situations, particularly a massive and long-lasting drought, which when combined with lawlessness, gang warfare and anarchy, has forced millions of people from their homes and killed thousands more.
Los Angeles Times field reporter Robyn Dixon describes the chilling reality of life during famine.
For months, people have been trudging out of the desert, leaving their dead children behind and carrying those who have managed to survive.
Famine is a technical term that describes the state in which child malnutrition is above 30 percent, at least 2 in 10,000 people die per day, and where there is no access to food and water for some people. While the whole country of Somalia suffers, only two qualify regions for famine -- Bakool and Lower Shabelle, which are in the south of the country.
If we don't act now, famine will spread to all eight regions of southern Somalia within two months, due to poor harvests and infectious disease outbreaks, said Mark Bowden, the U.N. humanitarian coordinator for Somalia.
On Thursday, the United States pledged $28 million in aid. However, the money will not go to the two regions officially declared famine states, because they are thought be in control of the militant group al-Shabaab, which has links to al-Qaeda and other terrorist organizations.
The U.S. has sent a total of more than $430 million to Somalia in emergency aid this year.
We are committed to saving lives in Somalia and we are already working in any area not controlled by al-Shabaab, Donald Steinberg, deputy administrator of USAid, said at a briefing in London. Unfortunately, about 60 percent of people affected are in al-Shabaab territories. We've instructed Unicef and [World Food Program] that they can use our assistance in any part not under al-Shabaab control.
Al-Shabaab is an enemy of the United States. But they are also apparently hostile to the Somali people themselves. The rebel group intercepts aid packages, either keeping much of the aid of themselves or using it as leverage to get their demands. Last week, the group said it would again allow aid agencies into the country, but international bodies are looking for more assurance that the group will keep its promise.
As soon as UN and WFP declare that al-Shabaab is not going to be taxing assistance or hindering assistance using the local population as hostages and can prove unfettered access we are prepared to go ahead with assistance through any agency, Steinberg added.
As famine and drought plague the Horn, thousands of refugees are fleeing the area hoping to find safety elsewhere.
Somalia generates the most refugees of any country in Africa, and third most of all countries in the world. It sits only behind Afghanistan and Pakistan, according to the UNHCR Operation in Somalia.
Kenya receives the most displaced Somalis of any country. By June 2010, there were 325,600 refugees in Kenya, but that number is now exceeded by the population of the U.N.-run Dadaab refugee complex alone. Since the start of 2011, 61,000 new Somalis have gone to Kenya for safety.
Yemen and Ethiopia also accept a large burden of displaced persons. West of Somalia, Ethiopia has seen the arrival of 55,000 refugees, and the UN's two large camps there have reached full capacity.
Ethiopia currently has a total of 130,000 Somali people. The United Nations has opened a new camp to accommodate future displaced persons.
In total, there are almost 2.5 million refugees living in neighboring countries or displaced within Somalia itself.
The current famine is the worst humanitarian disaster in Africa in two decades. The last time there was such a large-scale famine was in 1991. It also occurred in Somalia.
Unlike in 1991, it is an unprecedented drought that has sparked much suffering. Argiculture has slowed to a halt and the government is too ineffective to jump-start the failed industry.
In 1991, the famine grew out of a civil war that destroyed the country's infrastructure. But in both cases, rebel groups stole humanitarian aid.
The Somali government is largely to blame for the trouble within its borders, much as it is to blame for a spate of piracy in recent years. Since the 1991 fall of the Said Barre regime, there have been many attempts at re-stabilizing the nation, but none have succeeded so far.
Kenya is facing a similar drought, but government regulation has assured that the country will not slip into famine. Until there is a stable government, there will be turmoil in Somalia.
© Copyright IBTimes 2023. All rights reserved.