'Fantastic Beasts' Reviews: Is J.K. Rowling's New Movie As Magical As The 'Harry Potter' Films?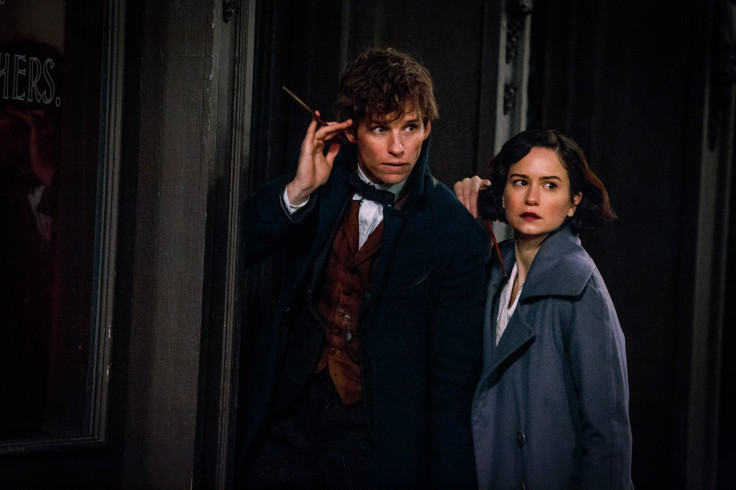 "Fantastic Beasts and Where to Find Them" will be released Friday, but reviews have already hit the internet. Has J.K. Rowling captured the magic of the Wizarding World again?
The movie, which is the first of five flicks, centers on Newt Scamander (Eddie Redmayne), a British wizard who travels to New York City with a case of creatures. When some of his beasts escape, the American wizarding government — who live in fear of non-magical folk discovering the Wizarding World — deems him a criminal.
The flick, directed by David Yates and written by J.K. Rowling, takes place about 70 years before Harry Potter starts Hogwarts. Though it isn't a direct prequel to the "Harry Potter" movies, it is set in the same universe.
The beasts are certainly fantastic, but other parts of the film aren't quite as captivating. All the reviewers seem to agree that Redmayne is well cast as Newt, and the special effects look amazing. No outlet has a particularly bad review for "Fantastic Beasts" (they are generally positive), but the critics have mixed opinions on certain aspects of the film.
Entertainment Weekly: Chris Nashawaty was not too happy with "Fantastic Beasts." He gave the movie a B-, and his review makes that rating sound generous. "First, there are the performances, which aside from Redmayne's are surprisingly flat," he explained. "And second, the thinness of the source material gives the whole film a slightly padded feeling. Rowling, who also wrote the script, nimbly lays out her world, but that world isn't nearly as rich as the world of Hogwarts. And the villains (chief among them Colin Farrell's Percival Graves) are stock cinematic baddies. 'Fantastic Beasts' is two-plus hours of meandering eye candy that feels numbingly inconsequential."
The Guardian: Peter Bradshaw enjoyed just about everything in the movie, giving it a five-star review. "Rowling and Yates have given us a terrifically good-natured, unpretentious and irresistibly buoyant film," he wrote. "There's a scene in a speakeasy where someone orders 'six shots of giggle-water.' This film felt to me like twelve."
Empire: Helen O'Hara notes that in a film that's largely about the wizarding community vs. the non-magical community, the titular beasts are kind of just a distraction. "Rowling's varied beasts are fun, and brilliantly realized by the effects team, but they're ultimately a sideshow, and the numerous action sequences to capture each one can drag," she notes. The film still gets three out of five stars.
The Hollywood Reporter: John DeFore noted that "Potter" fans will want more, but he isn't so sure casual fans will be invested. "Likely to draw in just about everyone who followed the 'Potter' series and to please most of them, the picture also has things to offer for fantasy-friendly moviegoers who only casually observed that phenomenon. The latter group, however, may be less convinced that this spin-off demands the five feature-length installments Warner and Rowling have planned," he wrote. He explained that while the film has some issues, it's still a fun flick.
The Telegraph: Robbie Collin says that "Fantastic Beasts" isn't just for "Potter" fans, and it certainly isn't a retelling of the original saga. He points out how wonderfully different Redmayne's character is in this series: "Newt doesn't feel like any other personality in Potteriana: from his bashfulness to his stammer and gloriously impractical fringe, he's a sore thumb in a cobalt greatcoat, and his company's addictive." He gives the film four out of five stars.
Variety: Peter Debruge seemed to generally enjoy the film. However, he is one of many critics to make an "X-Men" comparison, and he states that Rowling doesn't really add anything new to the argument. However, he is also aware that "Fantastic Beasts" is the first of five installments. "Though Rowling takes the opportunity to introduce a few tolerance-oriented messages, one can't help but question the limits of the allegory: In the real world, bigots don't have a real reason to hate members of other races and religions, whereas wizards — however much we love them — pose a very real threat to normal people (grisly Obscurus attacks result in at least two deaths, and the destruction of large swaths of New York). It's the same logical flaw that operates in both the 'Avengers' and 'X-Men' franchises, and Rowling doesn't have much to add … yet."
IndieWire: Eric Kohn gave the film a B+ and seemed pleased to see that "Fantastic Beasts" doesn't regurgitate the same "Potter" storyline. "The 'Potter' movies were so well conceived that they contain endless possibilities for more entries, and 'Fantastic Beasts' takes the bait right on cue, not repeating a formula so much as enriching it with a spellbinding polish," he praised.
"Fantastic Beasts and Where to Find Them" hits theaters Friday.
© Copyright IBTimes 2023. All rights reserved.