'Far Cry 5' Main Characters Revealed In Trailers - Joseph Seed Has Many Enemies
Far Cry 5 has a debut trailer, release date, location and three protagonist character teasers full of information. The game is headed to PS4, Xbox One and PC on Feb. 27, 2018. To understand what to expect from this Hope County adventure, you must first get to know the people fighting for the territory. Here are the characters we've met so far.
Mary May: She's a barkeep at the local watering hole, and her entire family has been under constant threat by a cult called Eden's Gate. While the group's leaders initially promised help, their purpose eventually grew dark. Eden's devotees took Mary's mom and brother, and her life has never been the same. She's not willing to let these zealots take her bar away. [teaser]
Jerome James: He's a pastor at the Hope County church who feels regretful that he didn't care enough for his people in their time of need. The church's negligence allowed Eden's Gate to offer comfort, and he feels like his flock has been led astray. Jerome wants to regain control and drive his followers back to true righteousness. [teaser]
Nick Rye: He's a pilot that loves his job and has a baby on the way. His only dream is to have a son that loves to fly as much as he does. Because Rye didn't have to fight in the war like his father and grandfather, he's learned to appreciate the beauty of his craft. With years of experience behind him, Nick's believes he must create conflict to protect his bloodline. [teaser]
Joseph Seed: Joseph Seed is the leader of the Eden's Gate cult, and he believes he's been divinely chosen to protect his people from the collapse of society. Through fear, he forces people to join his cause and keep quiet about everything membership entails. His leadership is also enforced by his three children. His son Jacob is a former army soldier, and John is a lawyer. The two boys serve as muscle, while their sister, Hope, keeps everyone pacified.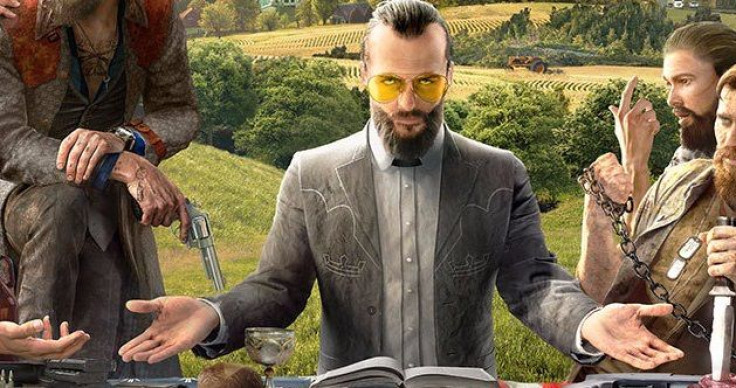 Joseph's slogan is "I am your father and you are my children."
The Player: You'll be plopped right into the middle of this conflict as a junior deputy sheriff that's new to the area. However, unlike previous Far Cry games, the identity of your protagonist is up to you. In Far Cry 5, it's possible to customize the look and race of the person you'll be playing. Male and female genders have not been confirmed as far as we know, but we assume that will be part of the suite as well. The intent is to be able to "make Far Cry 5 your experience."
Aside from character and story details, we also learned a few gameplay intricacies too. For starters, the whole Far Cry 5 plot can be enjoyed solo or in co-op. In true Far Cry fashion you'll be able to try out dozens of weapons and vehicles too. Want to carry rifles and fly planes? It's all open to you. Along your journey, you can recruit NPCs like the ones above to help you understand what's going on. Animals like bears and cougars can even join the fight.
Far Cry 5's release date for PS4, Xbox One and PC is Feb. 27. We expect to learn even more about the game during E3 in June.
What do you think of these Far Cry 5 character reveals, its location, plot? Are you excited to learn more? Tell us in the comments section!
© Copyright IBTimes 2023. All rights reserved.
FOLLOW MORE IBT NEWS ON THE BELOW CHANNELS