FBI Agent Joseph Astarita Pleads Not Guilty For Lying About Oregon Standoff Shooting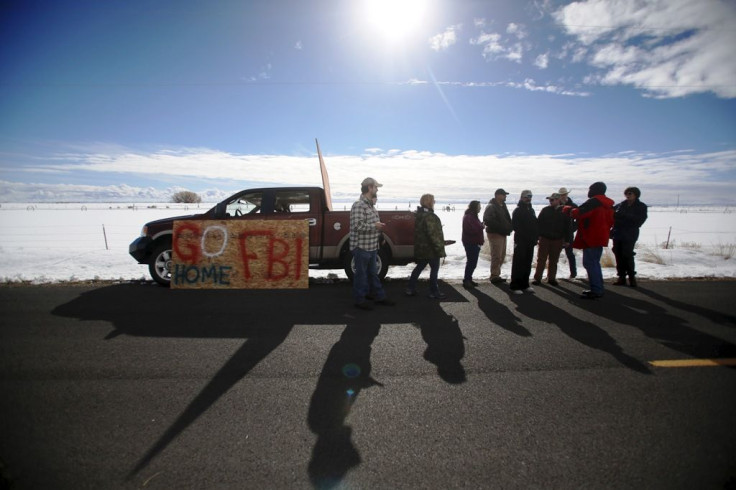 An FBI agent involved in last year's Oregon standoff with occupiers of the Malheur National Wildlife Refuge was charged with lying about firing shots that killed one person, reports said Wednesday. W. Joseph Astarita, the agent, was indicted on five felony charges after a year-long probe by Justice Department into possible FBI misconduct during the standoff.
Astarita pleaded not guilty to three counts of lying and two counts of obstruction of justice, NBC News reported, citing the June 20 indictment. He was, however, released, on personal recognizance due to his trial Aug. 29.
The agent was a member of the FBI hostage rescue team during the month-long standoff in Jan.-Feb., 2016. He was accused of lying about opening fire in a bid to arrest Robert Finicum, one of the occupiers, who was killed in the standoff.
Read: FBI Agents Under Investigation For Rancher Robert 'LaVoy' Finicum Shooting, Sheriff Says
The agent made false statements to FBI on at least three occasion when he "falsely stated he had not fired his weapon during the attempted arrest of Robert LaVoy Finicum, when he knew then and there that he had fired his weapon," the indictment reportedly said. He also twice lied about the firing to Oregon State Police investigators, which in turn stopped them from alerting federal authorities about his obstruction of justice, the indictment alleged.
Finicum, who was a spokesman for the occupiers of the bird sanctuary, was shot dead Jan. 26, 2016. Oregon State Police had fired shots after he got out of a vehicle at the scene and reached for a weapon he was carrying in his car. Investigators stated that the troopers' actions to shoot Finicum were justified. However, they also found some FBI members of the hostage rescue team did not disclose that they opened fire at Finicum. The standoff ended Feb. 11, 2016.
"The actions of the FBI HRT team in this case damage the integrity of the entire law enforcement profession, which makes me both disappointed and angry," Deschutes County Sheriff Shane Nelson, whose department probed Finicum's shooting, said, according to the Associated Press.
Read: FBI Loses Evidence That Could Have Helped Crack Largest Heist Case Ever
Finicum's family said they were encouraged by the indictment.
"I'm encouraged. I'm thrilled that the grand jury came back with this finding,'' Finicum's widow Jeannette Finicum reportedly said.
"The Finicum family applauds the U.S. Department of Justice for doing this. Nobody is above the law. This is about upholding public trust and preserving the integrity of any investigation involving a death at the hands of law enforcement,'' the family's lawyer, Brian Claypool, said, according to Oregon Live. ''
If convicted for making false statements, Astarita can end up behind bars for up to five years. A conviction for obstruction of justice could lead to another 20 years of imprisonment, Oregon Live reported, citing federal prosecutors.
© Copyright IBTimes 2022. All rights reserved.
FOLLOW MORE IBT NEWS ON THE BELOW CHANNELS