Fed Ends Stimulus, Keeps 'Considerable Time' Outlook For Interest Rate Hike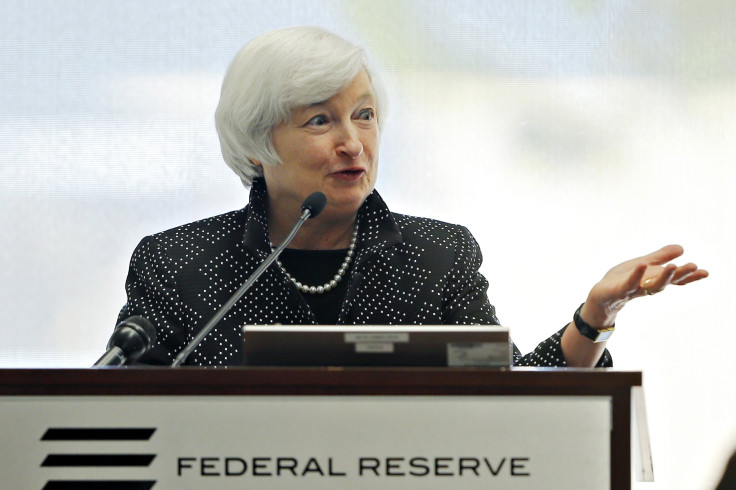 The Federal Reserve's policymaking committee said Wednesday that the U.S. economy has recovered enough since 2008 for the central bank to end its stimulus program that has injected more than $4 trillion into the economy. The scheduled end of quantitative easing comes as the American economy adds jobs at the fastest pace since the Great Recession began in December 2008.
"The Committee judges that there has been a substantial improvement in the outlook for the labor market since the inception of its current asset-purchase program," the Federal Open Market Committee said in its policy statement. "Moreover, the Committee continues to see sufficient underlying strength in the broader economy to support ongoing progress toward maximum employment in a context of price stability."
The FOMC also said, as expected, that it will continue waiting "a considerable time" after the end of its asset-purchasing program to raise interest rates, "especially if projected inflation continues to run below the Committee's 2 percent longer-run goal."
Weak inflation, at about 1.7 percent, is giving the Fed more time to raise interest rates. If economic data indicate faster progress toward 2 percent inflation and maximum employment, increases in borrowing costs are likely to occur sooner rather than later, the FOMC said.
The Fed said at its September FOMC meeting that it planned to end the asset-buying program this month if economic conditions allow. Earlier this month, Fed officials said that the U.S. economy is growing at a "modest to moderate" pace as improving consumer spending pressures employers to raise wages in some industries such as construction.
© Copyright IBTimes 2023. All rights reserved.