'Fifty Shades Of Grey' Star Eloise Mumford Teases Her New Hallmark Holiday Movie, 'Just In Time For Christmas'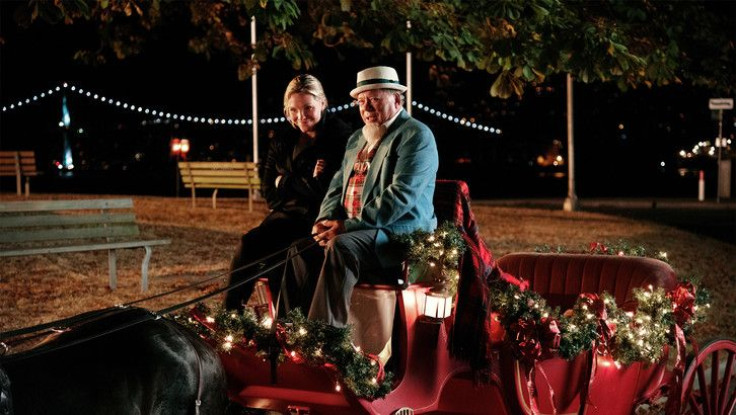 "Fifty Shades of Grey" star Eloise Mumford is headed to the small screen in the premiere of Hallmark's latest original film, "Just in Time For Christmas." The made-for-TV film tells the story of Lindsay Rodgers (Mumford), who gets the job offer of a lifetime at the same time that her longtime boyfriend decides to take their relationship to the next level. Lindsay's forced to make the difficult decision between her career and true love -- fortunately she's got Christmas magic on her side. International Business Times recently had the opportunity to catch up with Mumford, 29, to discuss the film and much, much more.
According to the esteemed young actress, "Just in Time for Christmas" will focus on Lindsay's struggle to decide whether to make a major cross-country move or settle down with her boyfriend, Jason Stewart (Michael Stahl-David). During the movie she decides to take a walk in the park alone in an effort to clear her mind and encounters a mystical stranger, played by William Shatner, who changes everything.
"Lindsay's kind of at this crossroads in her life where the guy that she's been dating for a really long time proposes to her on the same night that she gets the job offer of her dreams. It all happens very quickly and she doesn't really know how to react, as I think many of us would feel in that situation," Mumford explained. "That night she makes one decision and it may not necessarily be the right one. She goes into the park and meets this sort of mystical Christmas man played by William Shatner and, in the vein of 'It's a Wonderful Life,' she's shown what life would be like if she makes the decision that she was going to make in that moment."
The glimpse into the future provides Lindsay with a new kind of insight on the situation. According to Mumford, her character learns just how important the people in her life truly are. She is also shown that she may not have to choose one or the other, but rather can have true love and the career of her dreams. Mumford feels this theme will resonate with audiences who fear they can't "have it all."
"I think especially now there's so many people that think they have to choose between work and love," she said. "Or that one thing has to take the back burner. It's a movie about that and, also, just about appreciating what we have."
Much like her character Lindsay, Mumford has had to make some difficult decisions in life because of her demanding career. Although she's come to accept it as part of her trade, the "Fifty Shades of Grey" actress admits that, while possible, it is challenging to balance relationships of any kind and work. She claims it's largely the amount of time spent away from home that creates the biggest hurdles to jump over and adds that the best way to combat it is by being present.
"Being an actor you spend a lot of time away from home and it's really hard to try to juggle relationships with work. Spending a lot of time away from your loved ones is really hard. It's always been something that I'm still trying to figure out and I think it just comes down to being as present as possible in each moment," she said. "That's sort of what the movie ends up talking about."
"Just in Time For Christmas" is just one of many films released this year as a part of Hallmark's Countdown to Christmas. While each is different, starring different characters and focusing on different themes and storylines, one thing binds them, and other holiday films, together: an underlying love story. When asked why, in her opinion, holiday films so often feature an element of romance, Mumford explained that for so many people around the world, regardless of what they may celebrate, the giving season is about being close to the ones they love. She told IBT most people go above and beyond to show their love with gifts and kind gestures during the holidays because "that's what we all hope for."
"I think that it's just that for so many of us the holidays are about the people that we love and that's what we really love about this time of year. Any holiday for me certainly is about that. It's about showing them how much I love them and just feeling really grateful that we can all be together," she said. "I think holiday movies have that theme because that's what we all hope for."
Another far more obvious theme in holiday movies? Joy. The problem, however, is that holiday-themed films are shot during warmer months. While actors pretend to shiver on screen they're really wearing winter coats and singing Christmas carols in June or July. So how does one get in the holiday spirit in the dead of summer? According to Mumford it's as simple as having a good set designer.
"There's kind of an undertone of joy all the time because, I think, no matter how much of a Scrooge anyone is there's always a little piece of their heart that secretly loves holiday movies," she explained. "We were shooting this in July and I remember one night I was shouting, 'Have a very Merry Christmas' in this town square under all these Christmas lights and it just kind of brings that magic because it's hard not to love the holidays."
"Just in Time for Christmas" airs Saturday, Dec. 5 at 8 p.m. EST on the Hallmark Channel.
© Copyright IBTimes 2023. All rights reserved.
FOLLOW MORE IBT NEWS ON THE BELOW CHANNELS