'Fifty Shades of Grey' Is A Success, But It Won't Open Doors For Women In Hollywood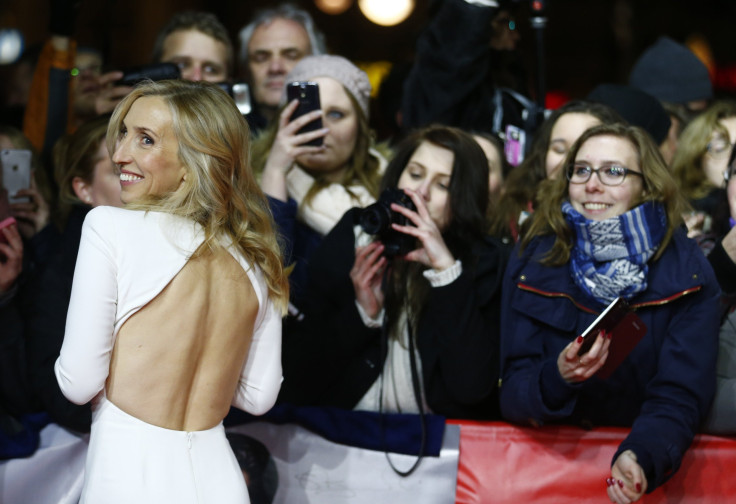 This past weekend marked the biggest weekend box office debut by a female director, reaping nearly $160 million for the rated R film, "Fifty Shades of Grey." Director Sam Taylor-Johnson tore down a piece of the metaphorical celluloid ceiling holding back women filmmakers, making the jump from indie film to blockbuster. Marginalized female filmmakers can breathe a little easier now that Hollywood will drop its prejudices against hiring women for big budget projects.
Except Tinseltown isn't so quick to forget its prejudices.
As we learned from Sony's leaked emails, sexism and racism are alive and well at every stage in Hollywood. The prejudice begins in the boardroom holding the purse strings and trickles on down, damning every step from production to distribution to nonstarter or "development hell." It means jobs are still not going to the most capable talent, and money isn't headed to the projects that need it most. It means, of all the foul-mouthed executives exposed at Sony Pictures, only Amy Pascal publicly got the ax.
The stats for women in Hollywood are grim, now repeated as often as hymns in a church: About a third of on-screen speaking characters are female. Behind-the-scenes, women could only be found in 7 percent of director chairs, 11 percent as writers of produced scripts, in 18 percent of editing desks of major movies and as only 5 percent of cinematographers. The highest percentage belonged to producers at 23 percent, well below the proportion of women in the U.S. population. We know the figures so well, because like those hymns, much of the music hasn't changed in years.
The commonly cited watershed moment for female filmmakers is Kathryn Bigelow's monumental win at the 82nd Academy Awards for Best Director and Best Picture. But more than five years later, not one of the subsequent 25 nominees for Best Director has been a woman. The bleak numbers still stand: Only four women have been nominated for Best Director and none has been a woman of color.
Sadly, Bigelow is proving to be a rare token win rather than a tear in the celluloid ceiling. Perhaps since that threshold has been crossed, there's no need to rush another woman director to the top of an awards shortlist. The problem with tokenism is that you're using one good gamble to bet against the house. Anyone who's been to Vegas can tell you the house usually wins. The token doesn't improve your chances of beating the odds.
Say what you will about the Oscars not mattering, but the financial interest proves otherwise. The day after the 87th Academy Award nominees were announced, "American Sniper" broke its weekend box office predictions. As for the longevity of a film's legacy, Oscar nominations help keep the film in the cultural lexicon, trotted out every awards season and bar trivia night when needed. We also remember the films that were short changed by the Academy, like Spike Lee's "Do the Right Thing" the year that "Driving Miss Daisy" won the Best Picture prize.
As another somber piece notes, only three of the year's past 373 films were from black female filmmakers. "The Oscars are not the problem," "Beyond the Lights" director Gina Prince-Bythewood told the Associated Press. ''It's more so Hollywood and the films that are being greenlit." Ava DuVernay confirmed: "Three is not enough. While we celebrate the three, we're talking three in the hundreds of films that came out last year between the U.K. and the United States." That equality goal post looks as far as the fourth "Transformers" runtime was long.
Much of a filmmaker's success is still measured by box office, meaning indie darlings released on video on demand are easily lost in the shuffle. The way the Weinstein Company is advertising "The Imitation Game," it would seem it's the only award-caliber film released this year. Instead, two other titles were released to VOD or Netflix this year, the Chris Evans led "Snowpiercer" and the Marion Cotillard vehicle "The Immigrant." Both were critically acclaimed and lauded in several critics' awards, but received little recognition from the academy.
Box office success also opens new opportunities for financing new projects. A director is much more bankable with higher grosses on past projects. In the case of Steven Spielberg, you can invest your blockbuster movie money into that of your friends' projects as he did with Amblin Entertainment for Robert Zemeckis ("Back to the Future" trilogy), Joe Dante ("Gremlins" and "Gremlins 2"), animator Don Bluth ("The Land Before Time"), The Coen Brothers ("True Grit") and Clint Eastwood ("Flags of Our Fathers" and "Letters From Iwo Jima," among others). Few films by women directors received funding from Amblin, but they include Penelope Spheeris' "The Little Rascals" remake, Beeban Kidron's "To Wong Foo, Thanks for Everything! Julie Newmar" and Jocelyn Moorhouse's "How to Make an American Quilt." The last time Amblin Entertainment produced a film by a female director was in 1998 for Mimi Leder's "Deep Impact." The sci-fi disaster film grossed $349 million on a production budget of $80 million, but Hollywood shares a collective amnesia when it comes to the success of women.
More Oprahs and more Megan Ellisons need to dedicate themselves to see talented women take over silver screens. More funding companies like Chicken & Egg need to hone in on filmmakers who aren't getting the big box office breaks. Wealth isn't going to spring beneath filmmakers' feet if no one plants opportunities there. Woman can't rely on token successes, producers or companies because the odds are never going to change with an all-or-nothing hand. The lack of studio investment in women and filmmakers of color points to an indifference in seeing stories from these communities and reflecting their audience in the employees they hire or projects they greenlight. With the talk of the success of "Fifty Shades" and the outcry over Ava DuVernay's Oscar snub, let Hollywood take note:
Let this year be the watershed moment the celluloid ceiling collapses.
© Copyright IBTimes 2022. All rights reserved.
FOLLOW MORE IBT NEWS ON THE BELOW CHANNELS