'Fifty Shades of Grey' Movie Dominates Worldwide Box Office With Astounding $158 Million Opening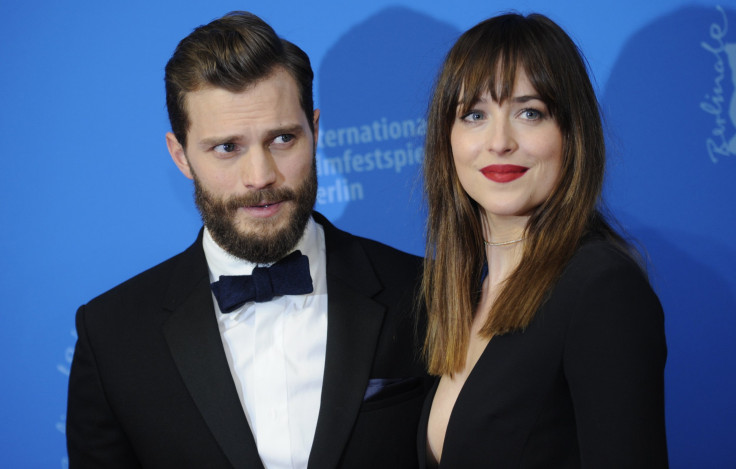 Soaring above previous studio predictions, "Fifty Shades of Grey" tied up around $90 million stateside as it dominated other international markets abroad. The kinky affair, starring Dakota Johnson and Jamie Dornan, broke various records including biggest R-rated opening overseas and was Universal's best day at the international box office. Deadline reports "Fifty Shades" is on top of the box office in 55 markets making for a total international weekend gross of $158 million.
Closer to home, "Fifty Shades" raked in about $30 million for its first day debut on Thursday night and Friday screenings where women made up a majority of the audience. With Valentine's Day, "Fifty Shades of Grey" scored an impressive $36 million among an audience that was 59% under the age of 30. The other big debut this week, "Kingsmen: The Secret Service," landed softly within its range, taking home around $35 million for its troubles.
This makes "Fifty Shades of Grey" one of the largest box office entries to be helmed by a female director. Hopefully, Universal studio heads or E.L. James won't change their minds on director Sam Taylor-Johnson and will keep her on for the duration of the series. Otherwise, it could be another disappointing "Twilight" parallel where a strong opening debut made by a woman director has its sequels given to male colleagues. Since the post-"Star Wars" blockbuster era, no woman director has helmed a franchise from start to finish. "Fifty Shades" can break that celluloid ceiling if it continues with Taylor-Johnson.
© Copyright IBTimes 2023. All rights reserved.
FOLLOW MORE IBT NEWS ON THE BELOW CHANNELS