Finding Black Santa Claus For Christmas: Minority Families Struggle To See Themselves In Holiday Cheer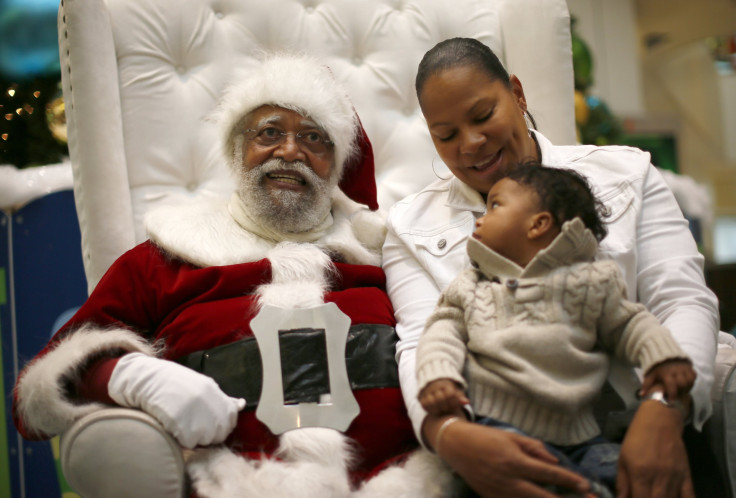 As a proud African-American woman, Crystal Mozell has applied brown paint on the faces of a pair of 3-foot-tall Santa Claus statuettes that greet guests visiting her home in Los Angeles during the holidays. When her Christmas tree is up, a mocha-complexioned angel sits atop it guarding other festive decorations, including a nativity scene that features a black Jesus, Mary and Joseph.
But Christmas just isn't Christmas until Mozell, 45, takes her family to Baldwin Hills Crenshaw Plaza, to visit the mall's African-American Santa. His long, white beard and dark skin are as real as his appeal to children in the predominantly black and Hispanic part of the city, she said.
As families prepare to celebrate Christmas in the U.S., racial minorities said they often struggle to find an ethnic St. Nicholas to visit or settle on the rosy-cheeked white men who are dominant in the American interpretation of the beloved figure. Generations of white-washing holiday tradition and religious imagery continue to pose a dilemma for minorities who want their children to see themselves in positive figures like Jesus Christ and Santa Claus. Those who do manage to find ethnic Santa or displays of nonwhite Jesus said these images are more essential than ever amid increased racial tension and anti-immigrant sentiments seen around the country.
"We are so bombarded by Caucasian images of things that are considered good, that I want [my children] to have the experience, too," Mozell, who this year will take her 15-month-old granddaughter to see black Santa, said in a phone interview Friday. "Whatever race you are, you want your children to see positive images, because they'll know that they can aspire to be that and more."
Minority communities and retailers across the U.S. have for years reimagined Santa as a portly black man, a zoot-suited Mexican-American and a tribal American Indian -- all in an attempt to challenge the notion that the fictional character derived from Dutch folklore has to be white. "Sometimes we wonder how children begin to take on such a poor self image at such a young age. But it's because that lack of important public figures who look like them," Augustus Corbett, chairman of the National Black Parents Association, a Dallas organization, said in a phone interview Friday. "It communicates to African-American children that being black is less than white and that important figures are never black."
Like Mozell, Corbett, who is also pastor of Kingdom Word Church International in Arlington, Texas, decorated his home with "black everything" for his wife and now-grown children during their Christmas celebration. But Corbett and other black parents said they realized their displays don't always find acceptance among whites.
Multi-ethnic Santa and Jesus became a national debate in 2013 after Fox News host Megyn Kelly asserted that "Santa just is white," and urged minority children and families to just accept it. Kelly later walked back her comments as an attempt at humor. But the remarks prompted scholars to investigate whether fictional characters are ever just one race and whether a Biblical figure like Jesus had ever been deemed black, white or something else entirely.
St. Nicholas was not white, David Kyle Johnson, an associate professor of philosophy at King's College in Pennsylvania, wrote in a 2013 response to the Fox News debate of the Christmas figure. "If he existed at all ... he lived in what is now Turkey, and likely looked … much more like Osama bin Laden than today's average 'white male' or Coca-Cola's Santa Claus," Johnson noted.
Jesus was cast as white with blond hair and blue eyes in the U.S. around the mid-19th century, according to Edward Blum and Paul Harvey, authors of "The Color of Christ." This depiction "inadvertently reinforces the damaging cultural framework where lightness is correlated with purity and righteousness, and darkness is linked to sin and evil," Jonathan Merritt, columnist for the Religion News Service, wrote last week for the Atlantic.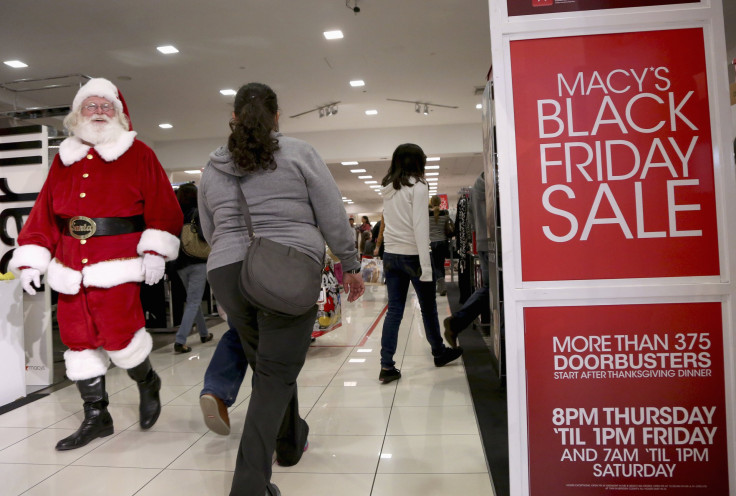 But even as the U.S. became more diverse through decades of immigration and the growth of the black population, those white-washed images rarely changed. Nonwhites make up approximately 37 percent of the U.S. population, according to the Census Bureau, and are projected to constitute the nation's majority in three decades. That could mean more work for people like Antonio Campbell Jr., a police officer for the public school system in Oakland, California, who moonlights as a black Santa during the holidays.
"Kids don't see my color," Campbell, who has played Santa at his aunt's day care service for the last five years, said in a phone interview Friday. "All they see as the red-and-white suit and the beard. That's all they care about. I just look at it as putting a smile on their faces during this holiday season."
Campbell, 36, added that he doesn't get into the politics of black-versus-white Santa. "You never know what someone is going through at home – maybe parents not having a lot of money to do things at Christmas – so I do it because I love kids," he said.
The idea for black Santa emerged in the U.S. during the 1940s, but became popular nationally during the Black Power movement that sprung up during civil rights era, said Lawrence Tucker, a New York City native who first took his 4-year-old daughter to see an African-American St. Nick in 1963. On 125th Street between Seventh and Eighth avenues, they went to Harlem's largest department store, Blumstein's, which in 1943 had the first black Santa Claus in New York.
"It was important for me to show that Santa Claus' helper didn't always have to be white," Tucker said Friday in a phone interview. "I was made aware of positive black figures when I was younger, so you try to do the same thing for your children."
Today, Macy's flagship store in Herald Square offers the choice to see white Santa and black Santa. But if you want to see black Santa, you have to say the magic words "special Santa," said Alyssa Gutierrez-Soogrim, a New York City resident who took her 6-year-old black and Hispanic son there for the first time three years ago.
The line for all Santas snakes around the midtown Manhattan store for a couple of hours, she said. But when you get there, one of Santa's elves takes you to a separate room to see "chocolate Santa," as Gutierrez-Soogrim's son affectionately called him.
"I just wanted my son to have representation that reflects the males in his life," said Gutierrez-Soogrim, 38, who is of Chicano heritage. When they finished the visit, her son remarked, "Santa looks like daddy."
© Copyright IBTimes 2023. All rights reserved.