First-Ever Traditional African Gay Wedding? Tshepo Cameron Modisane And Thoba Calvin Sithole Get Married [VIDEO]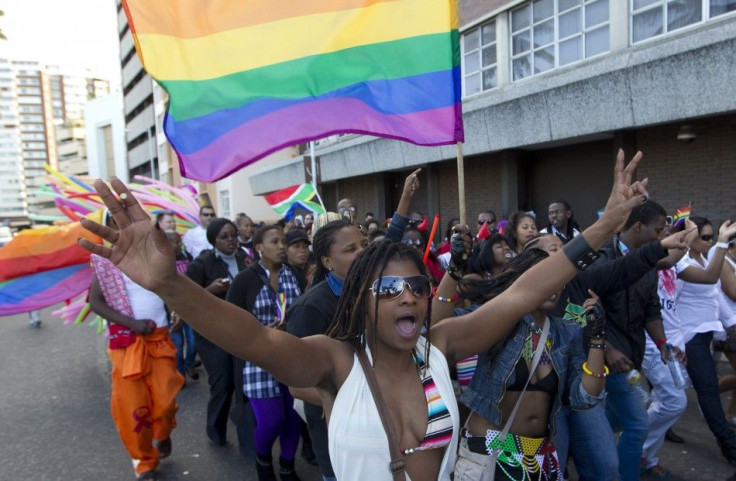 Despite being named one of the "best places -- and one of the worst -- to be gay" by GlobalPost in 2011, South Africa held what's being reported as the area's "First Traditional African Gay Wedding" between Tshepo Cameron Modisane and Thoba Calvin Sithole in KwaDukuza, a town in KwaZulu-Natal, South Africa.
The two men, who are both 27 years old, combined their Zulu and Tswana African tribe traditions in front of 200 some guests.
"The great step that we took in our relationship as a gay couple was introducing each other to our families," Tshepo said of their love story to Mamba Online in February. "We are so blessed to have supportive families who care about us. Even though we are gay they still love us."
Thoba, his partner, also noted, "We communicated our intentions to get married to both our families as we wanted to have a traditional African ceremony and also have a traditional Western 'fairytale white wedding.'"
The second, Western-style wedding will be held in Johannesburg later this year, Mamba Online reports.
As for starting their own family, "Family is important to us and that is the No. 1 reason why we want to have children," Thoba said. "We also want our children to grow up in an environment where they are loved greatly by both parents who appreciate them."
But beyond that, the two have said that they "hope to inspire people out there who are still struggling to come to terms with their sexuality."
Tshepo said: "We see no reason to hide in darkness as if there is something to be ashamed about. Our marriage is largely symbolic and a sign that black gay men can commit and build family through a happy and loving marriage."
Watch the news story below:
© Copyright IBTimes 2023. All rights reserved.