First Quarter GDP Plunge A Reminder Of Perilous Economy For Millions Of Americans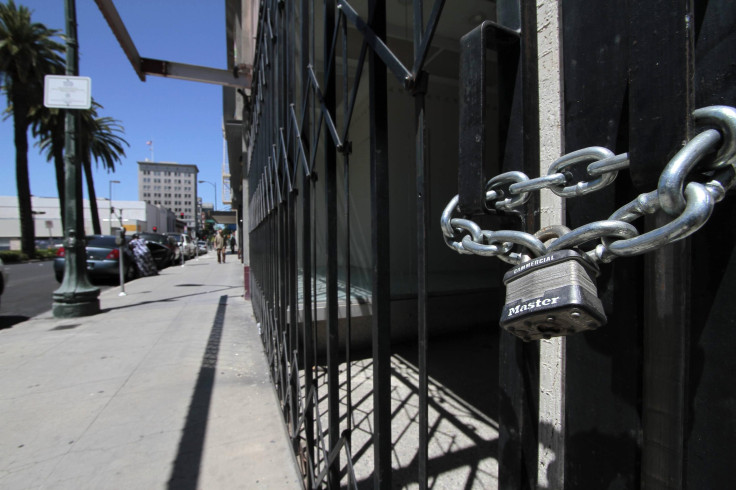 The fragility of the current U.S. economic recovery came into stark focus this week as the Commerce Department reported that the nation's gross domestic product contracted nearly 3 percent. The report was far worse than analysts had expected and left many Americans asking anxiously if the nation is headed back toward the worst economic times since the Great Depression.
The first-quarter gross domestic product (GDP) number, down 2.9 percent, was the worst since the first quarter of 2009, just before the end of the Great Recession -- so called since it was the worst economic downturn since the early 1930s. And not counting periods of recession, it was also the biggest GDP decline in almost six decades, according to MarketWatch.
One quarter of contraction does not mean the economy is in a recession, economists say, but even widespread expectations for a better second quarter don't mean much for the millions out of work and underemployed who are seeing wages stagnate and wealth not being rebuilt.
"Through at least 2013, there are very few signs of significant recovery from the losses in wealth experienced by American families during the Great Recession," said a study released Wednesday by Russell Sage Foundation, the 107-year-old social science research organization. "These wealth losses, however, were not distributed equally." The result: American wealth inequality has increased significantly in the past decade, with no sign of improvement.
Median household wealth -- measured as the total value of equity and income minus liabilities, such as credit card debt adjusted for inflation -- was about $99,000 in 2007, and today it's a little more than $56,000. On the labor front, 6.3 percent of American workers, or 9.8 million people, remain unemployed.
Those stats leave a mark.
Personal consumption, how much Americans spend on stuff, was a troubling aspect of Wednesday's GDP report. It was up in the first three months of the year a mere 1 percent -- down from a previously reported 3.1 percent gain when the Commerce Department released its initial estimate of consumer spending in the first quarter.
The reason for the meager increase in consumer spending was that Americans spent less on health care as they signed up for Obamacare but apparently have not yet paid for it.
"It is amazing that the initial estimate of health care spending's contribution to first-quarter growth went from an initial estimate of a of +1.10 percentage points to -0.16 of a percentage point," Joshua Shapiro of MFR Inc. wrote Wednesday in a client note. "This is a crazy-sized revision, and speaks very loudly to the fact that nobody has a real handle on how the introduction of Obamacare has affected these data, nor for how long the distortions may last until things settle down."
Economists have a consensus estimate of about 3 percent growth in the nation's GDP for second, third and fourth quarters, but even if that estimate is correct the full-year growth of the economy would be a paltry 1.5 percent, according to blogger Zero Hedge. That's hardly stellar growth in the fifth year of a recovery and the fact that the economy can jolt back and forth so dramatically is an indication that the recovery is wobbly. Just because we may not have a technical recession, defined as two consecutive quarterly contractions of GDP, that doesn't mean things are great.
So, what's all this mean for the second quarter, which ends next week?
"In short, the larger contraction in GDP in the first quarter is not a sign that the U.S. is suffering from a fundamental slowdown -- it was still largely due to the extreme weather. The latest data are consistent with growth in the second quarter rebounding to at least 3 percent," Paul Dales of London-based Capital Economics said on Wednesday.
But other economists are sticking to their guns with the consensus maintaining that a bad winter across the country kept construction activity to a minimum, slowed manufacturing and hobbled hiring -- all of which affected consumer spending. That diagnosis has Dales and others confidently expecting a strong rebound in the second quarter.
"The downward revision to first-quarter GDP does not warrant a similar downgrade for the second quarter," said Scott Clemons, chief investment strategist at Brown Brothers Harriman Private Banking. "If anything, it might imply that the second-quarter rebound is even stronger."
He also noted that the current recovery must be seen differently from previous recoveries. "First," he told International Business Times in a emailed response to questions, "the Great Recession was rooted in balance sheet problems (largely housing) as opposed in income statement problems (think corporate earnings cycles), and balance sheet recessions are rarer and take longer to heal. Second, for the first time in a generation or two American households are paying down debt and increasing savings. That's good in the long run, as it helps to repair household balance sheets, but in the short run it's a drag on consumption."
But not all are convinced.
According to blog Zero Hedge, "while a bad GDP print was largely expected, the driver wasn't: personal consumption expenditures somehow crashed from 3.1 percent to just 1 percent, far below the 2.4 percent expected, meaning that all hope of a consumer recovery is dead. Finally, as a reminder, US GDP has never fallen more than 1.5% except during or just before an NBER-defined recession since quarterly GDP records began in 1947. "
© Copyright IBTimes 2023. All rights reserved.
FOLLOW MORE IBT NEWS ON THE BELOW CHANNELS