Five Scary Video Games To Play Alone In The Dark This Halloween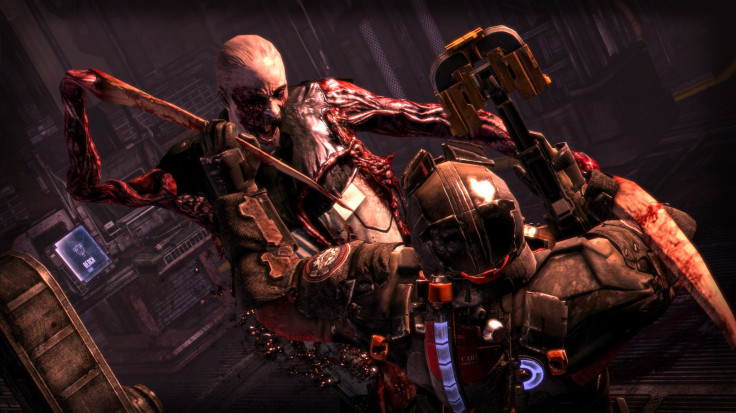 Halloween is almost here, but we don't need an excuse to play some freakishly scary games alone in the dark at night. There's plenty of awesome, chill-inducing titles out there, so it's hard to choose just five, but below are the scariest video games we've ever played.
5. "Silent Hill," PlayStation, 1999
The first installment of the popular series reached Sony's PlayStation on Jan. 31, 1999 in North America, introducing fans to Harry Mason, a writer searching for his missing daughter. Critics said the game introduced players to a new genre of survival horror, focusing more on a psychological style of in-game fear. The game (along with all of the installments of the series besides 2009's "Silent Hill: Shattered Memories") takes place in the town of Silent Hill, Maine, a dark, gloomy town with a shady, murderous history. The soundtrack of "Silent Hill" added to the overall creepiness of the franchise original, and composer Akira Yamaoka created the music without watching any scenes from the game.
"Silent Hills," an upcoming installment to the series, will launch sometime in the future. The game will be directed by "Metal Gear" producer Hideo Kojima.
4. "Resident Evil 4," GameCube, 2005
Arguably one of the best installments in the series, "Resident Evil 4" follows special agent Leon Kennedy on a rescue mission to save Ashley Graham, the president's daughter, from an evil cult. Sure, the plot's not super original, but the game is pretty intense. "Resident Evil 4" takes players to Europe, where Kennedy takes on hordes of violent townsfolk and mutated monsters. One of the scariest of these bad guys is the Chainsaw Man, who chases after players with -- you guessed it -- a chainsaw. Plus he's difficult to kill and wears a sack over his head, which makes him all the more creepy.
The game was one of the first to pioneer the third-person, over-the-shoulder player viewpoint, which was also used in "Resident Evil 5." "Resident Evil 4" took several years to develop, and was first hinted at in 1999.
3. "Dead Space," PlayStation 3, Xbox 360 and PC, 2008
Try not to play survival horror game "Dead Space" before going to sleep, unless you want to have nightmares about being trapped on a mining ship in outer space battling Necromorphs. The first installment in the series launched in North America in October 2008, moving more than 2 million copies and earning positive reviews from a number of critics. "Dead Space 2" and "Dead Space 3" followed the original game, which is set in 2508 and follows futuristic ship systems engineer Isaac Clarke, who must battle his way through a mining ship infested with alien monsters. The crew has all been killed, and their bodies have been raised from the dead into dangerous zombie-like creatures.
2. "Amnesia: The Dark Descent," PC, Mac, Linux, 2010
"Amnesia: The Dark Descent" takes place in 1839 and follows protagonist Daniel, who must explore a dark, ominous castle while solving puzzles and avoiding dangerous monsters, journeying to the center of the castle to battle the evil Baron Alexander, a man who's been masquerading as a succession of Prussian barons during his centurieslong life. He is assisted by the Gatherers, servants deformed when they consumed poisoned wine, depicted in the game as monstrous humanoids with deformed facial and body features.
There's also a ton of other things in this game that could kill you, including fungal poison, a kraken-like creature called the Kaernk and manpigs.
1. "F.E.A.R.," PC, 2005; Xbox 360, 2006; PlayStation 3, 2007
"F.E.A.R.," which stands for "First Encounter Assault Recon" started as a PC game and moved onto seventh-generation consoles after its initial launch. Players take on the role of Point Man, who possesses superhuman abilities and reflexes, and must uncover the secrets of a paranormal mystery surrounding a young girl, Alma.
The setting of "F.E.A.R." possesses all of the elements a scary game should have -- long, dark hallways, blood-soaked floors and even a ceiling made entirely of blood. Children in horror games are also super scary, and players often hear main antagonist Alma, one of the best bad villains in video game history, whispering phrases such as: "Do you like to play games? I have a game." Ugh! We're getting chills!
What scary games are you playing this Halloween? What's your favorite? Leave a comment or tweet me.
© Copyright IBTimes 2023. All rights reserved.