'The Flash' Season 1 Spoilers: 'Arrow' Crossover Begins In Episode 8; What Happened In 'Flash Vs. Arrow'? [RECAP]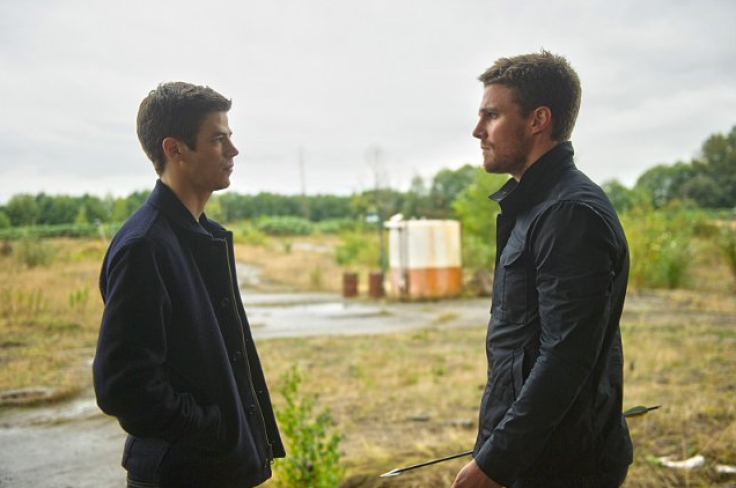 Barry Allen (Grant Gustin) has been easing into his role as a superhero on Season 1 of "The Flash" on the CW. In the last episode he overcame his toughest challenge yet after temporarily losing his powers against Farooq (Michael Reventar). However, in episode 8, "Flash vs. Arrow," the first of two crossover episodes with "Arrow," Barry meets his match, going toe-to-toe with a veteran hero.
The episode began with a bank robbery by a mysterious new meta-human who seemed to have the ability to control people's minds, causing everyone at the bank to fight and try to kill each other while he cleaned out the safe.
Meanwhile, Eddie (Rick Cosnett) was frustrated with all the hype about the Flash and tried to convince Joe (Jesse Martin) and the captain (Patrick Sabongui) to try to arrest the superhero, but they were not buying the Flash was even real. Eddie's ill will toward the Flash was also causing a rift with Iris (Candice Patton).
Barry couldn't help but feel happy about their rocky relationship and visited Iris as the Flash. However, the rendezvous was interrupted by a call from S.T.A.R. Labs that police were closing in on the meta-human at a storage facility. Barry showed up just as the new meta-human was using his powers to turn a cop against Joe. Barry also had some help from an old friend: Oliver Queen (Stephen Amell), aka the Arrow, who helped get Joe and the police out safely.
It turned out Oliver was in town with Felicity Smoak (Emily Bett Rickards) and John Diggle (David Ramsey) in pursuit of a bad guy called the Boomerang. Felicity suggested they all team up and Barry offered to assist them with the help of S.T.A.R. Labs' resources. Despite Oliver's protests, Felicity accompanied Barry back to the lab. However, at the lab, Dr. Wells (Tom Cavanaugh) and Joe expressed their disapproval of Oliver being in Central City. They believed he was dangerous and a killer.
Meanwhile, Oliver shook down the owner of the storage unit where Barry's meta-human had been found and got the bad guy's real name -- Roy G. Bivolo (Paul Anthony).
The next day, Oliver began training Barry to handle criminals with more care and fewer risks. This apparently included shooting Barry with an arrow.
Back at the station Joe expressed disapproval to Barry of how Oliver got their new enemy's name.
When S.T.A.R. Labs got a tip on Bivolo's location Barry confronted the meta-human, but during the encounter fell victim to Bivolo's brainwashing powers. Despite, Barry claiming he was unaffected he was acting pretty agitated, telling off Caitlin (Danielle Panabaker), Oliver and Joe.
With Barry acting like a ticking time bomb, Dr. Wells suggested they call Oliver to help handle him. They would need him fast too as Barry, as the Flash, attacked Eddie in his rage. Oliver showed up just in time to keep Barry from harming Eddie.
What followed was one hell of a showdown as Oliver fought to reign in the rogue hero, hitting him with a tranquilizer arrow. The poison, though, had little effect as Barry kept coming, taunting Oliver with his speed before landing countless punches. Oliver, though, was able to stick Barry with an arrow through the leg and hold him still as Dr. Wells flashed a sequence of lights into Barry's eyes to counteract Bivolo's powers. Barry was finally back to normal.
However, the two heroes still had to deal with Bivolo before they could call it a day. They tracked down and captured the meta-human and put him in the S.T.A.R. Labs prison.
Before leaving Central City, Felicity asked Caitlin to run a DNA sample from Black Canary's (Caity Lotz) murder from the "Arrow" Season 3 premiere. Oliver, meanwhile, advised Barry to give up on Iris before he hurt them both.
There was one more surprise for Oliver before he left, a chance run-in with a mystery girl from Oliver's past.
Later, Barry saw Iris as the Flash to apologize for the incident with Eddie, but she made him promise not to contact her again. Eddie, on the other hand, got approval from the captain to start hunting the Flash.
In the last scene of the episode fans were introduced to a new meta-human who appeared to have the ability to control fire. Barry has some work ahead of him.
What did you think of "Flash vs. Arrow?" Tweet your thoughts to @Ja9GarofaloTV.
© Copyright IBTimes 2023. All rights reserved.