Florida Coronavirus Spread Plunges DeSantis' Approval Rating By 12 Points
KEY POINTS
A Quinnipiac University poll shows 52% of Floridians disapproving of the way Gov. Ron DeSantis is handling his job
The poll shows 57% of voters disapprove of DeSantis' response to the COVID-19 pandemic
New numbers also cast dark outlook for Trump in pivotal Sunshine State

Gov. Ron DeSantis, R-Fla., saw his approval rating plunge to its lowest point in his term of office due to his handling of the COVID-19 resurge in Florida. Even more Florida voters disapprove of President Donald Trump for a similar national response.
DeSantis and Trump's waning support in the Sunshine State were revealed in the latest opinion poll by Quinnipiac University, taken among registered voters in the state July 16-20. The poll generatated 924 responses, a small sample for a state of more than 21 million residents but telling because of the stark contrast to recent figures.
This QU poll shows DeSantis's job approval rating plunging to 41% with his disapproval rating jumping to 52%. QU said the 52% disapproval represented a 31-point swing in net approval from April, when DeSantis received a positive 53% approval rating versus 33% disapproval. DeSantis' numbers are the lowest since he took office in 2019.
The poll shows 57% of voters disapprove of DeSantis's response to the pandemic. A larger 59% disapprove of Trump's national response to the disease.
Florida, which Trump won by a thin 1.2% of the popular vote in 2016, is now the third most COVID-19 infected state the U.S. behind New York and California. It's also one of three epicenter states driving the Memorial Day resurgence of the disease. As of Thursday's latest report from Johns Hopkins University, Florida had nearly 390,000 COVID-19 cases and 5,600 deaths.
The poll also reveals 83% of respondents said the spread of COVID-19 is a serious problem in Florida compared to the only 16% that said it's not. A full 70% of respondents considered the spread of COVID-19 in Florida "out of control," while only 24% disagreed.
"Just a few months ago, Florida was a safe harbor for COVID refugees from up North," said Tim Malloy, a QU Polling Analyst. "Now, it registers a startling number of infections and the numbers say the buck stops at Governor DeSantis' desk in Tallahassee."
Voter dissatisfaction with DeSantis and Trump is most marked in the divisive political issues surrounding the pandemic in the state.
Eight in 10 Floridians want a mask mandate (79% to 20%), while 6 in 10 (62% to 33%) assert it will be unsafe to open elementary, middle and high schools in the fall. Another 57% say it will be unsafe for college students to return to school.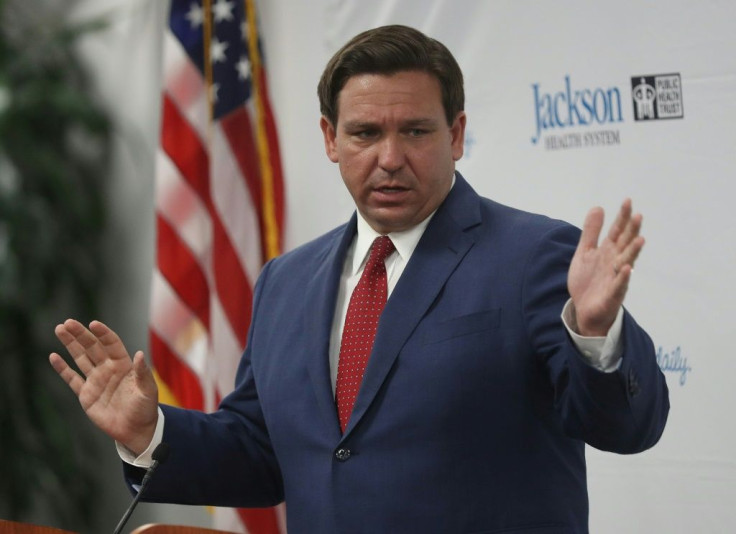 Florida voters also heavily disapprove of DeSantis' and Trump's school reopening plans. The poll reveals 56% disapprove and 37% approve of DeSantis' handling of reopening schools. Floridians strongly disapprove of Trump's move to do the same nationwide by a 23 percentage margin (59% to 36%).
"DeSantis' commitment to putting students in classrooms in the fall is a non-starter with voters," noted Malloy. "From elementary school kids to collegians, Floridians are saying 'forget it'."
The anger directed at both DeSantis and Trump, who are close allies, is swinging Florida into the Joe Biden camp, the survey showed. The poll revealed 51% of Florida voters now saying they'll vote Biden while 38% plan to support Trump. Biden's 13-point lead is a jump from the 4-point edge he had in the April poll (46% to 42%).
© Copyright IBTimes 2023. All rights reserved.
FOLLOW MORE IBT NEWS ON THE BELOW CHANNELS