Former CBS News Commentator Andy Rooney Dies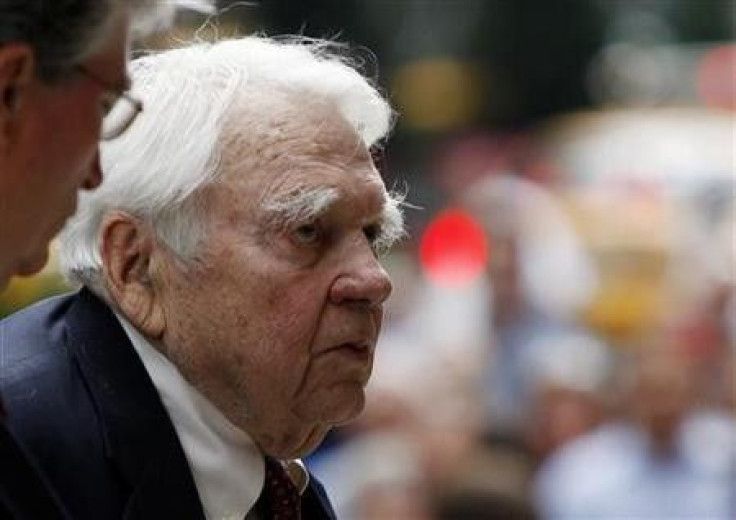 Andy Rooney, the curmudgeonly commentator who pondered everything from shoelaces to the existence of God on CBS's 60 Minutes news show for more than 30 years, died on Friday night at the age of 92, CBS said.
Rooney, a four-time Emmy winner, died one month after he had signed off from 60 Minutes in October, concluding a 33-year run. A statement on CBS News' website said he died in a New York hospital of complications following minor surgery.
Rooney was a fixture on Sunday night television, closing out the 60 Minutes broadcast with a short rant in his A Few Minutes With Andy Rooney segment. Sitting in his cluttered office at a desk he made himself, Rooney delivered more than 1,000 such essays, holding hold forth on a range of topics of varying degrees of relevance.
Adjectives like crusty, cranky and crabby frequently were attached to Rooney as he took critical looks at topics such as breakfast cereals or salad dressing, often with the overriding sentiment that things just weren't as good as they used to be.
But, peering out from under his bushy white eyebrows, Rooney also analyzed presidents, critiqued the Iraq war and considered North Korea's nuclear threat. His commentaries won three Emmy Awards.
Underneath that gruff exterior, was a prickly interior ... and deeper down was a sweet and gentle man, a patriot with a love of all things American, like good bourbon and a delicious hatred for prejudice and hypocrisy, 60 Minutes colleague Morley Safer said in a statement.
Rooney was a television writer and producer earlier in his career and preferred to think of himself as a writer who appeared on television. He joined CBS in 1949 as a writer for the popular Arthur Godfrey's Talent Scouts show and later worked on The Garry Moore Show.
Beginning in 1962 he teamed with correspondent Harry Reasoner for CBS News, producing a series of specials with titles like An Essay on Chairs and The Strange Case of the English Language. In 1968 Rooney won his first Emmy for his script for Black History: Lost, Stolen or Strayed.
Rooney joined 60 Minutes during its first season in 1968, again working as producer with Reasoner, and 10 years later his commentaries became a regular feature.
He also wrote, produced and narrated a CBS series on American life for which he won a prestigious Peabody Award.
CONTROVERSY
In 1990 he was suspended for three months after being quoted by a Los Angeles interviewer as saying blacks had watered down their genes because the less intelligent ones are the ones that have the most children.
The suspension was reduced to one month after CBS received thousands of calls and letters from viewers, as well as internal pressure from 60 Minutes executive producer Don Hewitt and longtime anchorman Walter Cronkite.
Rooney denied any racist sentiments and upon his return from suspension said on the air: Do I have any opinions that might irritate some people? You're damn right I do. That's what I'm here for.
Rooney also came under fire in 2007 for saying many people joined the U.S. military because of problems in their lives and that the Army would be better off drafting soldiers from all classes of society.
Rooney was born January 14, 1919, in Albany, New York, and attended Colgate University until he was drafted into the Army in 1941. He became a correspondent for Stars and Stripes newspaper and was awarded a Bronze Star for his work during the Normandy invasion.
In 2003, Rooney was given the Ernie Pyle Lifetime Achievement Award, named for his friend, the famous war correspondent, by the National Society of Newspaper Columnists.
Rooney started a regular syndicated newspaper column in 1979 and wrote several books, including My War, Pieces of My Mind and Sincerely, Andy Rooney.
Rooney and wife Marguerite, who died in 2004, had a son and three daughters. Son Brian Rooney became a correspondent for ABC News and daughter Emily was a producer for ABC News before becoming host of a public affairs show in Boston.
© Copyright Thomson Reuters 2023. All rights reserved.