Former President George H.W. Bush Shaves His Head To Support Two-Year-Old Battling Leukemia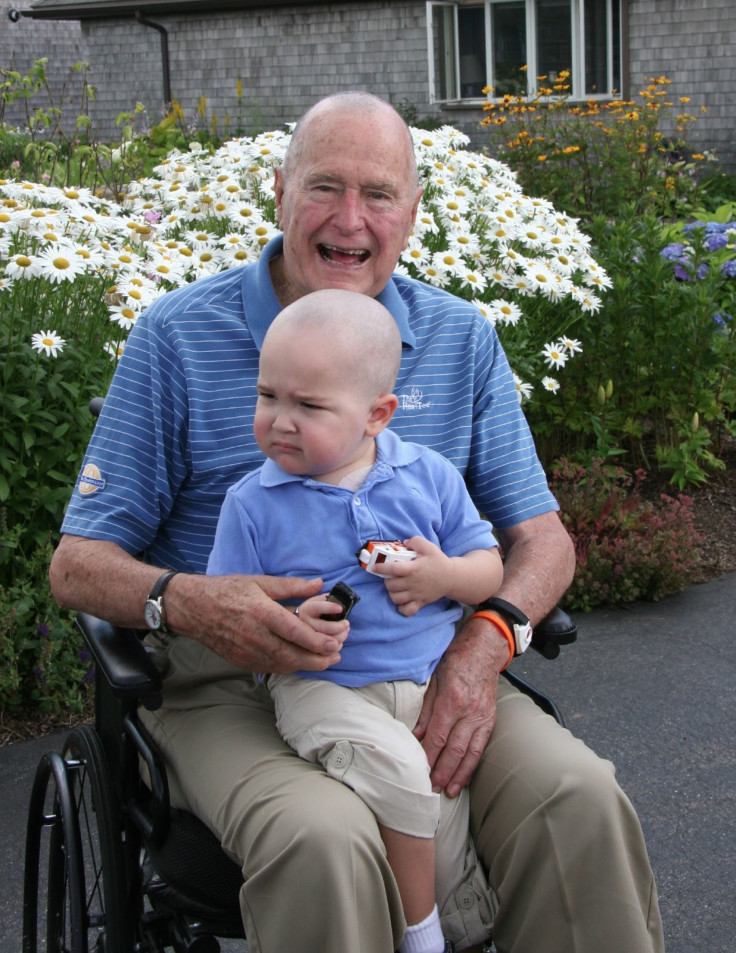 Former President George H.W. Bush gave his support to two-year-old Patrick, who is battling leukemia and has lost his hair due to its treatment, by shaving his own head, photographs released by his office on Wednesday showed.
Patrick, whose surname has been withheld at his family's request, is the son of a member of the former president's secret service security detail, and Bush decided to get rid of his hair after he noticed that all the other agents in his security detail were sporting bald heads.
"Our little guy received some high-powered support this week when President George Bush 41 volunteered to shave his head to show his support for Patrick and Patrick's Pals," Patrick's Pals, a website set up by Bush's security team to help raise funds for Patrick's treatment, said in a message on the site.
"Members of his Secret Service detail have also been shaving their heads this week in solidarity," the message read, adding that the group "cannot thank both President AND Mrs. Bush enough for their generosity and concern!"
Bush's act of kindness comes 60 years after he and his wife, Barbara, lost their daughter, Pauline Robinson Bush, also known as Robin, to leukemia when she was only four years old. Since then the couple has worked hard to raise money for cancer research and leukemia.
Patrick was diagnosed with leukemia several months back, and Bush's decision to lend support to the toddler has won widespread appreciation.
Former President Bill Clinton took to his Twitter account to appreciate Bush for the noble gesture, and wrote, "41, you look great. Love what you're doing," while Jay Carney, president Barack Obama's press secretary tweeted, "Noted w/great admiration."
© Copyright IBTimes 2023. All rights reserved.