Former Texas Doctor Avoids Jail For Raping Patient, Attorneys And Officers React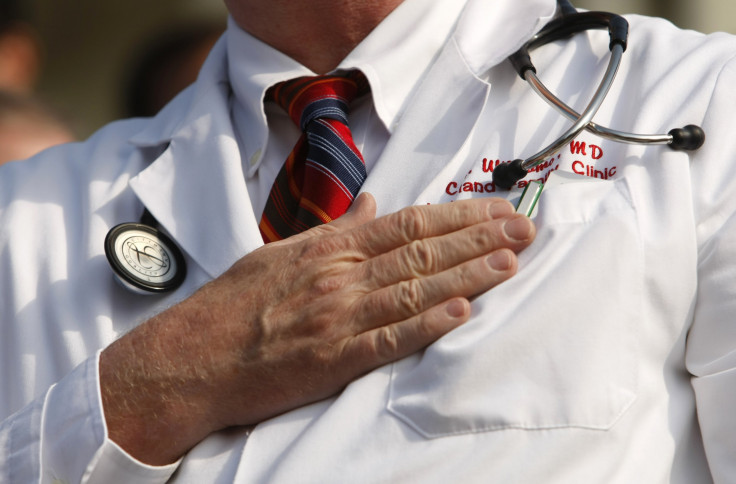 A 46-year-old former Texas doctor convicted recently of raping a patient while she was heavily sedated has avoided the jail term, reports said.
Shafeeq Sheikh was sentenced to 10 years of probation on Friday. A former physician at Baylor College of Medicine, Sheikh will now have to register as a sex offender after he was charged guilty of second-degree sexual assault.
The punishment, which came as a surprise to defense attorneys, disappointed many law officials and evoked concern from rape victims advocacy groups.
Art Acevedo, the Houston police chief, said the ruling by the 12-person jury, which included five women and seven men, was "beyond troubling."
"A hideous crime is committed in a hospital room which should be a sanctuary for patients," Acevedo tweeted. "So many new norms that run contrary to what we've always stood for, I pray no accountability for harming people isn't one of them."
Senior District Judge Terry L had to follow the recommendation by the jury as per the law, reports said. The jury came to a decision after 14 hours of deliberation, spanning over two days.
"When you're a doctor, I'd expect you'd get prison time," attorney Casey Kiernan, a veteran defense lawyer who has defended sexual assault cases for nearly four decades, said. "We hold doctors to a higher standard."
Many defense lawyers not connected to the case labelled the verdict as "unusual" and "a big victory" for the defense. The $10,000 fine slapped on Sheikh earlier was also lifted by the jury.
"He sought her out. He chose her to prey on. You know he's the type of man who would go in multiple times, testing the waters, seeing how far he could go and get back to his normal business after that," the prosecutor, Assistant District Attorney Lauren Reeder, said at the sentencing phase of the trial Friday.
"You know he's the kind man of who walked around for two years before he was charged with this… knowing what he did," she said pointing out that Sheikh went on to get another job at Houston Methodist Hospital until he was arrested in 2015.
In 2013, when the incident happened, Sheikh was on night shift at Houston's Ben Taub Hospital. The woman, identified as Laura, was admitted overnight due to shortness of breath and wheezing. Sheikh came multiple times to her room when she was in a highly sedated state and sexually assaulted her.
Laura said the call button was not working when she tried to get help from a nurse. It took two years for charges to be filed against Sheikh. DNA evidence collected from a rape kit matched that from Sheikh's cheek swab. Footage from the surveillance camera showed that Sheikh was on the same floor as the woman. He swiped his badge onto her floor at least 12 times.
During the trial, Stanley Schneider, Sheikh's defense lawyer, asked for lenience from the jury.
"The dreams of a man, the childhood dream to become a doctor, were shattered by his conduct. He destroyed his own dreams," Schneider said. "What he has done to himself and his family is punishment. They are serving his sentence with him. His children are serving his sentence with him."
"After being presented all the evidence, the jury convicted this man of rape and decided that he should be sentenced to 10 years of probation," Dane Schiller, a district attorney spokesman, said. "The jury voted on behalf of the community to determine his sentence, and although prosecutors sought prison time, we respect this process and the jury's decision..."
According to Stefanie Asin, a representative for Houston Methodist Hospital, Sheikh "was immediately suspended and then terminated when we learned of the allegations and the suspension of his license."
"There were no reports of misconduct or any incidents involving this doctor while he was at Houston Methodist," she added.
The 32-year-old victim and the former doctor provided contradictory accounts of what happened during the trial. The victim claimed that she was very weak and couldn't call the nurse as the man raped her without using a condom. Sheikh said the patient initiated the contact and he succumbed to his impulse, forgetting his marriage vows and Hippocratic Oath. He said it was consensual sex.
"Defendants who take the stand and deny they're guilty statistically are in a worse position to get probation," Attorney Paul Schiffer, a former prosecutor, said. "But various factors, including their history while on bond and the impact incarceration could have on their own children can be a significant factor."
"Oftentimes, perpetrators will attempt to minimize the severity of their actions by claiming it wasn't sexual assault, but was consensual sex," Sonia Corrales, chief program officer at the Houston Area Women's Centre, said. "Sexual violence is a wilful choice a perpetrator makes to harm another human being and should be addressed by the criminal justice system with the same severity as any other violent crime."
© Copyright IBTimes 2023. All rights reserved.