France Bikini Protests Go Viral As Women Post Photos In Swimsuits After Girl Gang Attack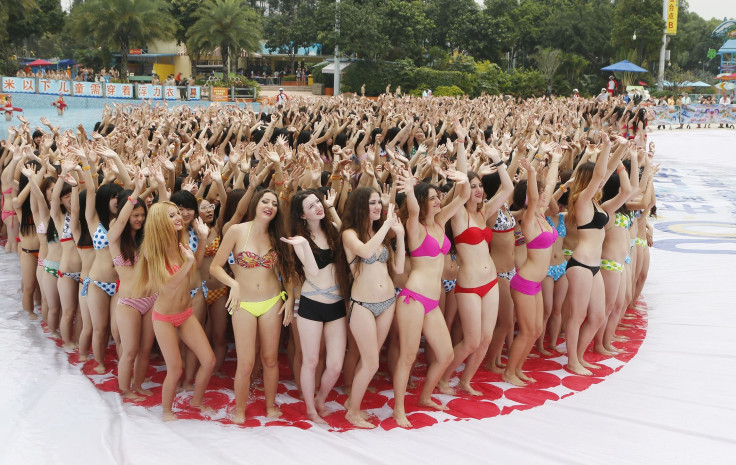 Hundreds of women protested in person and on social media this week after a French 21-year-old was allegedly attacked for wearing a bikini in a public park. Swimsuit-clad demonstrators held a rally in the Léo Lagrange park in Reims, France, while others posted photos of themselves with the hashtag #JePorteMonMaillotAuParcLeo, which translates to "I wear my bikini in the Leo park." The campaign has since gone viral, Mirror reported.
The protests stemmed from a July 22 incident in which Angelique Sloss, 21, was beaten up while sunbathing by a group of five young women who lived in a nearby Muslim neighborhood. Police said the women, all between the ages of 16 and 24, yelled at Sloss for being "immoral" and exposing her skin. They told her to get dressed, and a fight ensued.
Some initially speculated the attack was motivated by religion, but authorities later released a statement saying it had "absolutely nothing to do with Islam," the Independent reported. It was just a scuffle between rival girl gangs. "We have to be very careful not to jump to conclusions," Reims Mayor Arnaud Robinet said.
SOS Racisme, an anti-racism organization, responded to what it called "bikinigate" by organizing a protest in the rain and circulating the hashtag #JePorteMonMaillotAuParcLeo. Women around the world took pictures in bikinis to support Sloss and argue for their right to wear whatever they want. "All women are free in their bodies, and no one can decide for them," one user tweeted.
Sloss experienced severe bruising but has since recovered from the fight. The oldest in the group of alleged attackers -- identified as Ines Nouri, Zohra Karim and Hadoune Tadjouri -- were due to appear in court in September on assault charges. Reims police has also increased its presence in local parks.
"We are committed to preserving the tranquility of our citizens and public safety in all neighborhoods," Robinet said in a statement to L'Union. "It is also unacceptable to stigmatize a community or another for an act committed by a few and without knowing the substance of the case. I appeal to everyone and ask them to remain calm. Let the police and the courts do their job. "
© Copyright IBTimes 2023. All rights reserved.