Frank Gehry And Facebook: A Surprisingly Pastoral Partnership
Analysis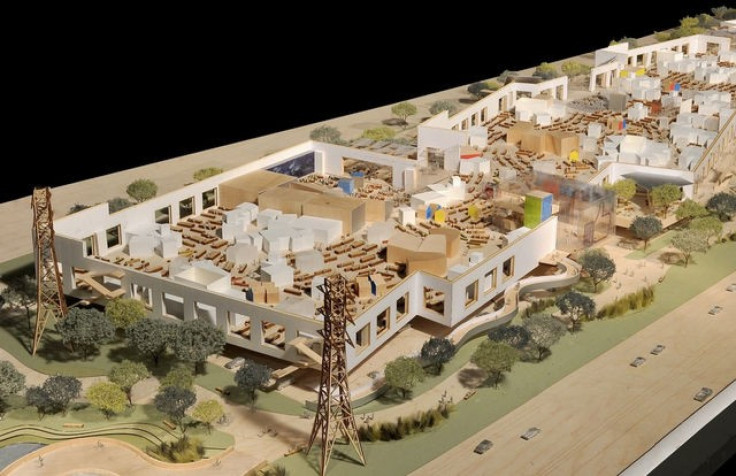 Facebook Inc. (Nasdaq: FB)'s stock may have sunk 50 percent since its May initial public offering, but it 's forging ahead with an expansion to its campus in Menlo Park, Calif., designed by the renowned architect Frank Gehry.
Bloomberg's James Russell had the first look at the development, known as Facebook West. Construction on the 420,000-square-foot building will start next spring at an undisclosed cost. Facebook took over the property this year. Formerly, it was the home of Sun Microsystems Inc., the workstation pioneer acquired in 2010 by Oracle Corp. (Nasdaq: ORCL), the No. 1 database developer.
Gehry is known for his striking steel concoctions, first and foremost the shimmering Guggenheim Bilbao in Spain, as well as the Walt Disney Concert Hall in Los Angeles and 8 Spruce Street in Manhattan. But his design for Facebook is more reminiscient of his planned controversial and pastoral memorial to President Dwight D. Eisenhower, which critics have deemed too humble.
Gehry's design for Facebook is a giant rectangular room, befitting for a company that touts social connection and collaboration. The roof of the structure is filled with trees and grass, with not a gleam or twist of metal in sight. Around the edges of the building are looping paths for pedestrians (or skateboarders). Gehry described the building to Bloomberg as an "ephemeral connectivity that you can't take a picture of."
The design is also a departure compared to Facebook's fellow tech giants.
Apple Inc. (Nasdaq: AAPL), now the world's most valuable company, filed plans for a new headquarters last year, offering a space-age ring designed by Pritzker architecture prizewinner Norman Foster. The late Steve Jobs compared the structure to a spaceship at a local city council hearing, reflecting the sleek minimalism of the company's products. Two legacy tech companies, International Business Machines Corp. (NYSE: IBM) and Oracle, are firmly in the futuristic style.
Google Inc. (Nasdaq: GOOG)'s headquarters in Mountain View, Calif., known as the Googleplex, was originally built for Silicon Graphics (Nasdaq: SGI) and designed by STUDIOS Architecture, which also did interiors at Gehry's IAC (Nasdaq: IACI) Building on Manhattan's West Side. Google hired Clive Wilkinson Architects to redo the interiors, creating a glass-and-steel space that retained both openness and privacy. It also installed solar panels on the building's roof.
The technology giants virtually all favor the wooded office park, but Facebook has taken the environment a step further, immersing its new structure in nature.
© Copyright IBTimes 2023. All rights reserved.