Hewlett-Packard 3Q Earnings: Will It Be Whitman's Final Loss?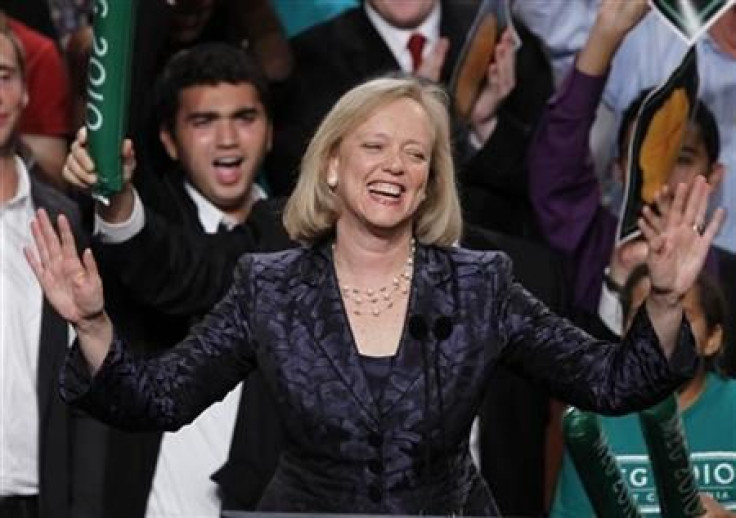 Hewlett-Packard Co. (NYSE: HPQ), the world's biggest computer company, has nowhere to go but up. It is scheduled to report third-quarter financials after the market close Wednesday, and investors and technologists will be watching for signs that its restructuring and massive write-offs are over.
Tuesday's report by Dell (Nasdaq: DELL),No. 3 in PCs, which missed earnings estimates, may also color the HP report and forecast, especially because Dell predicted lower revenue ahead.
CEO Margaret (Meg) Whitman, 56, on the job at the Palo Alto, Calif., company nearly 11 months, has never fully detailed a plan to get HP moving solidly again. Instead, she announced certain mid-course adjustments, like deciding to retain the world's biggest PC business, but then revamped its printers division, also the world's biggest.
Then Whitman, a successful CEO at online auction house eBay Inc. (Nasdaq: EBAY) before failing to win the governorship of California in 2010 on the Republican line, implemented a series of smaller measures, including promoting longtime software boss Bill Veghte to chief operating officer, a position HP had left vacant for years.
She also replaced printers chief Vyomesh Joshi with Todd Bradley, head of the PC unit, who now oversees both operations.
As well, Whitman, a Princeton economics graduate with a master's degree in business administration from Harvard, has also taken mega-charges for prior acquisitions, notably including Compaq Computer Corp. in 2001 and Autonomy PLC last year. For the period ended July 31, for example, the charge will be $8 billion, along with a charge as high as $1.7 billion to pay for firing about 10 percent of the payroll.
That's why third quarter net income is expected to nearly evaporate to only 2 cents a share compared with 93 cents a year ago, although earnings from continuing operations are expected to be 98 cents on revenue of $30.1 billion compared with last year's $1.10 on revenue of $31.2 billion.
"HP is seeing pressure on various fronts," said Dylan Cathers, analyst with Standard & Poor's, who has a "buy" rating on the stock with a price target of $15. "We're bullish on Windows 8," the new OS that Microsoft (Nasdaq: MSFT), the world's biggest software company, is expected to start shipping next month.
Still, HP has a nimble Chinese competitor nipping at its No. 1 status in PCs, Lenovo Group (Pink: LNVGY), which overtook Dell and reported highly profitable second-quarter results last week. HP may get a boost from Windows 8 as well as demand for new Ultrabook laptops with the new chipsets from Intel (Nasdaq: INTC), the No. 1 chipmaker.
But investors will wait to see if Whitman announces a new HP entry into the tablet sector now dominated by Apple (Nasdaq: AAPL), the world's most valuable technology company. Last year, HP got in and out quickly with the TouchPad. This month, HP registered the name Gram and is believed to be shifting its Palm unit that created TouchPad to operate under that name.
Meanwhile, HP is expected to report gains in sales of servers to enterprises, along with software and so-called middleware, as it tries to derive more revenue from higher-margin products than PCs and printers, where competition from Chinese manufacturers headed by Lenovo is blistering.
HP shares closed at $19.93, down 16 cents, in Tuesday trading, giving it a market capitalization of $39.3 billion. Shares have fallen 23 percent this year and nearly 16 percent in the past 52 weeks.
© Copyright IBTimes 2023. All rights reserved.