Freddie Gray Death: Baltimore Police Enforce Curfew; Officers Charged But Protests Continue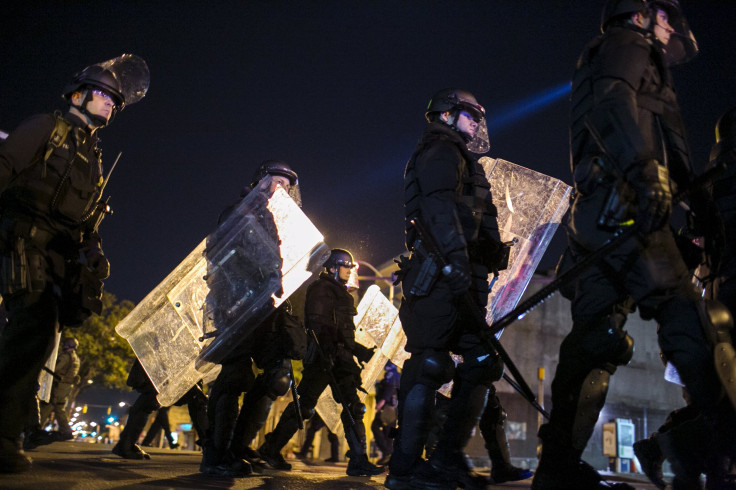 As the mandatory 10 p.m. curfew came and went on Friday night in Baltimore, police began arresting protesters who defied the city's rule and chose to stay out in protest around the city.
Protests had continued all day in Baltimore and were mostly peaceful, even celebratory, in the wake of the announcement that six police officers had been charged in connection with the death of Freddie Gray. "I can just tell you everything that's been put out there, all of it is rather compelling," state attorney Marilyn Mosby said when she announced the indictments.
The mood of some demonstrators did turn slightly around 9:30 p.m. on Friday when many protesters heard that the six police officers arrested in Gray's death were released on bail.
Officers moved forward gradually on Tuesday night, the first night the curfew was in effect, but on Friday, police moved more expeditiously to clear the streets.
Riot police, using armored trucks and armed with pepper spray, masks, shields and other gear, stood guard near City Hall, prepared to arrest demonstrators who violated the city's curfew. Using bullhorns, police shouted at protesters to go home, unless they were members of the media. Many officers were mounted on horseback, as well.
A Baltimore police helicopter flew over the city, announcing via loudspeaker that the 10 p.m. curfew was in effect and calling for protesters to disperse.
According to CNN, the police made about a dozen arrests immediately after the 10 p.m. deadline. Earlier on Friday, Baltimore Police had announced that it had made 37 curfew violation arrests throught the week.
"I feel I'm being arrested unjustly. This is my city...I'm being arrested for standing out here for for Freddie Gray,' an unnamed protestor said on CNN. He added that the "the cufew is bull---."
Protesters were divided on whether to defy the curfew. Some began leaving shortly before 10 p.m., while others sat down near City Hall as a form of civil disobedience.
Justin Giuliano, a student at the protests, told International Business Times shortly before 10 p.m. that protesters were "at a crossroads. A pastor leading the march is telling us to go in. Other activists are looking to stay past curfew."
Trey Yingst, a reporter on the scene in Baltimore, tweeted that some police were using pepper spray on some demonstrators who defied the curfew.
Four of the officers arrested on Friday in connection with Freddie Gray's death, which occurred while he was in police custody, face charges of either murder or manslaughter. Two others faced second-degree assault and official misconduct charges.
"I can tell you that the actions of these officers will not and should not in any way damage the important working relationships between police and prosecutors as we continue to fight together to reduce crime in Baltimore," Mosby said on Friday. "To the people of Baltimore and demonstrators across America, I heard your call for, 'No justice, no peace.' Your peace is sincerely needed as I work to deliver justice on behalf of this young man."
© Copyright IBTimes 2023. All rights reserved.