Freddie Gray's Death Ruled A Homicide, Baltimore Police Officers Face Murder, Manslaughter Charges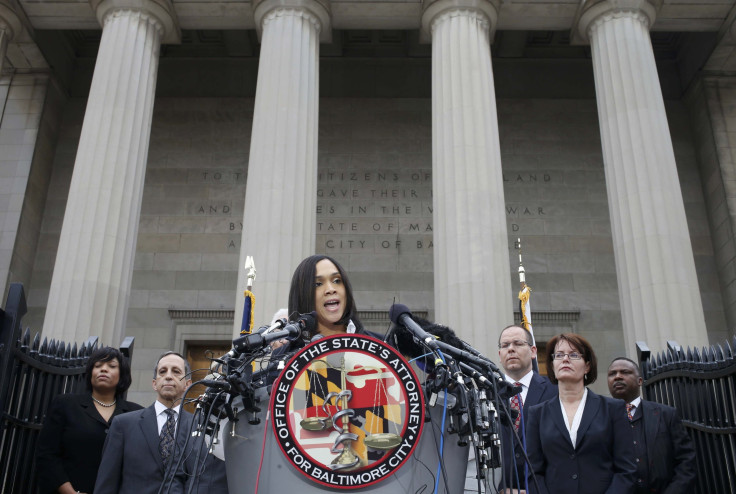 UPDATE 2:50 p.m. EDT -- Baltimore Mayor Stephanie Rawlings-Blake on Friday gave brief public remarks about the six city police officers charged with crimes, including murder and manslaughter, in the April death of Freddie Gray after sustaining severe injuries while in police custody.
"To those of you who want to engage in brutality, misconduct, racism and corruption, let me be clear: There is no place for you in the Baltimore City Police Department," Rawlings-Blake said, adding that she was "sickened and heartbroken" by details surrounding the officers' criminal charges.
After Baltimore City State's Attorney Marilyn Mosby announced the charges, cheers were heard from members of the public watching her press conference at City Hall. Residents had peacefully protested for several days after Gray's death on April 19, before the violence, arson and looting by rioters throughout the city.
Tariq Toure, a 27-year-old lifelong Baltimore resident, who is program director at a men's transitional facility in nearby Prince George's County, said he had been peacefully protesting in favor of accountability for the officers. "Justice is a fountain that Black America has seldom drunk from," Toure said in a phone interview. "This announcement is just a sip. We intend to swell our bellies with its waters."
Demonstrations were expected to continue through the weekend. On Friday, a May Day Solidarity March with Gray's family, organized by community group Bmore BLOC, was scheduled for Friday afternoon at Mount and Presbury streets in Baltimore. Protests and rallies were also planned at the Baltimore City jail and at the state's attorney's office, according to BaltimoreRising,org.
A much larger rally and demonstration against police brutality was expected Saturday afternoon at City Hall. Rawlings-Blake's office said the 10 p.m. to 5 a.m. ET citywide curfew would remain in place for the next two nights. Maryland Gov. Larry Hogan on Friday said there were no plans to scale back the National guard presence in Baltimore.
UPDATE 12:05 p.m. EDT -- The six suspended officers involved in Freddie Gray's arrest on April 12 will face charges that include second-degree murder, manslaughter by vehicle, false imprisonment and assault in the second degree, according to a document made public on Friday by the Baltimore City State's Attorney's Office. A warrant has been issued for the officers arrest, confirmed Marilyn Mosby, the Baltimore City state's attorney.
While the state's attorney office investigation was still ongoing Friday, Mosby said her office "worked around the clock," interviewing dozens of witnesses, watching hours of video surveillance footage and reviewing the taped statements of the officers.
Among their findings, investigators determined that some of the officers, "in a grossly negligent manner," ignored Gray's requests for medical attention, after loading him in a police van and improperly restraining him during the ride. The officers made at least two additional stops to pick up other prisoners, before finally calling an ambulance for Gray, who was "no longer breathing at all" when removed from the police van, Mosby said.
The Baltimore police officers union defended the six officers charged in the Gray case, saying they aren't responsible for the 25-year-old's death, the Associated Press reported. Fraternal Order of Police Lodge 3 President Gene Ryan made the following comments in a letter to Mosby, before she announced the charges:
"As tragic as this situation is, none of the officers involved are responsible for the death of Mr. Gray," Ryan wrote, while also calling for a special prosecutor to take over the case. "To the contrary, at all times, each of the officers diligently balanced their obligations to protect Mr. Gray and discharge their duties to protect the public." On Friday, Mosby said she would not hand over the case.
Mosby said she met with Gray's family this week to discuss the details of the case. "I assured his family that no one is above the law and I will pursue justice on their behalf," she said. "My administration is committed to creating a fair and equitable justice system for all."
Original story:
Freddie Gray's death has been ruled a homicide and the officers involved in his death will face criminal charges, Baltimore City State's Attorney Marilyn Mosby announced Friday morning. In a press conference, Mosby said her office has filed multiple charges against the six officers, including second-degree murder, manslaughter, assault and official misconduct, in the April 19 death of Gray, the 25-year-old African-American who suffered a fatal spinal injury while in police custody more than two weeks ago.
Mosby said the Baltimore City Police officers had no probable cause to pursue or arrest Gray on April 12. They failed to administer urgently needed medical treatment to Gray, who was not properly restrained in the police van after his arrest, resulting in his fatal injuries, Mosby said.
© Copyright IBTimes 2023. All rights reserved.