'Friends' Cast Still Earns $20 Million Yearly From Show Reruns
KEY POINTS
The "Friends" cast members continue to earn $20 million each per year from reruns of the show
Jennifer Aniston has the highest net worth among the cast today
"Friends: The Reunion" gathered the cast together to reminisce about their lives during the series
Jennifer Aniston, Lisa Kudrow, David Schwimmer, Matt LeBlanc, Matthew Perry and Courteney Cox — the cast of the hit sitcom "Friends" — made a name for themselves when the series first aired in 1994. How much does each of the main cast still earn decades after the last episode aired?
During the time "Friends" was broadcast on television for the first time, each member of the main cast was paid $22,500 per episode during the first season in 1994. But by the final season in 2004, the actors were paid a lucrative sum of $1 million each per episode, as per Bustle.
In 2015, Warner Bros. continued to profit more than $1 billion per year from reruns of the comedy show worldwide. That amount translates to a $20 annual paycheck for the main cast, who all earn 2% of that income in compensation, according to USA Today.
Nearly two decades later after the finale of the show, the member of the cast who has the highest net worth is Aniston, who played Rachel Green, since she has an estimated value of $300 million. However, the star's fortune didn't come from the sitcom alone.
Since "Friends" ended, Aniston has starred in multiple famous, well-loved romantic comedies. The actress also signed deals with high-profile brands, including Aveeno and Smart Water. She is also making it big on "The Morning Show," which allegedly pays her $2 million per episode, according to Bustle.
The other cast members are reportedly far behind Aniston, with Cox having a net worth of $150 million, Perry with $120 million, Kudrow with $90 million, Schwimmer with $85, and, finally, LeBlanc with $80 million.
Recently, the "Friends" cast got together once again when they appeared on "Friends: The Reunion," where they played as themselves and reminisced about their lives during the original run of the series. The six actors revisited the set and talked about some of their favorite episodes, the BBC reported.
The reunion special also invited many prominent names in Hollywood to join the cast and bring joy to the live audience, including David Beckham, Justin Bieber, Cindy Crawford, Cara Delevingne and BTS, the world-famous K-pop boy band, according to Cosmopolitan.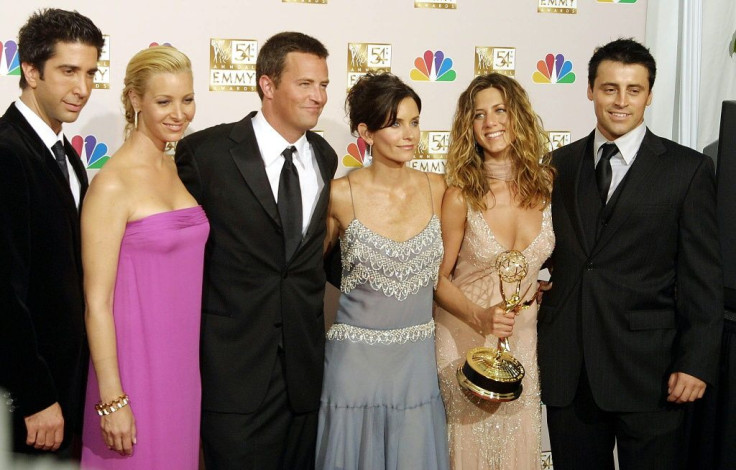 © Copyright IBTimes 2023. All rights reserved.